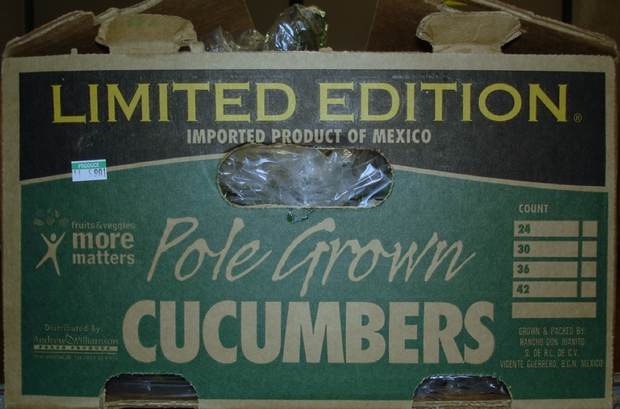 An elderly Tucson woman linked to the multistate salmonella outbreak involving cucumbers has died, a health official said Friday.
The woman, who suffered from serious underlying health conditions, was treated at a local hospital and then died after she was transferred to another health-care facility, said Dr. Francisco Garcia, director of Pima County Health Department.
He said the salmonella poona strain was a complicating factor in her death and that she suffered from medical conditions that made her medically vulnerable.
"This circumstance is a saddening reminder that illnesses that often don't cause a high level of harm to most people can have a devastating effect on those in our community that are most medically vulnerable," Garcia said.
Health officials have now identified 16 cases of salmonella poona in Pima County that are linked to the multi-state outbreak that has been traced to cucumbers grown in Mexico and sold by a California produce company.
Two weeks ago, there were 10 cases in Pima County.
There are now 85 cases in Arizona, up from 66 earlier this month, health officials said. A total of 418 cases, up from 285 cases, have been reported in 31 states, up from 27 states two weeks ago, according to the U.S. Centers for Disease Control and Prevention.
In the Tucson fatality, the woman was older than 50 and she became ill in the latter part of August. She died in early September, Garcia said. She lived in a nursing care facility in a midtown neighborhood.
The woman's death was associated with cucumbers served in the nursing care facility where she lived, Garcia said.
The garden-variety cucumbers, which are the thick-skinned unwrapped cucumbers, came from Andrew & Williamson Fresh Produce of San Diego. The cucumbers were imported from Mexico, Garcia said.
The San Diego company initiated a voluntary recall of all cucumbers sold under the Limited Edition label from Aug. 1 to Sept. 3 because of possible contamination with salmonella, officials said.
In regards to the Tucson case, "the voluntary recall was issued on or about the day that she died," said Garcia. "If you have cucumbers that can be sourced back to Andrew & Williamson, do not eat the cucumbers. Throw them away."
"If you have cucumbers that are grown in the U.S., those are probably safe. Wash them and get all the wax off. Make sure your hands are clean and your utensils for food preparation are not contaminated.
"Most of the cases of salmonella happen with chicken and meat. Keep your refrigerated foods in the fridge. If you want to thaw or marinate food, leave it in the fridge, not in the sink," Garcia said.
No more salmonella cases have been reported in Pima County since Sept. 5, he said. "We believe we are on the resolution end of things. We are sharing this latest information because of the woman's death," Garcia said.
"There is no call to action to avoid cucumbers. If someone is elderly, young or medically ill, then know the source of the cucumbers. If the cucumbers are domestic, then there is not a lot to worry about," Garcia said.
A Seattle law firm has already filed seven lawsuits on behalf of salmonella victims against Andrew & Williamson Fresh Produce, according to a news release from the firm.
According to the Pima County Health Department:
Anyone interested in recall information and alerts can sign up by visiting www.fda.gov/food and clicking on "Recalls, Outbreaks & Emergencies."
Salmonella infection symptoms usually include headache, stomach pain, diarrhea, nausea and sometimes vomiting beginning 12 to 72 hours after consuming contaminated food or beverages. The illness usually lasts four to seven days, and most people recover without treatment. People concerned about their symptoms should see their health-care provider.