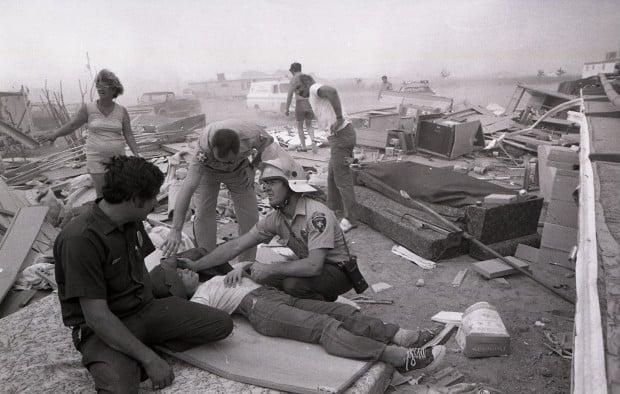 Do tornadoes occur in the desert? It may sound like a trick question, but the answer is yes. According to the Storm Prediction Center, Arizona has recorded more than 230 tornadoes since 1952. That means the state averages about four reported tornadoes each year.
And, there could be more. The state's extremely low population density — approximately 45 people per square mile — has likely resulted in hazardous weather events not being reported, especially away from population centers, including Phoenix and Tucson.
All three Arizona fatalities due to tornadoes have occurred here in Pima County. Specifically, near the Mission San Xavier del Bac, which is about 10 miles south of downtown Tucson.
June 23, 1974: One dead in an F1-magnitude tornado
Saturday is the anniversary of a 1974 tornado that hit the Jamar Trailer Court, located northwest of the mission. According to the next day's Arizona Daily Star, two employees at the National Weather Service spotted the tornado at 4:03 p.m. A tornado watch was then issued for the city, and three other possible tornadoes were also spotted that day.
Estimated to have wind speeds of 73 to 112 mph and be on the ground for just three minutes, the tornado demolished 19 mobile homes and seriously damaged 50 others. Seventy-eight year old Carl Fehr was found in the debris of his trailer and pronounced dead on arrival at Pima County Hospital.
"Everything got black and suddenly there was a rumbling noise just like a train. It was just unbelievable."

— Bea Peck, June 23, 1974
Eighteen patients were treated at St. Mary's Hospital, nine taken to Pina County Hospital, three to Tucson Medical Center and another to Davis-Monthan Air Force Base hospital.
"When I looked again, a funnel of swirling dirt was barely visible across the road. I have no idea how long it lasted, but it skipped around hitting at different places."

— Carlos Campuzano, June 23, 1974
The area that suffered the most damage was bounded on the north by West Los Reales Road, the west by South Cardinal Avenue, the east by South Mission Road and the south by West Hermans Road.
At the time, Dick Wood of the National Weather Service's Tucson office said there was a direct relation between the city's high temperature of 109 degrees that day — which tied a record for that day that has since been broken — and the tornadoes. He said when there's moisture in the air and high heat, then thunderstorms form.
"Clouds over Tucson yesterday were 35,000 feet thick. It's not hard to see how a tornado can dip out."

— Dick Wood, National Weather Service, June 23, 1974
Aug. 27, 1964: Mother, 9-month-old son killed in F2-magnitude tornado
The first two recorded Arizona deaths due to a tornado happened when a violent tornado cut a more than three-mile path of destruction near the mission at about 11:30 a.m.
"I went to a corner of the bedroom, lay down with two of my children and told them to hold their breath. The whole place was suddenly full of dust and then adobe bricks were falling all over the place."

— Johnny Orosco, Aug. 27, 1964
Eight members of the Norris family were injured when they were buried alive under bricks from a crumbled adobe wall of their home. Several volunteers stepped in with picks and shovels to rescue them. Sadly, 31-year-old Lucy Norris and her young son, Marcian, were pronounced dead at San Xavier Indian Hospital.
"I heard a roar as if a freight train were going by at 90 mph."

— Robert Merrick, Aug. 27, 1964
Eleven adobe homes, a convent and the parish school sustained major damage from the tornado, which had estimated winds up to 157 mph.
More on tornadoes in Arizona
Most tornadoes to strike the state in a single day: On Oct. 6, 2010, eight tornadoes were confirmed in northern Arizona. A severe tornado located south of Tuba City earned an F3 magnitude, which means it had winds up to 206 mph — that's strong enough to tear walls off houses and overturn trains.
Arizona tornado with the longest path: One of the Oct. 6, 2010 tornadoes, an estimated F2, had a nearly continuous path exceeding 30 miles long in Coconino County, just west of Flagstaff.
Most people in Arizona injured by a single tornado: An estimated F2-magnitude tornado in Maricopa County on Aug. 30, 1971, injured 41 people during its four-mile trek.