Note: This item originally ran in Tales from the Morgue Oct. 6, 2008.
To beat the high cost of living, Home Economics students at the UA were challenged to prepare meals in the most economical and efficient manner. Oh, and they had to be nutritious. Three students were able to bring down the cost per person per meal to nineteen cents. The year was 1924.
During the course of their studies, three to four home ec students would live in the department's Practice House for several weeks at a time. They were to gain experience in all phases of running a household, budgeting, laundry, food preparations etc. One group of three students attempted to see just how low they could go in reducing meal costs.
The students, under the direction of Miss Nina B. Crigler and Miss Gladys Webster, set up housekeeping for a four week stint. "During their stay in the Practice House they cooked a total of 377 meals, the total net cost per person per meal being 19 cents. This cost included not only food, but gas, ice and household expenses. Excluding the gas, the cost was 17 2/5 cents. Thus it costs, or should cost in a properly managed family, 57 cents a day per person for food."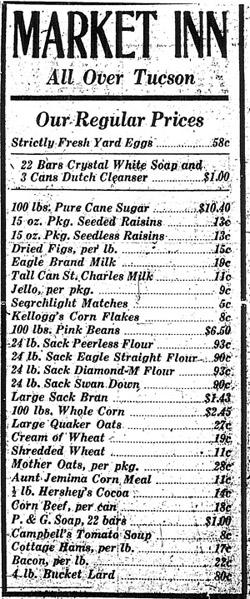 Crigler provided a sample menu:
Pimento and Lettuce Salad
Fruit Salad with Whipped Cream
At the conclusion of their stay, nearly 60 visitors were escorted through the house, as part of Farm and Home Week. They were shown the menus and budgets the students had used. Because the allowed budget was so low, Crigler was asked if the food was good and of sufficient quantity, she replied "it most certainly is!"
According to Crigler, the savings were attributed to careful control of how much gas was used, the use of a fireless cooker, careful consideration of meat substitutes, consumption of all leftovers, and a general knowledge of food values.