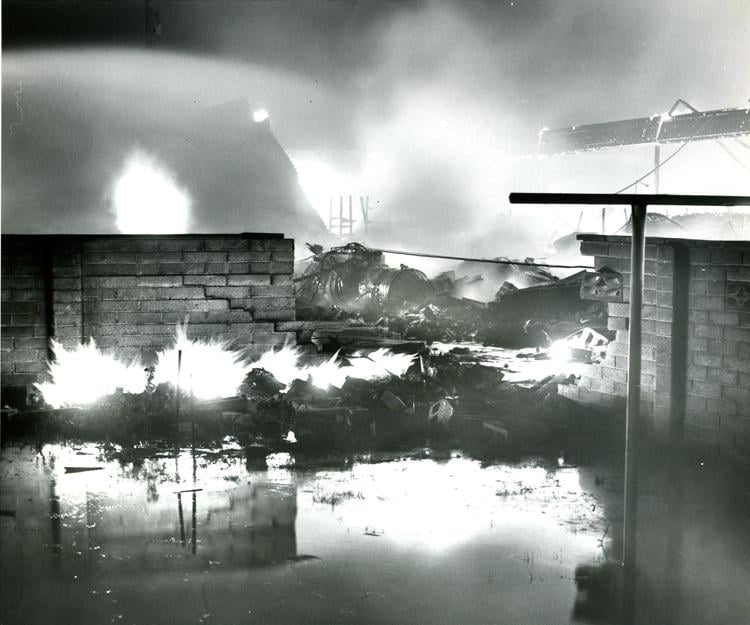 Almost 11 years before an Air Force jet crashed in Tucson, barely missing a school, there was a similar crash with more devastating damage.
The crash happened Dec. 18, 1967.
Note: The exact addresses of the homes hit were listed in the Star. The Morgue Lady has removed the numbers because if those addresses still exist, the people living there now are probably not the same families.
From the Arizona Daily Star, Tuesday, Dec. 19, 1967:
Plane Plows Into Tucson Shopping Center
15 FEARED DEAD IN FIERY CRASH
2 Homes Razed By Falling F4D Near Airbase
By KEN BURTON
Fifteen persons were believed killed last night and at least a dozen injured when a U.S. Air Force F4D jet crashed into the rear of a Food Giant store at the Cactus Shopping Center at E. 29th St., and S. Alvernon Way.
Capt. Ellis Franklin of the Tucson Fire Dept. said at press time this morning that he feared the death toll might reach 15.
Eight of the deaths were confirmed as still more bodies were being removed from the gutted store and homes to the rear of the market.
At least two houses to the rear of the shopping center complex were also destroyed as a fireball of JP-4 aviation fuel engulfed the area, creating a holocaust.
Air Force officers said the two-man crew, Flight Lt. Jack R. Hamilton of the Royal Canadian Air Force (RCAF), the pilot, and U.S. Capt. Gary L. Hughes, the navigator, were able to parachute from the plane before it crashed.
Tim Oned, of ---- E. 32nd St., was standing on S. Winstel Ave. when the plane hit the ground shortly after 5:30 p.m.
"I saw two planes heading north above me," said Oned. "They were flying side-by-side, when two objects shot out of the eastern aircraft . . . I realized later these were parachutes."
Witnesses, including Oned, said the aircraft then turned on its side and descended upside down. Oned said when it hit, "It exploded like a bomb you see on television."
Another witness, 15-year-old Roswell Burk, of ---- S. Baxter Pl., said he was just blocks away from the supermarket when he saw the jet approaching.
"When the plane came over, it tipped a little and it looked like a wing caught on one wall — and it just blew up," Burk said, explaining how the craft slammed into an alley directly behind the store.
The plane was loaded with more than 16,000 pounds of volatile JP-4 aviation fuel, which it had taken on prior to leaving Davis-Monthan AFB. The plane was based at Nellis AFB, Nev.
The fuel exploded across houses and ripped a fiery path through the grocery store, which was dotted with holiday shoppers and employes.
Ernest Sanchez, a Tucson Gas & Electric Co. employe who was driving by the store when the crash occurred, stopped his car and ran inside to help men, women and children escape.
Reports indicated that between 20 and 30 persons escaped before the fire completely engulfed the store's inside.
Aby Mogy, a self-employed truck driver who runs Mogy's Towing Service, was helping a stranded motorist some 300 yards from the supermarket when he saw the plane fall.
Mogy said he heard "a thud," saw "not more than 20 people" run out, and immediately got on his two-way radio in his wrecker and called for the fire department. He was credited with the first alarm.
More than 85 city firemen — 50 regulars, plus 35 off-duty men called back to work — responded to the three separate alarms that sent a total of 10 pieces of fire and rescue equipment to the tragedy.
Firefighting teams also rushed to the blaze from David-Monthan and Air National Guard headquarters. D-M also sent several ambulances and teams of medics.
Some 100 city policemen and other officers from South Tucson, the Arizona Highway Patrol, the Pima County Sheriff's Office, plus Civil Defense teams, the Sheriff's Search & Rescue Unit and the Red Cross—all rushed to the crash site.
"We've got every law enforcement and rescue agency in the city and county out here fighting this thing," said one city patrolman. "I don't think we've missed anyone."
Residents in the block behind the market said it looked as though four houses were hit by the initial fireball.
J. A. Eribe, ---- S. Winstel Blvd., lives directly across from one home that was hit. He said he heard "a loud roar, and a terrific explosion." Before his family reached their windows, Eribe said they could see the fire racing in behind them.
Outside, Eribe recalled, a man came running from his own home screaming, "My baby! My baby! She's still in there!"
The home was believed occupied by the James Tilton family, at ---- S. Winstel. Two bodies were recovered from that residence early last night. One of the dead was identified as Sherri Tilton, 19, trapped in her bedroom.
Eribe later told a reporter: "I'm getting the hell out of here and moving. I'm not going to live here any longer."
Meanwhile, the 21-year-old Sanchez said he saw "at least" six people inside the stopre, adding: "Those people didn't have a chance." Sanchez dragged a hysterical mother from the store as she started to go back for her child. The spot where her child had stood was a searing fireball.
"It was the worst thing I've ever seen in my life." Sanchez said. "One minute they were picking greens. The next minute , they just weren't there."
Tucson's hospitals went on alert last night, but it was not necessary to put their disaster plans into full effect, chiefly because there were relatively few injured.
Physicians and off-duty nurses reported in great numbers to St. Mary's, St. Joseph's and Tucson Medical Center emergency rooms as soon as they heard of the tragedy.
The hospitals were prepared to treat any number of victims, and had opened their disaster supplies of bedding, plasma, and burn remedies in preparation for patients from the accident.
At press time, all the injured treated at local hospitals had gone to the emergency rooms with members of their families, not by ambulance.
Firemen and city workers, under the direction of Tom Price, superintendent of the Sanitation Dept., loaded debris into five pickup and six dump trucks last night. Captain Franklin estimated that the men may not finish their mop-up operation until noon today.
Deputy Fire Chief Kenneth Dirks, in charge of the giant fire and recovery operation, said the blaze "could wind up being one of the worst tragedies in Tucson history."
First reports concerning the number of people trapped inside houses to the rear of the store and in the store itself were confused. Dazed witnesses who had fled the supermarket could only mumble when asked how many failed to make the doors.
Admitted for shock at St. Joseph's Hospital last night was Mrs. Rayalda Chavez, 40, --- Calle Colado, a Food Giant cashier who was not otherwise injured.
Mrs. Victoria Steffania Palmer, 55, a clerk at Food Giant who had reported for work only five minutes before the crash, was identified by her husband, James, late last night at Bring's Mortuary. She lived at ---- Monthan Strav. and is survived by a son and two daughters.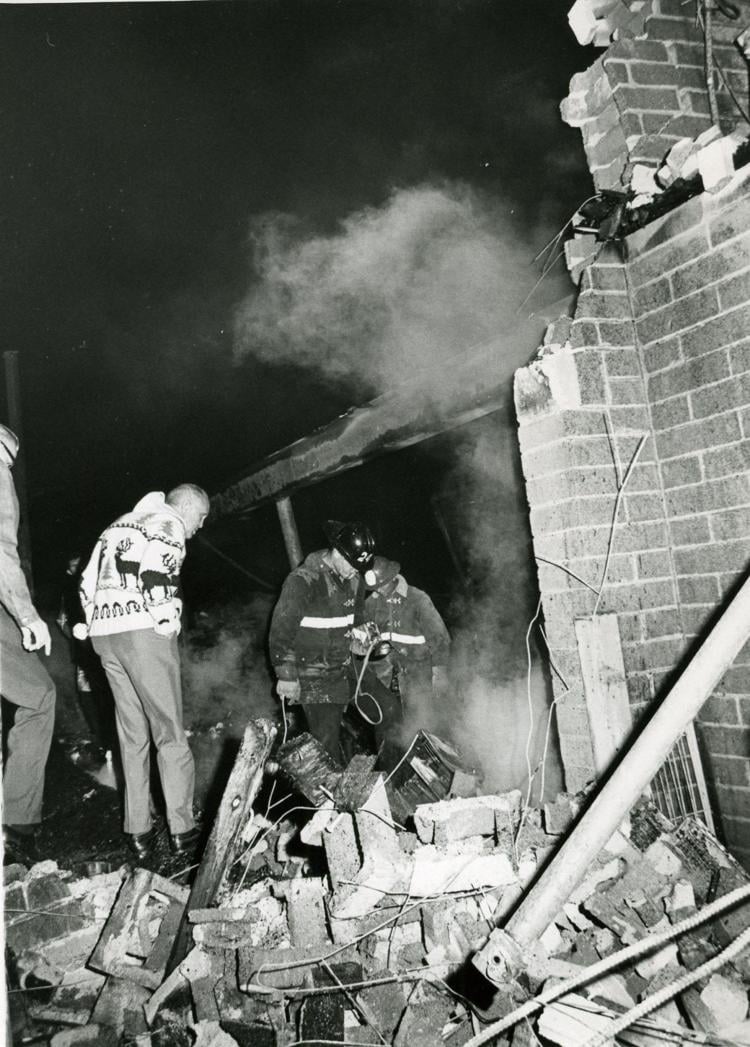 It must have been especially difficult for families of people who were thought to be in the area and then were listed as missing. Waiting for searchers to confirm a body or, for the more optimistic, waiting for the phone call from that missing person must have made minutes seem like hours. 
It was noted that this crash was the first into a residential area in Tucson.
From the Star, Dec. 19, 1967:
Home Area Crash 1st For Tucson
Previous Mishaps Occurred In Desert
Last night's tragic crash of an Air Force Phantom II jet fighter at a Tucson shopping center was the first involving a local residential area in the 26-year history of Davis-Monthan AFB.
Records show only four scattered incidents involving private property and the malfunctioning of Air Force planes. One death resulted.
In December, 1941, a four-engined American bomber plunged into a home at ---- E. Elida St.; but neither the 19 crewmen aboard the plane nor the four occupants of the home were seriously injured.
In January, 1944, a B24 bomber sheered off the roof of a home at ---- S. Alvernon Way—then crashed on the field killing two aboard the plane and injuring five others. There was no one inside the damaged house.
Then, in December, 1959, a 32-year-old housewife died when the wing tank of a B47 Stratojet fell. The woman was killed as the tank struck her and burst into flame. That accident took place in the 2700 block of S. Alvernon Way.
During the years from 1941 to 1947 more than 15 D-M-based bombers crashed, killing countless crewmen; but all crashed over the desert.
The 4453rd Combat Crew Training Wing, the F4C training wing of the Tactical Air Command at D-M, has been located there since 1964. Though there have been several F4C crashes of D-M training planes, all have taken place over the desert.
The last F4C crash occurred Nov. 7 of this year in a ranch field near Douglas. The plane's systems operator — or rear seat pilot — was found still strapped in the wreckage. The flight commander — or front seat pilot — escaped with injuries.
But the 4453rd is credited with the lowest accident rate per 100,000 flying hours of all 17 units of the 12th Air Force of which it is a part.
The 4453rd maintains 50 F4Cs with 1,200 men — about a third of that number are training pilots undergoing courses of from four to eight weeks preparatory to Vietnam assignment. In addition, the 4453rd serves as a refueling stop for other training bases such as Nellis, AFB, Nev., home station of the plane that crashed last night.
Last night's fatal crash was an F4D, a modified cousin of the F4C.
The McDonnell F4 is used by the Air Force, Navy and Marines in Vietnam. The craft is capable of speeds of up to 1,400 m.p.h. and bomb loads exceeding six tons. It is capable of performing strike, reconnaissance, escort and high cover missions. It is 58 feet long. It is capable of carrying 5,900 gallons of fuel.
The field at D-M handles some 170,000 take-offs and landings per year. Col. Robert Ackerly, 4453rd commander, has estimated that approximately 85 to 96 F4Cs take off and land at D-M each day. D-M is called upon to manage an average two emergency landings per day.
F4s usually travel in flights of three. Such was last night's takeoff. The member planes of a flight leave the D-M runway separately and "catch-up" roughly over Tanque Verde Rd.
D-M commanders have spoken of repeated efforts made to re-route the jets away from the Tucson residential district. But under weather conditions such as yesterday, regular patterns are altered and pilots controlled by the Federal Aviation Agency through D-M tower.
When one considers the number of take-offs and landings at D-M, the accident rate is not at all high, but that is no comfort to the families of the victims or the residents of the nearby homes.
Next: More stories of the crash.