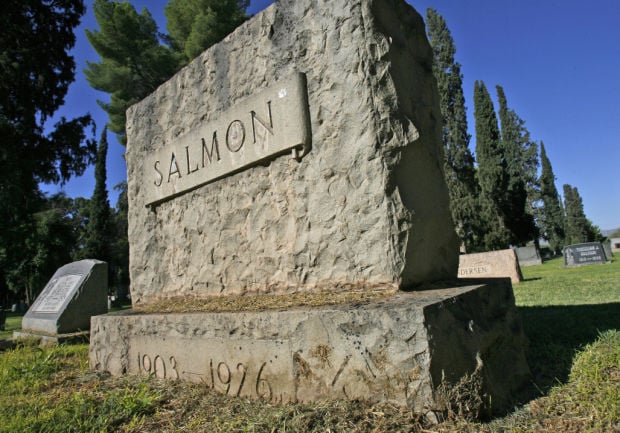 Note: This blog entry originally ran in Tales from the Morgue Oct. 23, 2009.
With the death of an outstanding athlete, a legend began over 80 years ago. The story starts with the obituary from the Oct. 19, 1926 Arizona Daily Star read as follows:
"John B. Salmon, 22, of Bisbee, athlete and president of the student body of the University of Arizona died at 6:15 o'clock yesterday morning at a local hospital. Death resulted from complete body paralysis caused by an auto accident near Florence more than a week ago."
The accident happened on Oct. 3, 1926. The day after a Wildcat game in which he threw a 30-yard touchdown pass to win the game, Salmon and two fraternity brothers left for Phoenix. On the return trip, Salmon failed to negotiate a curve on the Florence highway. He was thrown from the vehicle and severely damaged his spinal cord.
His death followed thirteen days later. His obituary covered his last days this way:
A week ago he had a sudden sinking spell and rallied to a point where a great deal of hope was held for his recovery. At 10 o'clock Sunday night he had another sinking spell and rallied again. Yesterday morning at 6 o'clock he was apparently recovering when he died at 6:15.
UA classes were cancelled and Salmon's body lay in state, on campus, for 24 hours.
Thus ended the illustrious, but short, college career of Salmon. At the time of his death, he was student body president, a member of the "A" Club, the Bobcats and the Chain Gang, all honorary organizations, and the Sigma Nu social fraternity. He had earned two letters in football and three in baseball during his three years in school.
The legend of Salmon's inspirational words was born at the next football game. Just before the start of the game at New Mexico State, Coach J.F. "Pop" McKale gathered his players around for a pre-game huddle. The coach visited Salmon every day in the hospital. On his last visit he asked if Button had a message for the team. "Tell them ... tell them to bear down."
The following January, the UA slogan's place in history was made official.
Button Salmon's Last Message to Inspire Players
 "Bear down," Button Salmon's last message to his teammates on the gridiron, will be the future slogan for the University of Arizona's athletic teams.

 Marty Gentry, varsity center and a captain-elect (1927) on the Wildcat football eleven. proposed the adoption of the words as an athletic slogan at the student body assembly yesterday morning, which voted unanimously that it be used.

 "Tell the boys to 'bear down'," Button told Athletic Coach J.F. McKale, who carried the message to them. Button died the following morning, October 18 last year, from injuries received in an automobile accident.