Actor Lee Marvin, know for his tough-guy image in such movies as "Cat Ballou" and "The Dirty Dozen," retreated to Tucson when he wanted to be himself. He was a transplant, not a native, but he liked Tucson enough that he stayed the rest of his life with occasionally trips to make movies.
From the Arizona Daily Star, Tuesday, Jan. 15, 1985:
Marvin traded busy beach front for life in the tules
By Dan Ruff
The Arizona Daily Star
LOS ANGELES — Tough guy actor Lee Marvin has been telling reporters over here that he lives in "the tules."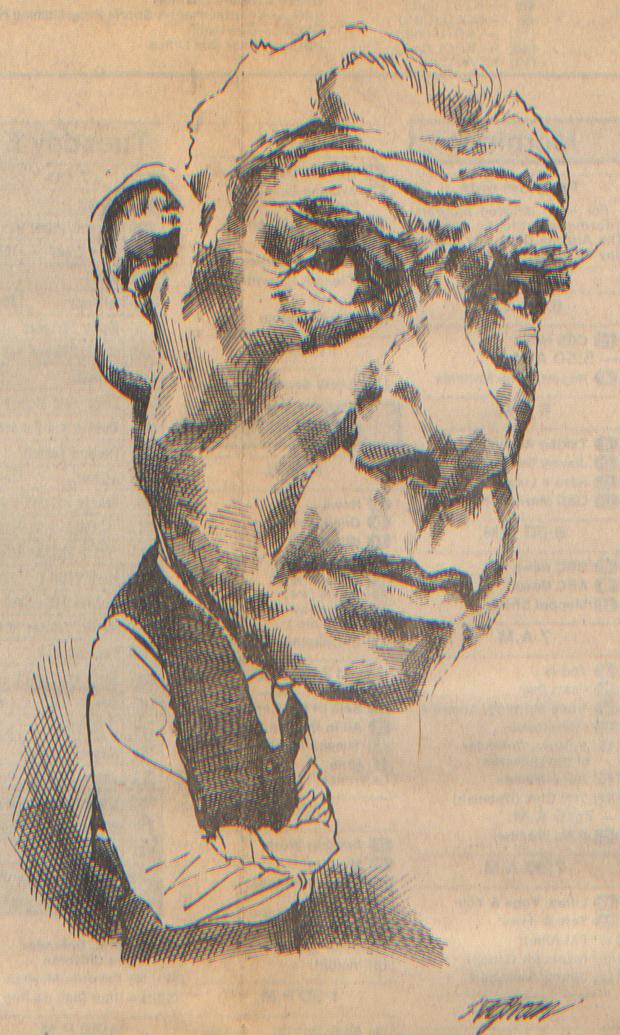 Kerry Waghorn/Vancoucer Sun: This drawing ran in the Arizona Daily Star Jan. 15, 1985.
Actually, Marvin is comfortably ensconced in Tucson's foothills, which may seem like the tules to a very popular actor who once lived on a busy beach front in Los Angeles.
"On the beach, it got to where directors would walk by and slip scripts in the mail box or drop them on the porch and it was just 'Lay off, boys, jeez!'"
Also, he said the old gang he hung around with dispersed, and there was no one he wanted to talk with anymore.
So he tiptoes quietly to the Tucson "tules" a few years back. It holds a certain attraction for a man permanently attached to one of the most recognizable faces in the world:
"They don't care who you are there. They can see you driving around in a pickup truck and that's it. They're not overawed by you, and they leave you alone.
In Tucson, he said, he's not getting paid to live up to the tough-guy image he's developed over the years, "so you can be what you are."
Marvin added, "I spent a lot of years creating a very difficult image for myself, and now it's very difficult to live up to."
But he refused to describe himself as he thinks he really is.
Marvin has done about 60 feature films. He still flies in and out of Tucson now and then to do a role.
His latest is a reprise of the renegade Major Reisman character in the 1967 war flick, "The Dirty Dozen." This one's called, predictably enough, "The Dirty Dozen: Next Mission." It premieres on NBC February 4, and then will be released as a feature film in theaters outside the United States.
Marvin was in Los Angeles to promote it last week.
He and Richard Jaekel are the only two actors from the original film.
"Most of the guys in the first film got killed off. The only one who survived was Charlie Bronson, and we couldn't get him because he's too busy cleaning up the alleys of the United States," Marvin joked.
He said there's obviously some theatrical license involved, since he's playing the same Army officer he did nearly 20 years ago.
If Marvin feels at home playing a soldier, maybe it's because he fought with the Marines in the Pacific during World War II. He was seriously wounded.
When asked if maybe the real reason he moved to Tucson was because he developed a fear of California's violent wackos after Charles Manson killed Sharon Tate and her friends, Marvin replied, "I've been to that house (where the massacre happened). It didn't put me in fear of my life. I haven't lived in fear of my life since 1945."
Marvin's last made-for-TV picture was "The Killers," featuring Ronald Reagan in his last role — as a villain.
The picture was too violent for television at the time, so it was released theatrically. It later became a series.
Marvin has made more than 250 television shows. What does he look for when he's sitting in front of the tube in Tucson?
"I'm not a person who goes through the guides. I sit down and start punching it, and I find something that's moving, where the colors are going around, and it just mesmerizes me. And it gives me peace."
He said his favorite show is "The Untouchables." "Hey, that's good dreamtime stuff."
As for movies, Marvin told reporters he lives in a "rural" area and doesn't get to the theater too often.
But he immediately qualified that statement by saying the real reason he doesn't go is that he just doesn't find them all that entertaining these days.
"It's not a case of too much sex. I'm very interested in it when I'm involved, but I don't really give a damn about the other guy being involved. And violence without a point just makes me go ho-hum."
Marvin summed up his approach as an actor at age 60:
"My approach now, at this age, is you make a film and they can build a pyramid out of it if they want to." Unlike many actors, he said he doesn't feel he has a prerogative to spout advice to producers or directors.
Marvin decided on show biz "early in life." Some of the most colorful advice he got about movie making as a young actor came from the great director John Ford.
"Ford said, 'What would you like to do in this business?' And I said, just what I'm doing. He said, 'Well, if you ever get a chance to do it, do it in the toilet.'"
For all his studied nonchalance about acting, though, Marvin revealed that he really does care about the craft.
"you've got to believe in what you're doing. If you don't, you're just looking at the numbers, the check. And that'll kill ya."
Lee Marvin died Aug. 29, 1987 at Tucson Medical Center. He had been admitted 16 days earlier with the flu.