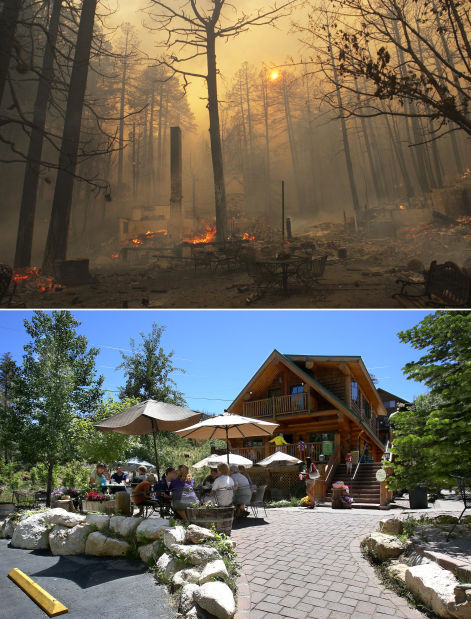 Hard to believe that 10 years has passed since the Aspen Fire tore through Summerhaven and the Santa Catalina Mountains. The fire burned 84,750 acres and destroyed 335 structures in and around Summerhaven.
Using photos from the 2003 fire as a guide, Daily Star photographer A.E. Araiza revisited the area this month and photographed the scenes as they look today. There were many viewpoints that we couldn't replicate partly because we couldn't be certain of the location of the original photograph.
The top photo show the remains of Cabins and Cookies just two hours after the Aspen Fire raged through Summerhaven in June, 2003. (David Sanders/Arizona Daily Star). The bottom photo shows it in June, 2013, rebuilt and renamed the Mt. Lemmon Cookie Cabin. (A.E. Araiza / Arizona Daily Star)     
See more of Araiza's photos in Sunday's print edition of the Arizona Daily Star or on StarNet.  
Photographer A.E. Araiza grew up in Tucson, hiked and camped on Mt. Lemmon and worked as a firefighter in the area for Coronado National Forest. His reflections on the Catalinas and the fire:
It has been 10 years since the Aspen Fire forever changed Mt. Lemmon's Summerhaven as we knew it. 
I remember the day 10 years ago when that dark menacing cloud of smoke hovered over the Santa Catalina Mountains…I knew it meant Summerhaven was gone.
The blaze roared through the hamlet, destroying businesses, incinerating cabins and stripping the hillside of much of its plant life.
In its wake, smoke and darkened ash was all that was left of some buildings.  Only black sticks remained of many of the mighty trees that had once sheltered the steep hillsides.
Still, a couple of weeks ago as I drove along the still barren and narrow street of North Ajo Avenue, which is above the new Sawmill Run Restaurant, I realized the fire could not take away the memories of my youth.
I remember going up Mt Lemmon in the summers as a child, fishing at Rose Canyon with my parents and sisters. On rare occasions, my father would drive us to Summerhaven.  To me, it was a magical place.
One snowy winter day as a teenager, two friends and I decided it would be cool to make that sweeping turn into the town on a sled…while being pulled by the truck we were driving.
The Pima County Sheriff's deputy who gave us a blistering tongue-lashing for the ages thought otherwise.
Less than two years later, immediately after graduating from high school, I found myself working on Mt Lemmon for the Forest Service.
First, I was on a fire suppression crew that later became a hot shot crew, then I was on a helicopter crew based at Sollers Point.
My years on the mountain were formative, working side-by-side with guys from different parts of the country, some of who had returned from service in Vietnam.
It sounds silly now but I felt very protective of the Catalinas. It was the policy of the Forest Service at the time to extinguish all fires, big or small…so we did.
And on our time off, we'd go to Summerhaven to take the edge off and talk about our futures whether it was regarding college classes in the fall or a girl we knew in school.
On occasion, our talks would be about the thought of defending Summerhaven during a wildfire but even then we felt it would be a lost cause.
Now, young aspens, shrubs and grasses sprout out on various parts of the burned area providing signs of life where there was only devastation.
During my visit, Dennis Cozzetti, a schoolmate from both grade school and high school, was working with his crew on a house on North Phoenix Avenue.  It made me realize the resolve of many who are rebuilding on the site of their old homes.
Slowly, businesses have returned, as well as new cabins and dreams.
Sure, Summerhaven is not the same as it was: The Aspen Fire made sure of that in a matter of minutes. But I can say the same about Tucson itself. 
It's the memories of the past I won't forget - and it's the dreams of the present that makes a future here worth living. – A.E. Araiza