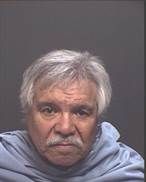 Oro Valley police arrested a man Thursday who is being investigated for repeatedly offering a teen-ager a ride while walking home from school.
Jesus Greer, 66, was booked into the Pima County jail on an unrelated charge — misdemeanor alcohol charges — as the investigation continues, said Lt. Kara Riley, an Oro Valley Police Department spokeswoman.
On March 4, police responded to a report of suspicious activity near West Calle Concordia and North Oracle Road.
A Canyon del Oro High School student told police he was walking home from school about 2 p.m. when a man in an older model minivan approached him and offered him a ride, Riley said.
The suspect asked the student about five times to enter his vehicle, and the student said no, said Riley.
On Thursday, officers made contact with Greer, who fit the suspect's description. Greer admitted to police that he spoke to a young man walking home from school and asked him if he needed a ride.
Investigators ask that anyone with information about the March 4 incident contact police at 229-4900, or call 911 or 88-CRIME.