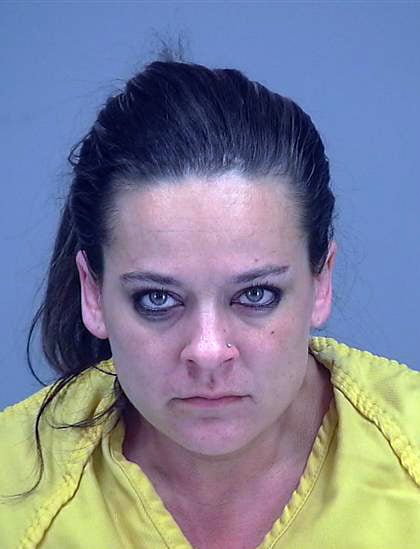 A Marana woman, found naked in the bedroom of a 15-year-old, broke her ankle when she jumped out of a second story window after the boy's mother caught them, a sheriff's official said.
Keri Gonzalez, 34, was identified a half an hour later, after she limped back to the home to say she had injured herself in the fall, Tim Gaffney, spokesman for the Pinal County Sheriff's Office, said in a news release.
The incident began at about 2 a.m. Jan. 21 when a San Tan Valley woman was awakened by "knocking sounds by the stairs and on the wall," Gaffney said.
She went to investigate and found her 15-year-old son's bedroom door locked.
"She began knocking on the door and when he opened it, she could see a naked female crouching down on the floor between the bed and wall," Gaffney said. The mother yelled at the female to get out of her house. The female quickly put on her clothes and jumped out of the two-story bedroom window to the ground below. The female was seen by the mother limping as she walked down the street away from the home."
About 30 minutes later, Gonzalez, a family friend, returned to the home to tell the teen's mother she had injured herself. Gonzalez then left.
The mother told investigators she had previously warned Gonzalez to stay away from her son "after she caught her flirting with him," Gaffney said.
Two days later the mother called the sheriff's office to report the incident.
The teen told a deputy, Gonzalez came to the home after his mother fell asleep.
"She brought alcohol with her and the two of them drank," Gaffney said. "He and Keri had sex twice that evening before his mother caught them in bed. After his mother caught them in bed, Keri jumped out the window so that his mother wouldn't find out that it was her."
A deputy interviewed Gonzalez on Jan. 25.
Gonzalez, who had a cast on her foot and ankle, "provided the deputy with information which helped to verify what the mother and victim had said occurred," Gaffney said.
Gonzalez was booked into the Pinal County jail for sexual misconduct with a minor. Because she lied to the deputy about her address, Gonzalez also faces a charge of providing false information to a peace officer.