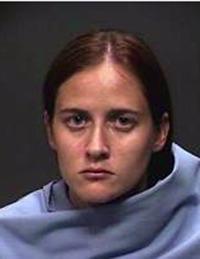 A 23-year-old Tucson woman was arrested after police recovered dozens of fraudulently purchased items inside of her apartment, authorities said.
Amanda Newman was booked into Pima County jail on one felony count of fraudulent schemes and artifices, a news release from the Oro Valley Police Department said.
Between June 15 and June 18, police received two reports about unauthorized online purchases from Tigerdirect.com charged to the Oro Valley residents' bank accounts. The purchases were sent to an address in the 4200 block of North First Avenue, the release said.
Multiple victims from other parts of Tucson reported similar activity and with help from Tucson Police Department, Oro Valley police served a search warrant at Newman's apartment, recovering roughly 50 items that were fraudulently purchased.
When interviewed by detectives, Newman told them she had applied for a job online after which she received packing slips from an online source that police believe operate out of Russia. Newman was instructed to send the items to another location and did, but said she never received payment from her employer, police said.
In an attempt to recoup her financial loss, she decided to sell the remaining items on Craigslist and received several thousand dollars in payment. She admitted to police she knew she was involved in something illegal.
Anyone with any further information about this crime is asked to call 911 or 88-CRIME.
Contact reporter Caitlin Schmidt at cschmidt@tucson.com or 573-4191. On Twitter: @caitlincschmidt