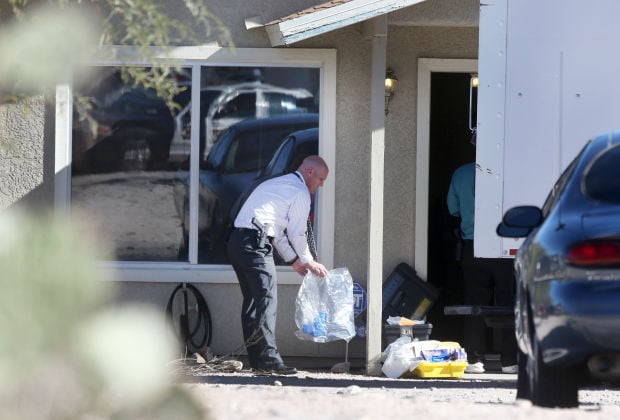 Tucson police are investigating a case where three girls said they were held in captivity for several years by their parents, officials said.
The mother and stepfather of the girls have been arrrested and are facing numerous charges, police said late Tuesday.
Police responded to a home in the 2800 block of North Estrella Avenue, near North Stone Avenue and East Glenn Street, at about 4 a.m. Tuesday on reports of a domestic violence incident, said police Capt. Michael Gillooly.
When officers arrived they discovered two girls, ages 12 and 13, who said they were in a bedroom in the house when their stepfather kicked in the door and threatened them with a knife. The girls told officers they ran out of the house and went to a neighbor's house. The neighbor called 911.
The two girls said they had been imprisoned for about two years. When officers went into the house, they found a 17-year-old girl locked in another bedroom, Gillooly said.
All three sisters were dirty and malnourished, he said. They told police they were only fed once a day.
They told officers they hadn't taken a bath in four to six months. The two younger sistes said they hadn't seen the 17-year-old sibling in about two years.
He said the two younger sisters were kept separate from the older girl. They were kept in separate bedrooms, Gillooly said.
"They were kept in filthy living conditions and kept separately," Gillooly said. "They told officers they had not seen each other in 2 years and were kept separately in bedrooms in that house."
Gillooly would not answer any questions about the case.
Later Tuesday, police said the girl's mother Sophia Richter, 32, and their stepfather, Fernando Richter, 34, were arrested and booked into the Pima County jail. The two are facing three charges each of kidnapping, child abuse with emotional abuse and child abuse with physical abuse.
Fernando Richter is also facing one count of sexual abuse of a child under 15.
"We are doing all we can to make sure these kids are kept safe," Gillooly said at a news conference.
A resident who has lived in the neighborhood for about five years said she didn't know anyone was living in the home, which is set back from the street.
She said there was no activity visible at the house, but that other neighbors had told her that they had heard what sounded like children playing inside the house at night.
Police officers have removed plastic bags of evidence from the home. They also removed what appeared to be a computer. The items from the house was placed into a box truck.
On the front porch of the single-story house is a sign warning that the property is under video security surveillance. Two red chairs were also visible at the front of the house.
Most of the homes in the neighborhood are rentals, the neighbor said. Online records show the current owner of the home is listed as a resident of Cave Creek.