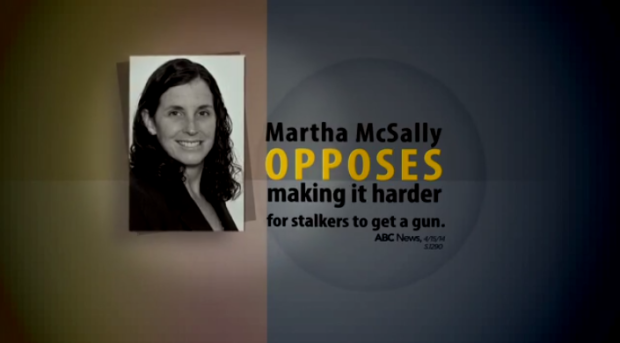 The Americans for Responsible Solutions PAC is airing a new ad - again targeting Martha McSally's statements on gun control, titled "Stalker Gap."
The new ad continues to argue McSally does not support new gun control legislation that would expand background checks.
The ad features Tucson resident "Vicki," whose daughter and husband were shot and killed by her daughter's ex-boyfriend.
"Southern Arizonans deserve to know where their candidates stand on laws that protect women from gun violence. Martha McSally wants to protect the loopholes that allow domestic abusers and stalkers to buy guns without a background check," said Hayley Zachary, Executive Director of Americans for Responsible Solutions. 
McSally, in a statement to the press, said she found the ad "personally offensive" and wants the television ads from ARS to be taken down immediately.
The retired Air Force colonel said the ad is misleading and intentionally distorts her position, while revealing she has been threatened by a stalker.
"As someone who's experienced being stalked, I know what it feels like to worry constantly about when and where your stalker will appear next and what he'll do. I've had threats made against me and wasn't even safe in my own home or my car where my stalker broke in and held me in a hostage-like situation," McSally said.
"I'm not alone in having to defend myself against a stalker. Countless women go through the same suffering and intimidation, and for an outside group to tie me to the tragic occurrence of a stalker killing his victim, is not only personally offensive, it's degrading to all women and victims who have experienced this pain."
Patrick Ptak, a spokesperson for the McSally campaign, said two weeks ago that the retired Air Force colonel believes the national focus should be on the underlying causes of gun violence.
"While we may have legitimate differences of opinion about how to best reduce violence and keep Arizonans safe, we all can agree that we need to do more to prevent tragedies in our communities. Martha believes we need to enforce those laws already on the books and place a greater emphasis on the cause of gun violence by addressing our broken mental health care system and enhancing our ability to recognize and treat signs of mental illness," Ptak said.
Text of the "Personal" ad:
("Vicki" from Tucson, narrating on-screen)
"My daughter was just 19 when she told her boyfriend their relationship was over, and he got a gun and he shot her and my husband.
He had threatened her before. I knew - I just knew."
(Narrator, speaking off-camera)
"Martha McSally opposes making it harder for stalkers to get a gun."
("Vicki", narrating on-screem)
I don't think she really understands how important that is to a lot of women."
Contact reporter Joe Ferguson at jferguson@tucson.com or 573-4346. Follow him on Twitter @JoeFerguson
Be the first to know
Get local news delivered to your inbox!