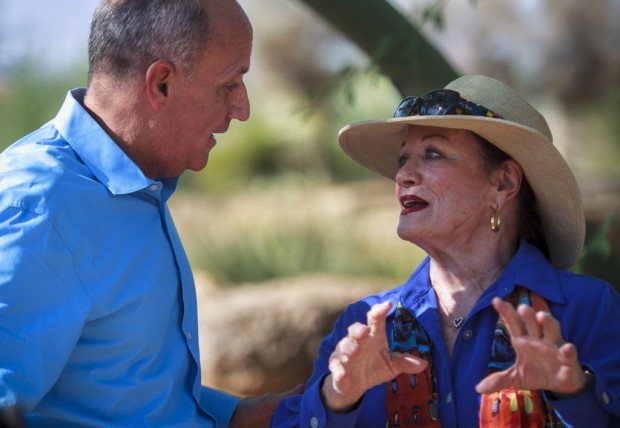 The daughter of one of Arizona's most famous conservatives has endorsed Democrat Richard Carmona in the U.S. Senate race.
Joanne Goldwater, the oldest daughter of late-Arizona Sen. Barry Goldwater, announced her support for Carmona on Wednesday, saying Carmona will put Arizona's interests over ideology.
Carmona, a former U.S. Surgeon General from Tucson, is facing Republican Jeff Flake in the U.S. Senate general election. Flake, a six-term Congressman from Mesa, pummeled Wil Cardon by 49 percentage points in Tuesday's primary.
"Congressman Flake has tried to claim the 'conservative' mantel, but my dad's brand of conservatism is not reflected by Flake or the modern-day Republican Party," said Joanne Goldwater in a statement released by the Carmona campaign.
Her endorsement spurns the man who once ran an organization carrying the name of her father.
Before winning a seat in Congress in 2000, Flake was the executive director of the Goldwater Institute for seven years. The Institute, a Phoenix-based conservative public policy and research organization, was founded in 1988 with the "blessing of the late Senator Barry Goldwater," the organization's website says.
Though this is the first day of the general election campaign, there's already been a lot of activity in the what promises to be a barn-burner of a race to replace retiring U.S. Sen. Jon Kyl.
Carmona is already up with a TV ad highlighting his story of being a poor kid who joined the Army and became a decorated combat veteran, trauma surgeon and deputy sheriff.
Flake countered by posting a web video calling Carmona President Obama's "hand-picked" candidate. Though Carmona has straddled the fence on health care reform, known as 'Obamacare,' saying the law "contains laudable first steps" but has "major flaws," the video features a clip of Carmona saying he fully supports the law.
"Richard 'Rubberstamp' Carmona," the narrator says. "He won't stand up to Obama, or his own party."
Carmona challenges Flake to no super PACs
Citing the state's proud tradition of "independent-minded statesmen and women" such as Carl Hayden, Barry Goldwater, Mo Udall and Gabrielle Giffords, Carmona challenged Flake this week to sign a pledge banning outside groups that don't have to reveal their donors from spending money on TV and radio ads.
Carmona said his challenge isn't really about money, but rather about the candidates "presenting a choice to Arizona voters, not an agenda funded by a shadowy out-of-state network made up of a few wealthy individuals, corporations or unions that are not accountable to Arizonans," Carmona wrote.
Flake has been supported by the conservative Club for Growth Action super Pac, which has spent $573,600 backing him with TV and radio ads.
Flake isn't biting on the pledge, which is similar to what Cardon did in the GOP primary.
In a written response to Carmona, Flake said he shares the desire to focus on the important issues facing Arizona, but he's skeptical of Carmona's sincerity based on his "sophomoric attacks" on him so far.
"I don't know if outside groups will involve themselves in this race or not, but given the highly negative tone and petty antics adopted by your campaign team thus far, it would be tough to make the case that the involvement of outside groups wouldn't serve to elevate the debate," Flake wrote.
Be the first to know
Get local news delivered to your inbox!