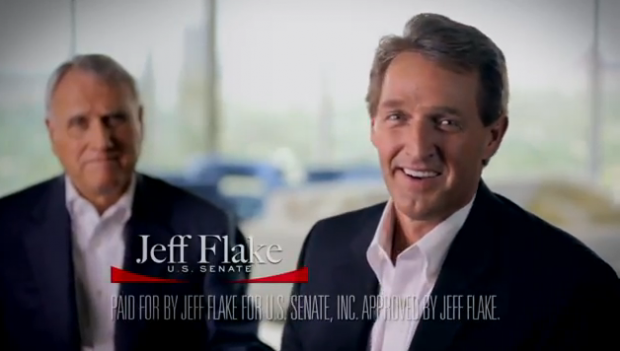 Kyl made his backing of Flake official earlier this month at a press conference alongside Arizona's other U.S. Senator, Republican John McCain. As he did that day, Kyl says in the ad that he had hoped to stay out of the GOP primary but that the mischaracterization of Flake by his opponent, Mesa businessman Wil Cardon, was troubling.
"His opponent is wrong," Kyl says in the ad. "Jeff is an honest, thoughtful conservative and he's already shown he's an effective reformer. Jeff Flake is my choice, clearly the best choice for Arizona's next U.S. Senator."
Cardon has called the endorsements from Kyl and McCain further proof Flake is part of a "Washington insider" club that needs to be broken up.
"I'm not running to get the old-guard endorsement, I'm running to replace them." Cardon said earlier this month. "This is the old guard circling around a career politician, Jeff Flake. He's afraid, this is a race; he didn't expect this."
Cardon had a similar take on this week's endorsement of Flake by Sarah Palin. In a statement, Cardon called it "further proof of politicians rallying around their friend, career politician Jeff Flake, in an attempt to help him keep his job."
"Arizona voters know business as usual has not worked and will not be fooled by political insiders sticking together," Cardon said.   
Cardon released his own new TV ad last week featuring several businessman denouncing Flake's 'Washington-style' attacks on him and his business record. The ad features several business people and Montenegro. They also tout Cardon as a conservative jobs creator that is a better choice than a 'career politician.'
"Republicans should not be attacking a conservative businessman," Montenegro says.
Flake and Cardon are joined on the Republican primary ballot by former Youngtown mayor Bryan Hackbarth and radio talk show host Clair Van Steenwyk, better known as 'Van the Radio Man.'
The primary is Aug. 28, with early ballots going out on Aug. 2.
The winner in the GOP primary will face Richard Carmona, the former U.S. Surgeon General who is unopposed in the Democratic primary, in the Nov. 6 general election.
Flake is the front-runner in the GOP primary, polls show, and has a wide lead in fundraising over Cardon. Flake raised $908,000 in the most recent quarter, giving him $2.7 million cash on hand.
Cardon brought in just $95,000 in the recent quarter, but his campaign remains afloat thanks to the $7.6 million he has loaned himself.
Carmona raised $1.1 million in the second quarter, giving him $1.57 million cash on hand.
Be the first to know
Get local news delivered to your inbox!