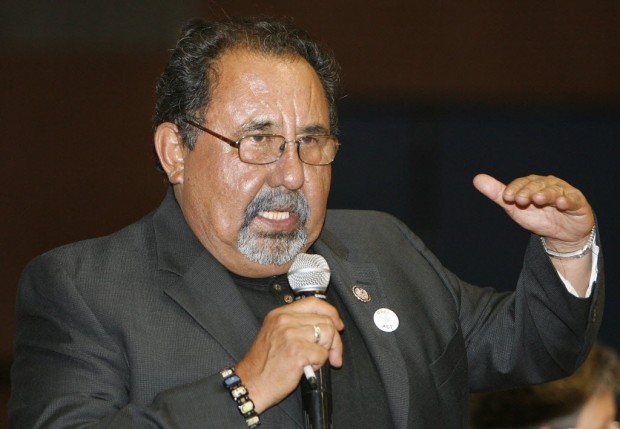 U.S. Rep. Raúl Grijalva, D-Ariz. cannot escape the questions about his now infamous call to boycott Arizona — even when he's in the most friendly of confines.
But during questions, he was asked yet again about his boycott call in 2010, in which he urged conventions and businesses to avoid Arizona in order to show how destructive SB1070 was.  
As he's done in the past, Grijalva stood behind his decision, while offering some insight about his thought-process:
"My opponents are running on the fact that 'Oh my God, he said the 'b' word and he has caused all this dire consequences to come the state. Let me be unapologetic: we needed to nationalize this SB1070 issue. We couldn't let it go in to the dark corner and just be a funny, little thing that happened in Arizona. This was a precedent, and the Supreme Court ruled on the precedent that it was unconstitutional in many aspects."
"We asked the Attorney General to intervene, we asked the administration to intervene. And we said there is going to be economic consequences and there should be. For a state that can be this punitive, there is going to be consequences."
"Have I taken some hits on that? Absolutely. But the unapology is about this: We are elected and sometimes, there is a direct attack, there is a direct issue that affects a group of people that are being marginalized. . . I'm not going to tolerate it. I'm going to speak up every time. I spoke up then and God willing, it will never happen again."
Grijalva has taken plenty of heat over the past two years for the boycott call and that's continuing in this Democratic primary for CD3. His two opponents, Tucson physician Manny Arreguin and Yuma businesswoman Amanda Aguirre, have been making it an issue throughout the campaign.
"Sometimes he's more concerned about his congressional job than providing jobs for the people who helped get him into office," Arreguin said.
"My vision is to be more representative of Arizona, and I would never call for a boycott when businesses are hurting," Aguirre said.
Grijalva took some jabs back at Arreguin and Aguirre on Monday, joking about how Arreguin suddenly had an "epiphany" that led him to recently join the Democratic party and questioning Aguirre's loyalty to the Democrat party.
He jokingly 'welcomed' Arreguin to the Democratic party but said he shouldn't belittle people like him and others who for decades have been in the trenches struggling to keep the party vibrant.
"This is not a time for experimentation," Grijalva said. "This is a serious time for Democrats and we have serious fights ahead of us."
Arreguin was a Republican who switched parties 2 1/2 years ago because he was frustrated with the actions of the GOP in Arizona.
"We just need to remember that just because somebody changed party affiliation doesn't mean they've been lost," Arreguin said Monday. "Sometimes people move away from political parities because the political party moves away from them."
Grijalva criticized Aguirre for urging Republicans in Yuma to register as independents and vote against Grijalva him in the Aug. 28 primary.
"This coming from a person that our state party had to prop up four elections in a row," Grijalva said. "A little loyalty please."
Aguirre, who was in the Arizona House of Representatives from 2003-2006 was a state Senator from 2007-2010, said on Monday that she's a lifelong Democrat who remains loyal to the party. She said she has only been reminding independent voters that they can register to vote in the primary. She said if her friends and neighbors who are Republicans and independents choose to back her, that's great.