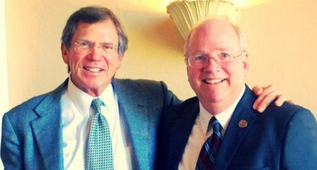 Political insiders have been wondering why State House Speaker Andy Tobin doesn't have any ads on TV yet in his run for Congress in Congressional District 1.
The Republican has been spending money as fast as he raises it in this competitive three-way primary race. (You can check out his campaign finance reports here.)
Today a new ad appeared on YouTube, paid for by Preserve America's Future. This political action committee's biggest donor is Tucson auto dealer Jim Click, who is also a co-chair of Tobin's campaign finance committee.
The PAC's chairman is Nathan Sproul, of Lincoln Strategy Group. He's a former executive director of the Republican Party in Arizona. The party "severed its ties" with Sproul after a voter registration scandal. (More on Sproul here.)
(announcer speaking) Washington is broken. We need new, conservative leadership.
Small businessman Andy Tobin. In the State House, Andy Tobin balanced the budget by cutting more than $1 billion in wasteful spending and passed the largest tax cut in Arizona history, creating jobs.
Now Andy Tobin is running for Congress on our conservative principles. Stand up to President Obama, repeal Obamacare, secure our borders, and no amnesty. Conservative Andy Tobin for Congress.
Preserve America's Future is responsible for the content of this advertising. 
10 a.m. update: Tobin will also be on the radio, with a new $40,000 ad buy from the conservative group Main Street Advocacy.
Stay tuned to the Daily Star Politics Blog throughout 2014 for news, updates and information about Southern Arizona politics. Follow Arizona Daily Star reporters Joe Ferguson and Becky Pallack on Twitter.
Be the first to know
Get local news delivered to your inbox!