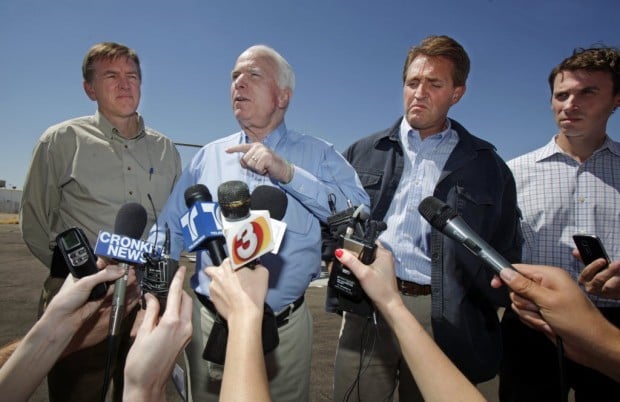 *Updated with more from Friday's press conference*
Arizona's two sitting U.S. Senators endorsed Jeff Flake on Friday, weighing in on a testy Republican primary in which Flake is being challenged by wealthy Mesa businessman Wil Cardon.
Republican Sens. John McCain and Jon Kyl said during a Phoenix news conference that the a six-term U.S. Congressman is clearly the best choice to fill the seat of Kyl, who is retiring after 18 years in the U.S. Senate.
Kyl and McCain said they chose to come forward because of the 'mischaracterizations' and 'reckless' statements made by Cardon's campaign about Flake.
"None of them individually all that important, but when cumualatively considered, require a response," Kyl said.
He brought up the hotly-contested 1976 Republican Senate primary between Reps. Sam Steiger and John Conlan that helped Dennis DeConcini, D-Ariz. win the seat. DeConcini, who served 18 years, is the last Democrat to win a U.S. Senate seat in Arizona.
"I don't want that to happen again," Kyl said. "The effect of the Wil Cardon campaign in the primary is not to elect Wil Cardon. He hasn't been able establish why he should be elected but he tears Jeff Flake down."
McCain said that he, like Kyl, was 'disturbed' by the kind of campaign being run by Cardon and its effect on Flake's chances in the general election against Democrat Richard Carmona, who is running unopposed.
"Frankly, I also worry that these attacks might make it harder in the general election for us to elect Mr. Jeff Flake to the United States Senate," McCain said.  
McCain and Kyl said they are not telling Cardon to drop out of the race, but rather just supporting Flake's candidacy.
Kyl said he didn't want to plan on making an endorsement in the primary because he felt it would 'a bit presumptious' to tell people who should replace him. But, he decided to come out and officially back Flake because of the Cardon campaign and because Arizona needs a Senator who can do the job from day one, something Flake has proven during his tenure in the U.S. House of Representatives.
Both Kyl and McCain said having experience in the U.S. House prepares Flake well for the U.S. Senate. McCain said Cardon does not have public service experience needed.
Kyl said he worries about the 'naivete' from Cardon about what is needed to be a U.S. Senator, citing Cardon's criticism of Flake's international travels. Traveling abroad is absolutely necessary to being a member of Congress or the Senate, he said.
The endorsements come just three weeks before early ballots go out in the GOP primary.
Cardon has put in $4.2 million of his own money through April to help fund an aggressive campaign of TV ads trying to portray Flake as a 'Washington insider' who is out of touch with Arizona. He had raised another $706,000 from outside sources through April.
Cardon, who has fetched endorsements from Mesa Mayor Scott Smith and U.S. Rep. Trent Franks among others, says Flake is beholden to Washington 'big-money insiders.' He's telling voters he's the 'conservative outsider' needed for the position.
In a statement, Cardon said he's always had deep respect McCain and Kyl, but that they are part of the 'old guard' of 'establishment politicians' entrenched in Congress since the 1980s. He said he's not running to get endorsements, but to replace the old guard.
"I'm not surprised they endorsed their friend Jeff Flake," Cardon said. "Washington insiders stick together. They do this out of fear. They're afraid of candidates like me – conservative outsiders who represent real change, a new way of doing things, new commitment, new energy, new solutions."
Flake has countered Cardon's attacks with his own increasingly-aggressive TV ads, accusing Cardon of being dishonest and loose with the facts, and calling him 'busted' for talking tough on illegal immigration but being a partial owner of a Subway that was fined the Immigration and Customs Enforcement for employing illegal immigrants.
Polls indicate that Flake is the front-runner in the race, though Cardon appears to have made up some ground in the past few months.
Flake and Cardon are joined on the Republican primary ballot by former Youngtown mayor Bryan Hackbarth and conservative talk radio host Phoenix radio host Clair Van Steenwyk, known as "Van the Radio Man." The primary is Aug. 28.
The winner in the GOP primary will face Richard Carmona, the former U.S. Surgeon General who is running unopposed in the Democratic primary, in the Nov. 6 general election.
Democratic operatives called Friday's press conference a sign that the Flake campaign is in 'panic' mode and worried about Cardon. But Flake said he remains confident in his team and the message they're delivering to voters.
The victor will become Arizona's first new U.S. Senator in 18 years, and the 11th in the state's history.
Stay tuned to the Pueblo Politics blog throughout 2012 for news, updates and information about Arizona politics. You can follow Arizona Daily Star reporter Brady McCombs on Twitter by clicking on his name.
Be the first to know
Get local news delivered to your inbox!