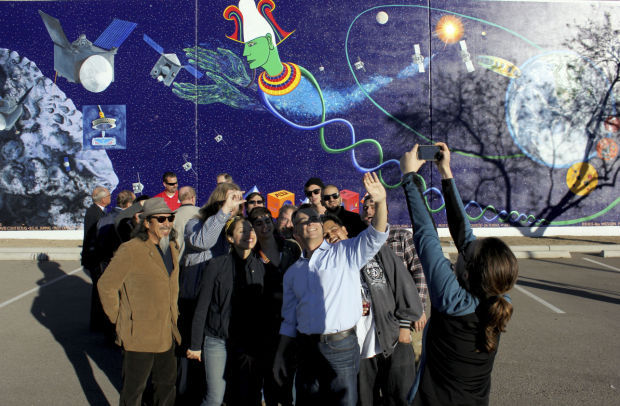 The UA's latest space venture is the subject of a mural unveiled Thursday at the off-campus headquarters of the $1 billion NASA mission to return a chunk of pristine asteroid to Earth.
The mural was designed and painted by students in a mural art class taught by Alfred Quiroz, professor in the University of Arizona School of Art. Quiroz oversaw creation of a similar mural in 2006 that celebrated the UA's role in NASA's Phoenix Mars Lander mission.
The 20-by-60-foot mural depicts the flight of the NASA spacecraft, its sampling of an asteroid, and its return of the sample to Earth. Central to the mural is the figure of Osiris, the Egyptian god of the afterlife whose name was chosen for the mission.
OSIRIS-REx, scheduled to launch in September 2016, will rendezvous with an asteroid named Bennu in 2018 and, if successful in "kissing" its surface with a telescoping sample collector, will return a chunk of the carbon-rich rock to Earth in 2023.
Scientists hope the rock will contain amino acids and other precursors of life on Earth.
They will also use the mission to explore the forces acting on near-Earth objects such as Bennu — information that may prove critical if it is ever necessary to nudge one from a trajectory that sends it toward Earth.
Sarah Smith, one of the student artists, said she didn't know of the mission before enrolling in Quiroz's mural class, but rattled off the names of the TAGSAM sampler and the regolith (loose rock) it will collect like a planetary pro at a dedication ceremony Thursday.
She said she took the class because she had previously studied painting with Quiroz and because "it was like nothing I had ever done before."
Tyler Oberlin had similar motivation: "This is something completely different from anything you could do in the classroom."
The students began planning the mural in August and started translating an initial painting to a grid on the west wall of the building in October. They finished in December.
In addtion to Smith and Obelin, the students were Sean Bassett, David Contreras, Belal Jammal, Paul Lambert, Yubitza McCombs, Niko Sanchez and Mat Steiner.
Dante Lauretta, UA professor of planetary science and principal investigator for the mission, said he was pleased the mural includes a portrait of the late Michael Drake, who brought the NASA mission to campus.
Noting he had plenty of room on the other walls of the Michael Drake Building, Lauretta said he hopes the NASA missions become a UA tradition "until the building is circumscribed with murals."