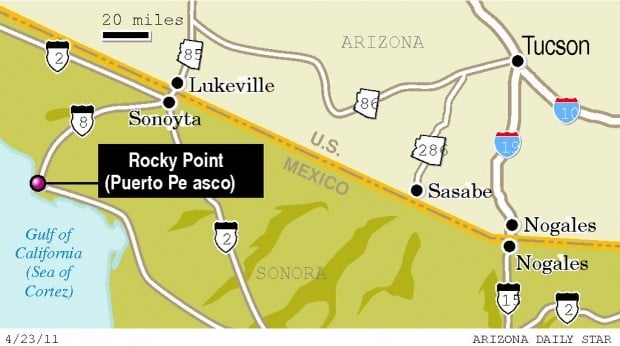 A convoy of 20 vehicles carrying armed men drove into Sonoyta, Sonora Sunday night and effectively took control of the border town for several hours, Mexican news reports say.
Sunday night about 9:30, the convoy stopped at a baseball field and, according to at least two reports, kidnapped people there, then spent hours in town before leaving. The residents spent the uncertain hours huddled in their homes, leaving the streets largely empty except for the armed men, reports said.
"They arrived a little before 10 o'clock at night, they parked across from the baseball park and later they drove around the streets of town, Mayor Agustin Quiroz Murrieta said.
An armed confrontation between criminal groups took place later Monday morning in an area about 50 miles east of Sonoyta. The Sonoran Attorney General's Office reported finding one person shot to death in the remote area near a village called El Plomo, about 15 miles south of the Tohono O'odham Nation's southern border.
About 400 police and soldiers responded to the area of the shootout, securing guns and vehicles, but the gunman had fled.
The shootout near El Polomo was in the same broad area, between Nogales, Sonora and Sonoyta, where two shootouts took place in 2010, and residents and officials have fled due to lawlessness.
Indeed, on Monday, Sonoyta's mayor left town for Hermosillo.