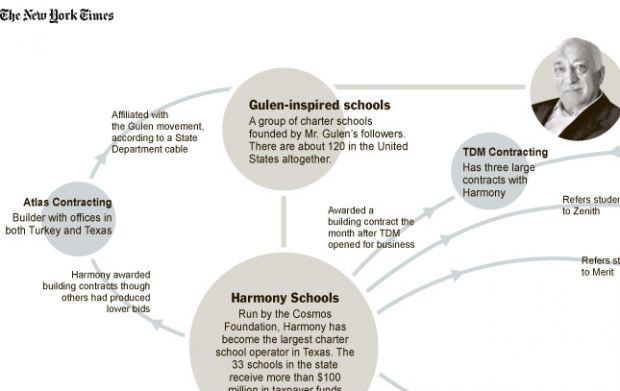 Reporter Stephanie Saul focused on contracting by the Harmony Schools, the biggest network of Gulen schools in the country. What she found was that they repeatedly favored Turkish contractors even when others bid far lower.
An examination by The New York Times of the Harmony Schools in Texas casts light on a different area: the way they spend public money. And it raises questions about whether, ultimately, the schools are using taxpayer dollars to benefit the Gulen movement — by giving business to Gulen followers, or through financial arrangements with local foundations that promote Gulen teachings and Turkish culture.
Here's another piece that caught my attention:
A review of contracts since January 2009 — 35 contracts and $82 million worth of work — found that all but 3 jobs totaling about $1.5 million went to Turkish-owned businesses.
In this piece, Saul addresses what has been the biggest question lurking behind all the journalistic and other investigations into the Gulen charter schools in the United States: Are they using American taxpayer money to fund a Turkish religious movement?
My original pieces on Sonoran Science Academy, for example, focused on the high use of teachers from Turkey on H-1B visas at Gulen charter schools, but the ultimate question is what these schools are doing with public money.