The man who fought to unify Arizona copper workers is remembered with a state highway that runs along the Union Pacific railroad tracks.
Maclovio R. "Mac" Barraza was born on March 8, 1927 in the mining town of Superior.
His father and grandfather were copper miners and growing up he heard stories about how Mexican-American miners earned lower wages than their European-American counterparts, lived in segregated housing and had little or no hope of advancement.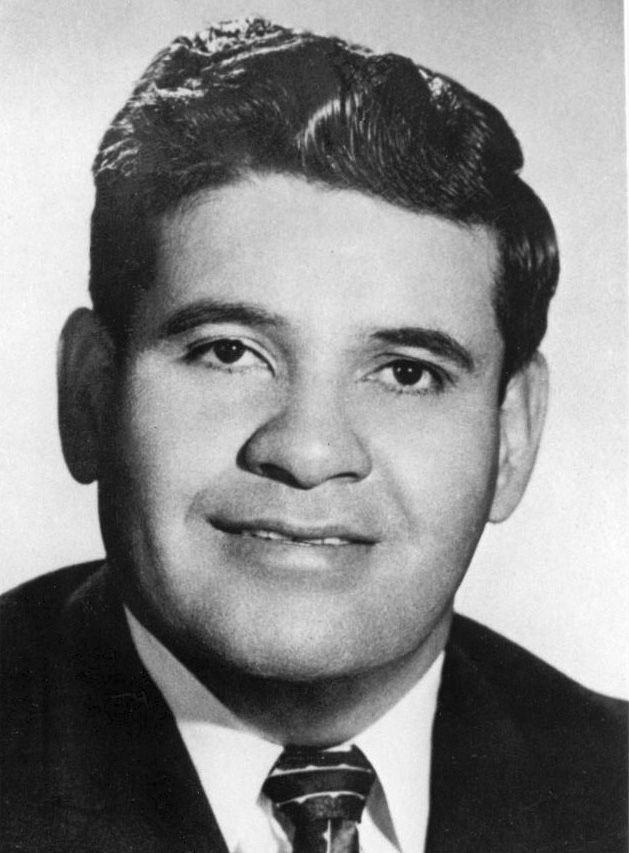 At about 11 years old, Barraza began to work in the mines during school breaks to help his family. He left school after the eighth grade.
After working construction and serving in the military, Barraza started working for the Eagle Picher Mining Corp., likely at the San Xavier Mine.
There, he first came into contact with unions. At the time, the American Federation of Labor was the bargaining agent at the mine and while it obtained a contract that set wages and working conditions,it rarely took employee grievances to the mining company.
Barraza and several other miners got wind of another union that represented miners and would deal with grievances, hold educational sessions and had representatives available to help workers.
In 1950, he and four other mine workers contacted the district board member of the International Union of Mine, Mill, and Smelter Workers, commonly referred to as the Mine Mill, and requested a chance to organize under the union. This was the start of Barraza's long affiliation with this union.
Barraza was elected chairman of the union organizing committee and when the local union was established he was elected president. He served as president until June 1952. During this period he worked as a "cager," operating the elevator that took miners, supplies and ore up and down the mine shaft. Throughout his workday he was able to talk with many miners and could obtain and distribute information.
In time his effectiveness as a local union president gained the notice of union leaders and in 1952 he was asked to work directly for the Mine Mill as an organizer and representative. In this position he was based out of El Paso, Texas, and traveled throughout Western Texas, Arizona and New Mexico to maintain and establish local unions for the Mine Mill.
He spent a lot of time on the rivalry between his union and the United Steelworkers of America. He was a powerful and convincing orator and as a result kept many union members from joining the other union. He believed that without an organized workforce there was little hope for Mexican-American workers to obtain equality.
In 1961, Barraza was elected to the board of the union to represent District 2, which included Arizona, New Mexico, Southern Utah and Southern California. In his new role he was able to move his wife, Esperanza, and their four children back to Tucson.
Serving on the board he became even more aware of the toll the rivalry between his union and the United Steelworkers of America was having on union workers. He recognized that families were being torn apart as two unions bitterly struggled to keep and gain membership.
As long as the unions kept fighting, he realized, the real issues of improving wages and working conditions would be overlooked. His number one objective became the unity of copper workers. So in 1967, with the approval of other top officials of the Mine Mill, the union became part of the United Steelworkers of America union and Barraza became a regional vice president for the United Steelworkers.
During this decade his activities outside of the union increased as well. In Tucson, he joined a picket against a restaurant that wouldn't serve African-Americans but would serve Mexican-Americans. "If you sit back and let one group be oppressed then you are participating in your own oppression," he told a fellow picketer.
He also campaigned for free textbooks for public school students and became the representative for Mexican-American students at Tucson High School when they went out on strike in 1969. Barraza, along with the students and parents, persuaded the school board to change its policies.
In 1968, Barraza was the founding chairman of the executive committee of the Southwest Council of La Raza, which started locally but became a nationwide organization called the National Council of La Raza. Among the local group's notable contributions, in the late 1970s it helping to change the hiring policy of the University of Arizona radio and television stations to employ Hispanics.
Every year at its convention, the National Council of La Raza awards the Maclovio R. Barraza leadership award to a rising leader in the Hispanic community.
Barraza died on June 29, 1980, while serving as chairman of a committee of United Steelworkers of America union representatives negotiating with Magma Copper Co. in Phoenix.
Note: What is now known as Barraza-Aviation Parkway was originally called Aviation Field Road, which derived its name from the Aviation Field — now Davis-Monthan Air Force Base.