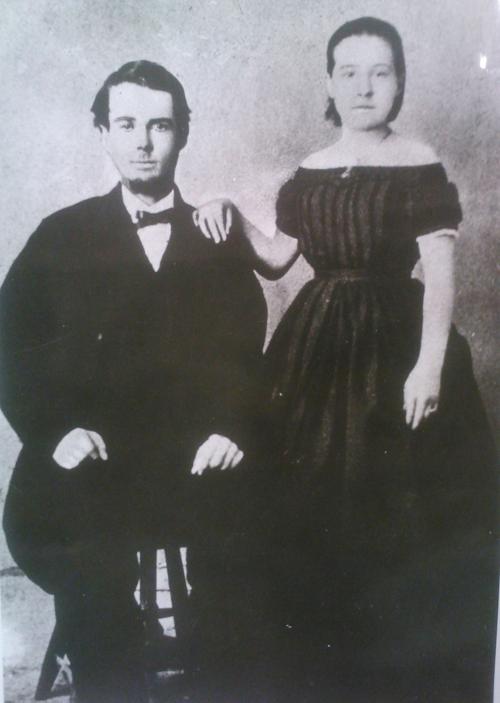 John H. "Johnny" Behan was born in October 1845 in Westport, Missouri. His maternal grandfather, Jack Harris, operated a boarding house called the Harris Inn & Tavern, (later rebuilt and called the Harris House) where the family lived. The inn was near the beginning of the Santa Fe Trail, which ran from Independence, Missouri, southwest to Santa Fe, New Mexico.
Due to its location on the trail, it is believed that several famed explorers stayed at the family run hotel, including John C. Fremont (namesake of Fremont Avenue).
Those visitors may have been an impetus for Behan's desire to travel west. Likely, though, the dispute between his grandfather Jack — a slaveholder — and his father, Peter Behan — an abolitionist — in a state that allowed slavery to exist while choosing to remain in the Union during the Civil War, helped push young John toward the American West.
Behan was in New Mexico Territory in about 1862, working as a civilian employee in the Quartermaster Department of the California Column, a unit of the Union Army. He may have been in California before his arrival in the New Mexico Territory. In time, he traveled to the Arizona Territory and completed his service for the Union Army.
In June 1863, he, Charles Shibell (namesake of Shibell Street) and others headed to the Cerro Colorado Mine, southwest of Tucson. It is believed that Behan worked as a laborer or miner there.
In December 1863, Fort Whipple was established near present-day Prescott to protect the miners, in the area where gold had been recently discovered. A civilian economy soon developed around the fort, and by the following year Behan was living there.
Soon after, he along with Charles A. Franklin (namesake of Franklin Street) worked as bullwhackers, guiding ox trains, hauling hay from the Williamson Valley to Fort Whipple. Both men were acutely aware of the danger of Apache attacks, which were common. In time, the raids were so effective that they put the company employing both men out of business. Behan, at least for a time, found work transporting mail by horse from Prescott to Phoenix.
In 1864, Behan was appointed clerk to the First Territorial Legislature in Prescott. There he met many prominent territorial men of his time, some of whom would later assist him in his political endeavors.
Around 1865, he was involved with a mining claim in the Walker District southeast of Prescott and at one point purchased a sawmill nearby with Curtis C. Bean (not the namesake of Bean Avenue) and another partner. His interest in the sawmill was later sold to E.N. Fish of Tucson.
In 1866, he was appointed deputy sheriff of Yavapai County, under Sheriff John P. Bourke.
At the time, Yavapai County was significantly larger than it is today and covered many more square miles, making the job more difficult for the few county law enforcement officers. That same year, the U.S. government forced the Arizona Territory to cede Pah-Ute County to Nevada, shrinking the Arizona Territory.
Three years later, then-county recorder of Yavapai County, Behan married Victoria Zaff, a stepdaughter of his former boss, Sheriff John P. Bourke, in San Francisco. The couple had a home built on Capitol Hill, one of the nicest spots in the town site. Son Albert was born within a few years of the marriage.
His desires to improve his life and once again be involved in law enforcement led to him becoming sheriff of Yavapai County in 1871.
In 1873, he was elected representative of Yavapai County to the 7th Territorial Legislature, which met in Tucson, then the capital of the territory. One of the legislative body's first acts was to pass a bill divorcing Gov. Anson P.K. Safford (namesake of Safford Middle School) from his wife.
Two years later Behan himself was hit with divorce papers due to his indiscretions with a prostitute — or possibly more than one. The court granted the divorce on June 2, 1875, and Behan was ordered to pay $16.66 per month to support his son.
In 1879, Behan was in the 10th Territorial Legislature in Prescott. The legislature licensed gambling in the Arizona Territory at $300 per quarter, half to the county and half to the Arizona Territory. Professional gamblers and saloon keepers had a lot of influence around this time in politics, and many politicians depended on their support.
In September 1880, Behan, attempting to make a fresh start in a new town, moved with his 10-year-old son, Albert, to Tombstone. About a month later his love interest Josephine Sarah "Sadie" Marcus arrived in the Arizona Territory. By the next year she would be gone because of his philandering.
He invested in a livery stable and got a job at the new Grand Hotel as bar manager.
In 1881, Cochise County (named for Apache Chief Cochise) was cut from the eastern portion of Pima County, and Behan was appointed the first sheriff of the new county. In this role, he played a part in the famed Gunfight at the O.K. Corral which pitted the Earp-Holliday group against the McLaurys-Clantons faction.
Marcus, his former love interest, later became Wyatt Earp's common-law wife and lifetime companion.
In the late-1880s, Behan served as superintendent of the Yuma Territorial Prison. This dreadful place was where famous stagecoach robber Pearl Hart and lawman-turned-outlaw Burt Alvord served their time.
Some sources say Behan served in the Spanish American War in 1898. He died in Tucson in 1912 and is buried at Holy Hope Cemetery.