William H. Sawtelle was not yet 21 years old when he took the exam to become a lawyer. A special provision in the Alabama statutes allowed him to be admitted to the bar.
Sawtelle, born on Aug. 27, 1868 in Tuscumbia, Alabama, had attended the Tuscumbia Classical and Military Academy for three years and then read law — or worked under the tutelage of an experienced lawyer — for more than a year before taking the bar exam. Next, he entered into a partnership with James Jackson, one of the most respected lawyers in the region.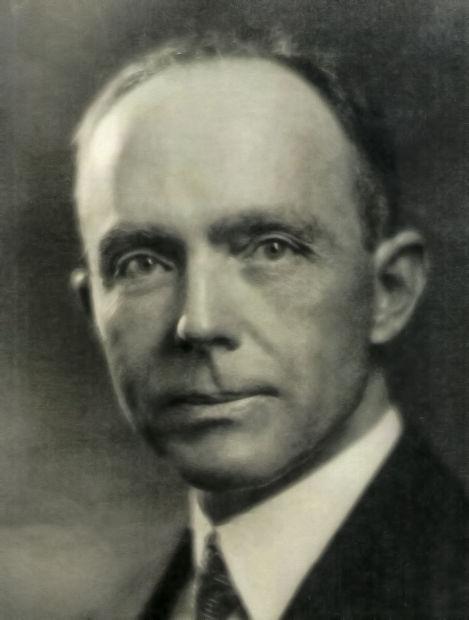 According to his grandson, Tom K. Sawtelle, "One way he earned money while he was reading law was, before train trips, he would buy peanuts and fruit and sell them to passengers on the trip."
In 1892, he was elected Circuit Solicitor of the Eighth Judicial Circuit for the State of Alabama, comprised of eight counties in the northern section of the state. He was re-elected in 1898, and again to a third term that he did not fill. During part of that time, he was also city attorney for Tuscumbia and served on a local school board.
Also during this time, on June 28, 1894, he married Lulie C. Mhoon in Colbert County, Alabama. They went on to have three children: James, Dorothy and William Jr. Around 1900, the Sawtelle family is believed to have been neighbors with the Keller family, of which Helen Keller was a member.
Sawtelle first visited Tucson in December 1903, and returned to live here permanently in 1904. The reason for the move was his wife's tuberculosis — but the death of baby Dorothy in 1901 also may have factored into the need for a change of scenery.
Soon after he moved here, he went into private practice as an attorney and became involved in real estate. On May 15, 1907, he filed incorporation papers with Pima County for the Arizona Improvement Company, a development enterprise he began with J. W. Forgeus and other investors.
The company's first known project was the Fairmount Addition bordered by Campbell Avenue, Third Street, Treat Avenue and Eighth Street. Sawtelle recorded this subdivision along with Forges Avenue (later corrected to Forgeus) and Sawtelle Avenue with Pima County on May 24, 1907.
By 1908 he had an office at 88 N. Stone Ave. and lived at 345 E. Third St. (now University Boulevard).
In 1910, his wife died of pulmonary tuberculosis. The attending physician was Dr. William Vincent Whitmore, the namesake of Whitmore Elementary School.
In 1912, Sawtelle moved his private practice to the Wright building at 46 N. Church St. (now Church Avenue), which he had purchased from Harriet Wright the previous year.
The same year, Sawtelle purchased land, originally owned by Amphitheater School District founder Joseph D. Andrews, bounded approximately by present-day Prince Road, Stone Avenue, Fort Lowell Road and Oracle Road (Tucson-Florence Highway). He also bought other contiguous land.
On Aug. 6, 1913, President Woodrow Wilson nominated Sawtelle as judge in U.S. District Court for the District of Arizona. He was confirmed by the U.S. Senate, took his oath of office, and opened court later that month. He worked out of Phoenix, which at the time was the only city in the state where federal court was held.
Two months later, an Act of Congress provided that federal court would be held in Prescott, Globe, Tucson and Phoenix. For close to 10 years, Judge Sawtelle presided over court in all four locations at various times each year.
On June 5, 1915, Sawtelle married Mary Martin in Pima County. They had one son, Benjamin.
In December 1918, the Tucson Chamber of Commerce chose Sawtelle's land near Oracle Road to be the landing field for several U.S. Army planes that were mapping out an aerial mail route from San Diego to El Paso, Texas. Fifty men, along with work horses, cleared the underbrush, graded the land, rolled the gravel used for the landing strip and put down long strips of canvas to indicate the bounds of the 500-by-3,000-foot landing strip. Mayor O.C. Parker and a large crowd met the planes at one of the Old Pueblo's first landing fields.
As the number of cases increased over the years in the District of Arizona, Congress approved the appointment of a second judge. Judge Fred C. Jacobs was the choice and was appointed in September 1922. He took over federal court cases in Prescott and Phoenix, while Judge Sawtelle kept court in Globe and Tucson.
On Oct. 6, 1924, the Pima County Board of Supervisors named a dirt path running from Oracle Road to First Avenue, Sawtelle Road. This was a result of Sawtelle allowing the county to build the road on his land without financial compensation.
In 1925, Sawtelle and his wife subdivided their land near Oracle Road, and recorded the subdivision as Sawtelle Place. They named three streets: Mojave Road, Navajo Road, and Yavapai Road. They also renamed Sawtelle Road to Sawtelle Street. This street is now part of Fort Lowell Road and much of Sawtelle Place is now occupied by Amphitheater High School.
By 1927, Judge Sawtelle had heard more than 1,000 cases.
On Jan. 8, 1931, President Herbert Hoover nominated Sawtelle to the Ninth Circuit of the U.S. Court of Appeals. He served in that capacity until his death in San Francisco on Dec. 17, 1934.