William J. Osborn, who held several key posts in early Tucson, was born in New York on Feb. 6, 1834.
It's been said that he served as a messenger boy for William L. Marcy, who was President Franklin Pierce's secretary of state and who was involved in the Gadsden Purchase, through which the U.S. bought present-day Southern Arizona from Mexico.
Osborn eventually moved to Leavenworth, Kansas Territory, where he and William H. Adams established the Kansas Weekly Herald in 1854. The newspaper was the first in the territory, but Osborn severed ties with it after about a month. The following year, he was appointed U.S. postmaster at Wyandott, Kansas Territory, and at one point was elected to the Kansas Territorial Legislature.
He joined Albert Sidney Johnston's Utah Expedition as chief of citizen transportation and later served in the Utah Territorial Legislature from 1858 to 1859. In 1860, Osborn was living in Carson City, Utah Territory, and worked as a Pony Express rider. The following year, the Nevada Territory was cut from the Utah Territory and before long he was elected to the first Nevada Territorial Legislature.
During the Civil War, Osborn was appointed to take charge of a wagon train headed to California. After traveling to numerous points in the state, he was sent to Wilmington, near Los Angeles, to await orders. The wagon train was then loaded with supplies for the Union Army and was ordered to Tucson, where it arrived in 1863. He left the Quartermaster Service when he arrived here.
The 1864 Arizona Territory Census shows Osborn living in Tucson and working as a trader. Later in the year, on July 18, 1864, he was appointed by Gov. Goodwin as judge of the first territorial election here.
He relocated to Tubac, where he worked as a farmer and was elected to the Third Arizona Territorial Legislature, which convened in Prescott on Oct. 3, 1866.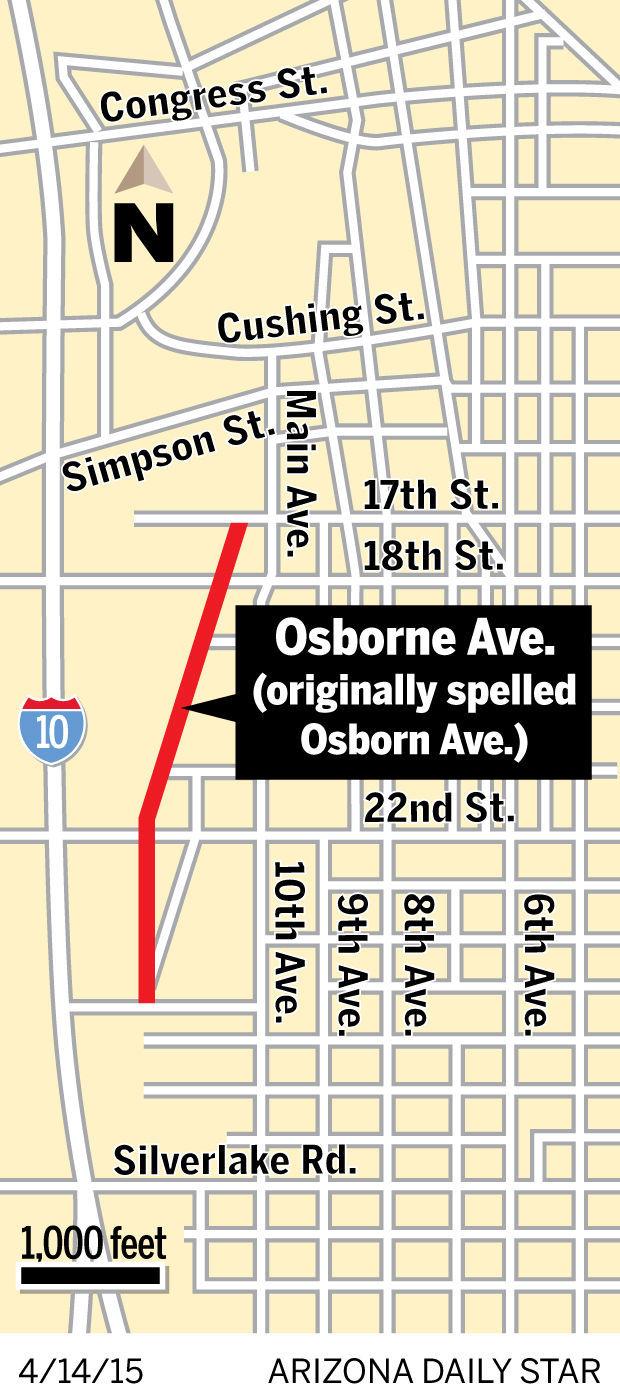 At the territorial session, Gov. Richard C. McCormick (the namesake of McCormick Street) delivered a message about the condition of the territory, which included the lack of internal public transportation: "I am ashamed to say that to this day there is not a stage coach running in Arizona, although the territory has been organized nearly three years. Lines from Wilmington (now part of Los Angeles) and San Diego to Fort Yuma, and from San Bernardino to Hardyville (now Bullhead City) have lately been established. Connecting lines to Tucson, La Paz, Prescott and the Rio Grande should be provided by some of our enterprising citizens without delay. ... Until well-conducted lines of coaches are established, we cannot look for a great increase of population, however tempting our mineral wealth."
In 1870, Osborn was living at Camp Crittenden and partnered with Frenchman A. Lazard as traders on a military post. Lazard bought out Osborn and dissolved the partnership in 1870. Osborn moved back to Tubac, but relocated to Tucson by the year's end because of Indian attacks.
In 1871, when the village of Tucson was incorporated, Osborn became the first village recorder, a role he filled for the next three years. He was appointed probate judge for Pima County and also assumed the duties of ex-officio superintendent of schools in 1874 and 1875. From 1883 to 1884, he served as clerk of the Pima County Board of Supervisors.
Osborn created one of Tucson's first subdivisions when he purchased land from John Moore at present-day 22nd Street on Dec. 22, 1877. The parcel, known as Osborn's Addition, included three blocks between current 22nd Street and 25th Street, with 150-by-80-foot lots that sold for $30 to $75 each. A trolley was projected to run past the addition.
In 1880, when Philip Contzen (namesake of Contzen Avenue) surveyed Tucson, he listed the road running from Simpson Street, southwest through what is now Carrillo School down to the city limits, as Osborn Avenue.
Osborn lived in the addition that bore his name, which was south of the Tucson city limits. A March 15, 1884, Arizona Citizen article described the road as "the main thoroughfare for all travel leading southerly and westerly from the city" and called it "the finest drive leaving the city."
In 1903, John Mets recorded Osborn's Addition and Osborn Avenue with Pima County. Mets may have owned the land at this point or he may have recorded it on behalf of Osborn. This is believed to be the first official filing of the subdivision with Pima County. In 1906, when J.B. Wright drew the Map of the City of Tucson and Additions, he listed the road as Osborn Avenue.
At some point after 1906, the alignment of the road changed at 22nd Street, to more of a straight southerly direction. This may have been the result of the El Paso & Southwestern Railroad buying part of the Osborn's Addition and building its roundhouse there.
Beyond his work life, Osborn had a family in Tucson. He wed Anna Johnson, a schoolteacher from Sweden, on Dec. 4, 1873, in a ceremony performed by Gov. Anson P.K. Safford. They had two children: Mary C. and Willie.
Will died of diphtheria in 1886. On June 29, 1896, Mary — just back from Cornell University — married professor George L. Hoxie, who is believed to have taught physics and mechanics at the University of Arizona. They left the next day to return to Cornell and went on to have four children: Dorothy, Robert, Stephen and Henry. Osborn died in 1908 at age 73. He was buried in the A.O.U.W. (Workmen's) section of the Court Street Cemetery. In 1915, his remains were reinterred at the Evergreen Cemetery. His wife died in 1919.
By 1929, with no family members living in Tucson, Osborn Avenue was being spelled incorrectly as Osborne Avenue, as it is today. William Osborn's tombstone at Evergreen Cemetery, which appears to be relatively new, also incorrectly lists him as W.J. Osborne.