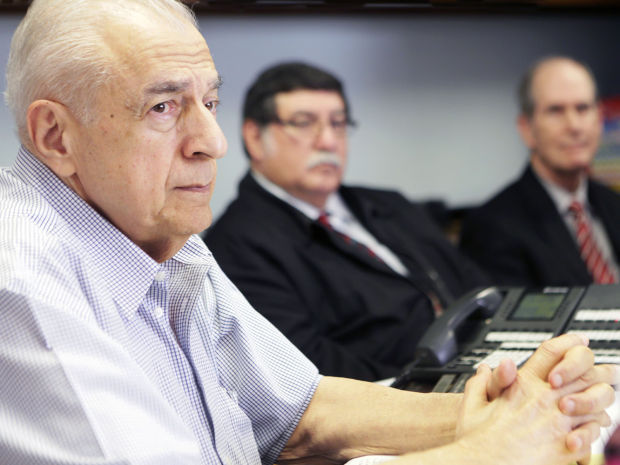 Tucson business leaders said they are experiencing significant delays in mail delivery since the U.S. Postal Service changed its service standards Jan. 5.
The service change is part of the second phase of the Postal Service's effort to consolidate 82 facilities — including Tucson's main processing station at 1501 S. Cherrybell Stravenue — around the U.S. as cost-cutting measures.
In the first phase, which occurred in 2013, all mail originating from Tucson, even if it was being sent to another Tucson address, was sent to Phoenix to be processed.
The Postal Service said the change last month in its service standards in the United States resulted in a one- to two-day delay in first-class mail delivery.
In a press conference Thursday with Tucson Councilman Richard Fimbres, business owners, union members and area chambers of commerce, George Kalil, whose family owns Kalil Bottling Co., complained that the mail delivery in Tucson is taking even longer than the one- to two-day delay that the Postal Service said would occur.
Kalil, for example, said when his secretary called the Cherrybell station to inquire about his late mail, a worker told her that there was a five-day delay at the Phoenix-based facility.
"The reality is that everyone is affected," he said.
Christina Chambers of Arizona Jet Mail, a local printing and mailing service, said she tells her customers to expect and prepare for mail getting delayed as a result of having to travel to Phoenix and back, but not all businesses or organizations have the luxury to plan out in advance.
"I get emails all the time: 'I haven't got my mail,' " she said.
The Postal Service denied there are any additional delays as a result of the service change.
"There have been no delays of mail for Tucson-area delivery at the Phoenix Processing & Distribution Center," said Peter Hass, a postal spokesman in the Western region.
There are about 350,000 pieces of mail from Tucson being processed at the Phoenix facility on a daily basis, he said. He could not immediately comment on how it was dealing with the increased volume of mail.
An economic analysis report released in December by a New York-based research organization, Fiscal Policy Institute, estimated Tucson would lose about $49 million as a result of the consolidation. About $5 million of that figure included loss in related industries.
The consolidation has dire economic consequences, said Tom McGovern, incoming chair of the Tucson Metropolitan Chamber of Commerce. The lack of a mail-processing center in a region of over 1 million people and growing is that businesses would be harmed.
"What we want this to be is a timeout to revisit the process," he said.
An internal audit of the Postal Service released in October 2014 showed that it did not complete necessary impact surveys on the sites chosen for consolidation. The service said at that time that it would conduct those surveys in early January.
In an email statement Thursday, Hass, the spokesman, said: "Given the fact that we are only a few weeks into the service standard change, it is premature for any long-term impact to be accurately measured."
The consolidations of the 82 facilities nationwide, which the agency calls "network rationalization," was implemented under former U.S. Postmaster General Patrick R. Donahoe, who retired Feb. 1.
The agency said the consolidations, including Tucson's, will take place in July as scheduled, Hass said. He did not say whether or not the results of the impact surveys would sway the Postal Service's decision to consolidate some facilities.
The Cherrybell station's retail operations will remain open after the mail-processing services are relocated.
Contact reporter Yoohyun Jung at 520-573-4224 or yjung@tucson.com. On Twitter: @yoohyun_jung.
The business news you need
With a weekly newsletter looking back at local history.