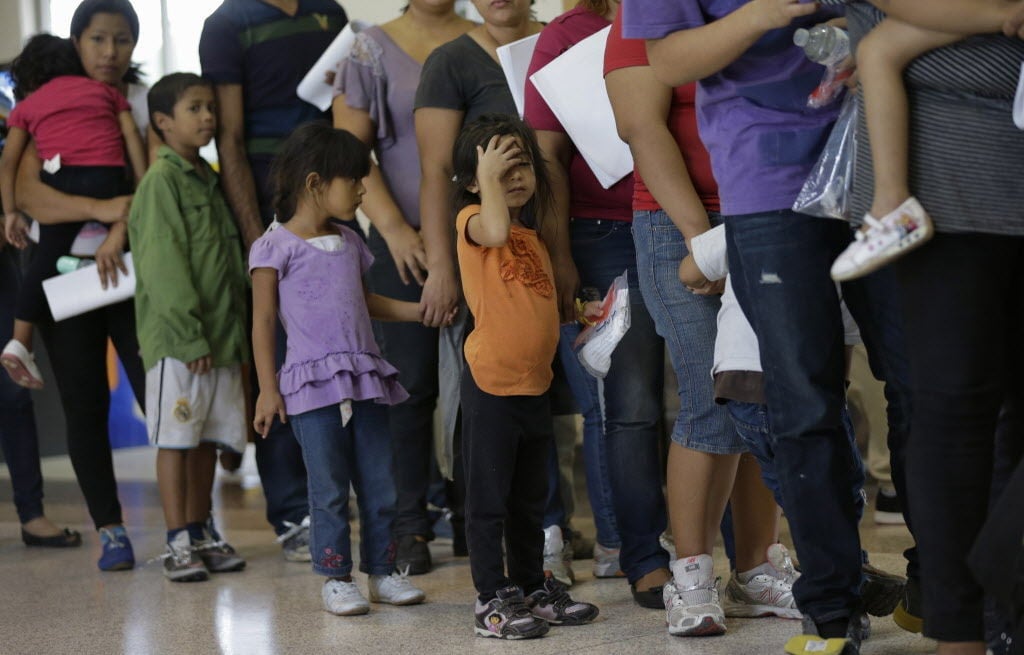 Fewer parents of U.S. citizen children are being deported, both in Arizona and nationwide.
Removals of parents with U.S.-born children in fiscal 2014 fell by nearly half compared to 2013, according to data from Immigration and Customs Enforcement obtained through a public-records request. Arizona saw nearly 2,300 removals in 2014 compared to 4,413 in 2013. Nationwide, there were 39,300 removals in 2014 and more than 72,000 in 2013.
Over the last several years, the federal government has narrowed its priorities for immigration enforcement, which has resulted in fewer deportations overall, but particularly of those who claim to have children born here. The government has said it wants to focus its limited resources on convicted criminals and those who pose a threat to national security.
During the same period, deportations declined 19 percent in Arizona and 14 percent nationally, ICE data show.
In 2014, the Obama administration announced the Deferred Action for Parental Accountability, or DAPA, program, which would grant work permits and deferral of deportation to about 3.7 million parents of U.S. citizens or lawful permanent residents. The program remains in legal limbo as more than two dozen states, including Arizona, sued the federal government over it.
Obama also discontinued the controversial Secure Communities program, which identified people in state and local jails who could be deported — and in some instances held them for immigration authorities. That has been replaced with the Priority Enforcement Program, which also relies on local law enforcement agencies sending fingerprints to ICE, but now the agency is instructed to take custody only of those who pose a threat to national security or have been convicted of certain crimes and meet the agency's priorities.
Humanitarian releases
The declining numbers are not surprising, said Wendy Cervantes, vice president for Immigration and Child Rights at First Focus, a bipartisan children's advocacy organization. "All of those different policies should be decreasing the extent in which parents are removed," she said.
In August 2014, ICE also issued a directive that provides some protections for parents in the agency's custody, particularly when the child welfare system is involved.
"ICE uses prosecutorial discretion to release individuals in ICE custody for humanitarian reasons, such as being the sole caregiver of minors, and when we are aware that the detention of a non-criminal alien would result in any child (U.S. citizen or not) being left without an appropriate parental caregiver," ICE officials have said.
The mere fact that a person has a U.S. citizen child should not determine whether they are deported, said Jessica Vaughan, director of policy studies at the Center for Immigration Studies, a Washington think tank that favors immigration restrictions.
"They are deportable because they are here illegally," she said. "Just because they were here long enough to start a family, it shouldn't exempt them from deportation."
As many as half a million parents may have been deported from 2009 to 2013, the Migration Policy Institute and the Urban Institute said in a 2015 report. ICE began tracking comprehensive data on the deportation of parents with U.S. citizen children in 2010.
Newcomers a priority
Over the past few years, migrants apprehended at the border and those referred to ICE by state and local law enforcement agencies have made up the bulk of ICE's detentions and deportations.
Recent border crossers and anyone with a criminal history are still a priority for detention, regardless of whether they have U.S.-born children.
Nationwide, about 70 percent of ICE's removals are of people caught by Customs and Border Enforcement at or near the border. In fiscal 2013, nearly 80 percent of the removals in Arizona were of recent border crossers.
Current data on the share of deportations of parents of U.S. citizen children who were caught at the border in Arizona and nationwide was not readily available, but in 2013 it was 36 percent nationally, less than the 64 percent for overall removals that year.
Parents of U.S. citizen children caught at the border are often subjected to summary deportation proceedings and often don't get to fight their case before an immigration judge, CBP data obtained by the Arizona Daily Star show and Human Rights Watch has reported. They can also be charged criminally for illegally re-entering the country and barred from coming back for years.
"One of the biggest problems with prioritizing border removals is that it's not just newcomers," said Wendy Feliz, spokeswoman for the American Immigration Council, a Washington-based think thank.
"Many of those people have ties and have been here before and are trying to get back to their families."
Be the first to know
Get local news delivered to your inbox!