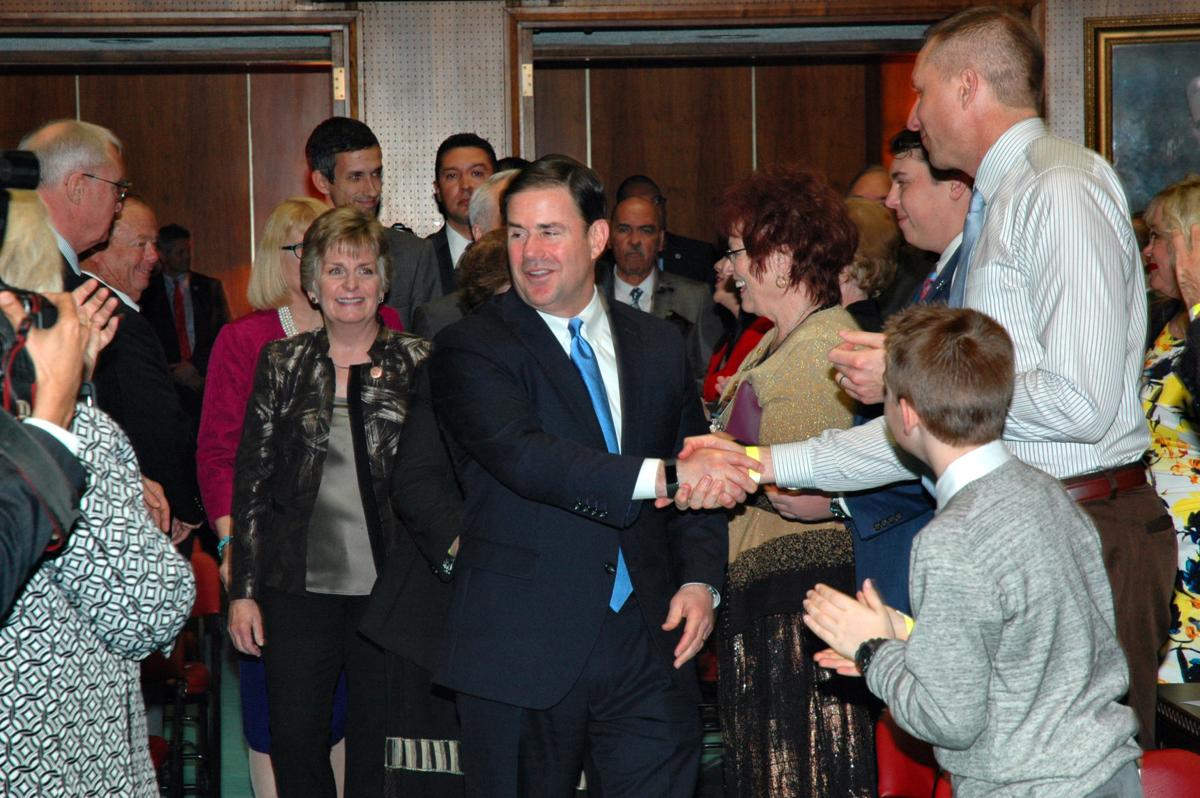 PHOENIX — Gov. Doug Ducey promised today to put more money into public education than legally required and give teachers raises.
But Arizonans will have to wait until Friday when the governor releases his budget proposal to learn exactly how much.
In his third State of the State speech, Ducey made what he called "a commitment our educators can take to the bank." The governor said he recognizes that it is the teachers of Arizona who make the difference.
"I value your work," he said. "And it's time we return the favor."
Ducey said he recognizes that he told voters if the approved Proposition 123 last year that would be the  "first step" in providing more resources for education. He said what he is laying out amounts to "steps 4, 5 and 6."
The first is more resources, above what is required by a voter-mandated inflation formula.
"Now, I'm not promising a money tree," the governor told state lawmakers and others in the audience.
"There's no pot of gold or cash hiding under a seat cushion," he explained. "And unlike Washington, we don't print money."
Ducey went on to say he has no intent of raising taxes.
Step 5, he said, is a "a permanent, lasting salary increase to all of Arizona's teachers," He said that will be above and beyond what they might have received following voter approval last year of Proposition 123.
It uses funds from a land trust account and other dollars to put about $350 million a year into schools. And while voters were told that teachers would benefit, the actual use of the additional dollars was left to each district.
"No one goes into teaching to get rich," he said. "But everyone deserves to be rewarded for their hard work."
And Step 6, he said, is a plan to relieve those who go into teaching of their student debt.
But there's more. Ducey also promised to put money into his budget for full-day kindergarten.
It was Gov. Janet Napolitano who more than a decade ago pushed through state funding. But lawmakers dropped the $240 million annual financing during the recession.
About half of schools, though, have kept the programs, paying for them either with local funds or tuition. Ducey is moving to make that available again at state expense, but only for "the lowest-income schools," saying it "addresses an issue we know is critical to closing the achievement gap: The ability to read by third grade."
Overall teacher pay aside, Ducey cited the need for high-quality teachers in schools in low-income areas.
"It also happens to be the hardest place to attract them," the governor said. Ducey said he wants a $1,000 signing bonus "to attract the best and brightest, and continue to close the achievement gap."
The governor said he also wants changes to the process of certifying teachers, saying it is broken.
He cited the example of Sandra Day O'Connor, the first women majority leader of the state Senate and the first woman to serve on the U.S. Supreme Court.
"She's taught and lectured in law schools," Ducey said. "But after her retirement in 2005, if she had wanted to teach civics in an Arizona high school classroom, she would have been deemed unqualified by the system," he said.
The governor proposes scrapping a statewide standard for who can teach.
"Let's get with the times and place trust in our school boards, superintendents and principals by letting them make the hiring decisions, and remove other obstacles," he said.