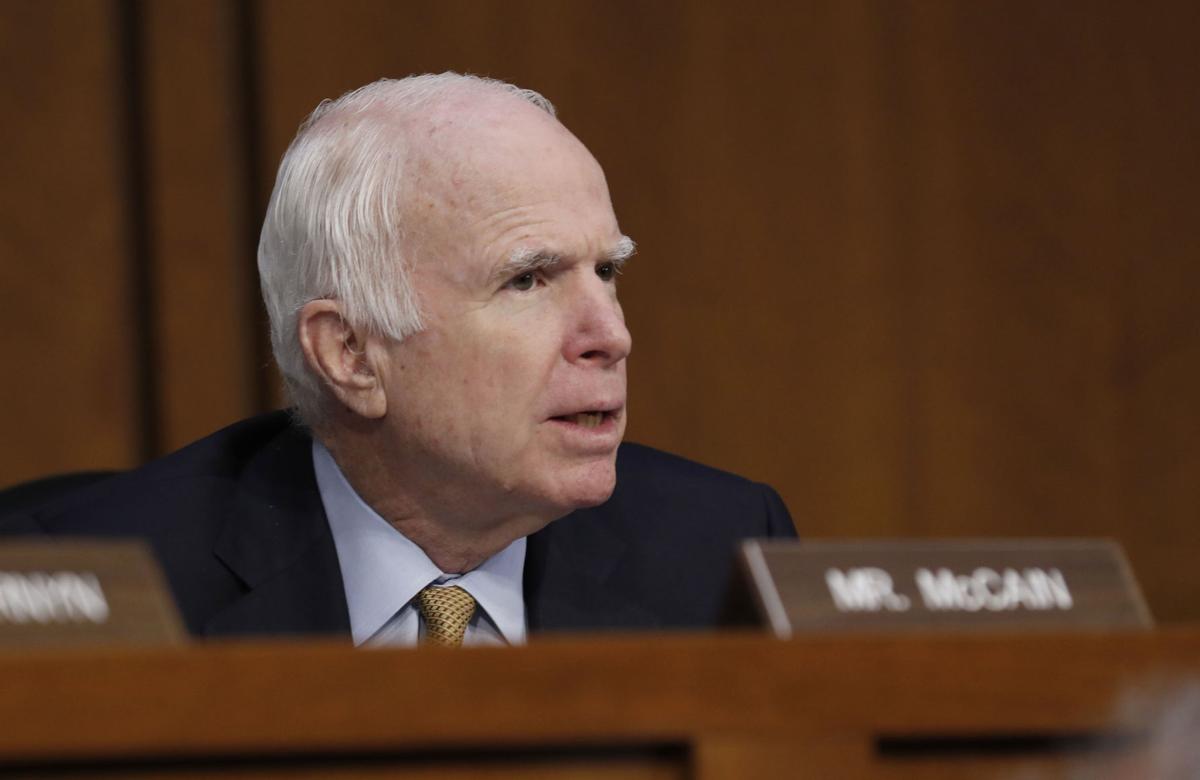 Sen. John McCain puzzled just about everybody with his eight-minute questioning of the former FBI director, James Comey, today.
What's troubling is how confused McCain himself seemed to be.
Today, of course, was a big moment on Capitol Hill, in which members of the Senate Intelligence Committee questioned Comey, who was fired by Pres. Trump May 9. 
Much of the senators' questioning focused on Comey's relationship and conversations with Trump and on the investigation into Russian meddling with the 2016 presidential campaign.
Not McCain's. To be as generous as possible, McCain, 80, seemed to be suggesting that Comey's FBI treated Trump unfairly by continuing to investigate his campaign's links to Russia but not investigating whether the Clinton campaign had similar links. Or maybe, as McCain later suggested, the idea was to point out that Comey reached a legal conclusion exonerating Clinton in the investigation of her email server but hadn't taken a similar step in Trump's case.
Either explanation is generous.
Here's McCain's opening question to Comey:
"In the case of Hillary Clinton, you made the statement that there wasn't sufficient evidence to bring a suit against her, although it had been very careless in their behavior. But you did reach a conclusion in that case that it was not necessary to further pursue her, yet at the same time in the case of Mr. Comey [Here, McCain seemed to mean Mr. Trump], you said that there was not enough information to make a conclusion. Tell me the difference between your conclusion as far as former Secretary Clinton is concerned and Mr. Trump."
Comey answered that the investigation of Clinton's private email server was completed last July but the Russia-campaign investigation was ongoing when he left office.
Next McCain question: "That investigation was going on, this investigation is going on, you reach separate conclusions."
Comey: "No, that one was done."
McCain went on: "Well, at least in the mind of this member, there's  a whole lot of questions remaining about what went on, particularly considering the fact that, as you mentioned it's a 'big deal' as to what went on during the campaign. So, I'm glad you concluded that part of the investigation but I think that the American people have a whole lot of questions out there, particularly because you just emphasized the role that Russia played, and obviously, she was a candidate for president at the time, so she was clearly involved in this whole situation where fake news – as you just described it, 'big deal' – took place. You're going to have to help me out here. In other words, we're complete, the investigation of anything that former Secretary Clinton had to do with the campaign is over and we don't have to worry about it anymore?"
Comey's response began understandably: "I'm a little confused, senator."
McCain was not done in his apparent conflation of the concluded Clinton email-server investigation and the ongoing Russia investigation: "But you reached the conclusion that there was no reason to bring charges against Secretary Clinton. So you reached a conclusion in the case of Mr. Comey – President Comey – er, President Trump you have an ongoing investigation, so you've got one candidate who you're done with and another candidate that you have a long way to go, is that correct?"
After the hearing, McCain's office put out a statement attempting to clarify his questioning.
"What I was trying to get at was whether Mr. Comey believes that any of his interactions with the President rise to the level of obstruction of justice. In the case of Secretary Clinton's emails, Mr. Comey was willing to step beyond his role as an investigator and state his belief about what 'no reasonable prosecutor' would conclude about the evidence. I wanted Mr. Comey to apply the same approach to the key question surrounding his interactions with President Trump—whether or not the President's conduct constitutes obstruction of justice. While I missed an opportunity in today's hearing, I still believe this question is important, and I intend to submit it in writing to Mr. Comey for the record."
Even if that was what McCain was trying to accomplish in his line of questioning, it doesn't make much sense. The Clinton email investigation was over when Comey opined about it; the Russia-campaign investigation is not, and he's not even FBI director anymore.
McCain's performance was one that went beyond inspiring mockery in his critics. Instead, it inspired sympathy and concern for a man who seemed confused.
That's troubling for those of us in Arizona who must count on him to represent us. 
Contact columnist Tim Steller at tsteller@tucson.com or ​520-807-7789. On Twitter: @senyorreporter