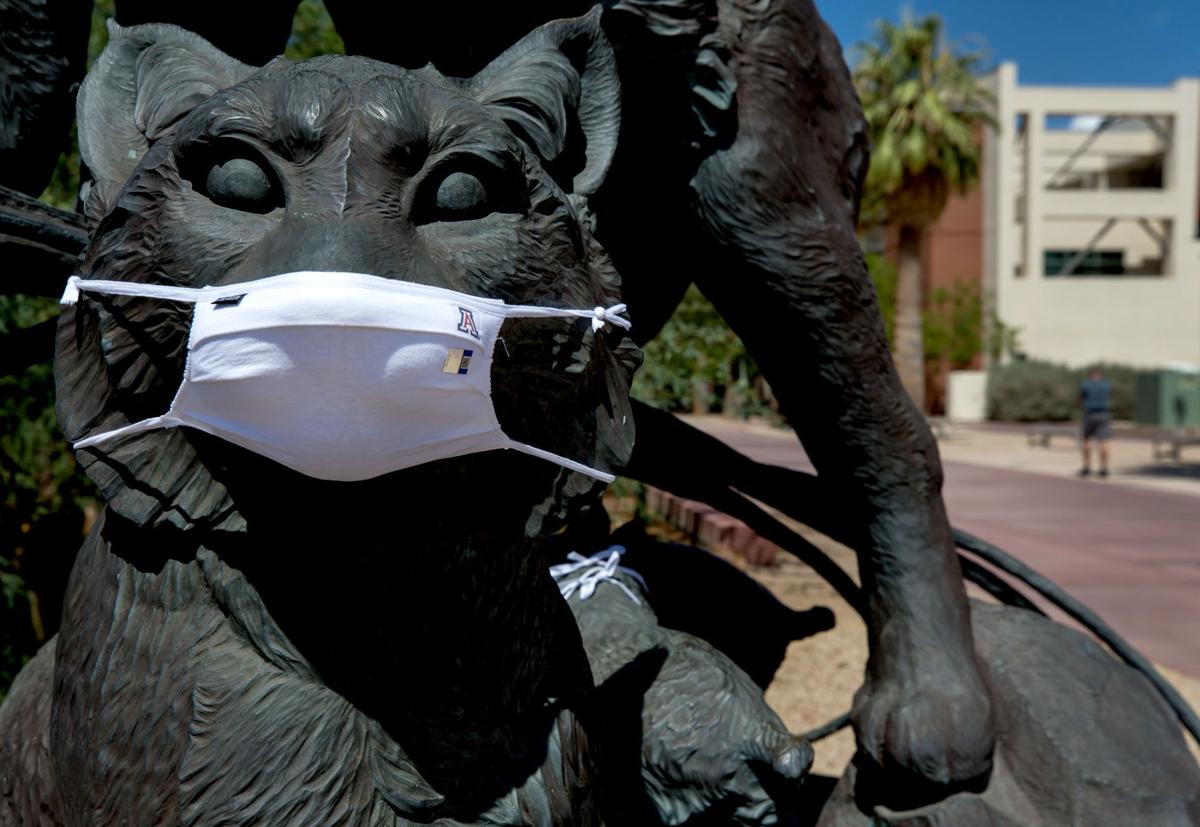 John Kalil realized early on in the coronavirus pandemic that it was nothing the Kalil Bottling Co. had faced before.
With demand for products fluctuating, the company — founded in Tucson in 1948 — considered everything to cut costs, from layoffs to furloughs to closures.
Kalil applied and was awarded between a $5 million and $10 million loan from the federal government through the federal Paycheck Protection Program.
"The result of that is we're still here. We haven't laid people off," said Kalil, adding that his business did have to move some people around.
"Our plan is we don't want to go anywhere. We're a fourth-generation based Arizona company."
Kalil Bottling Co. was one of at least 1,300 businesses and nonprofits in Pima County to receive loans totaling upward of $450 million through the Paycheck Protection Program, with applicants telling the feds that the money would be used to help retain more than 76,000 jobs.
Those disclosures were part of initial data released earlier this month by the Small Business Administration and Treasury Department about the program, which provides funding for 660,000 businesses and nonprofits around the country. The program is scheduled to expire Aug. 8 but is expected to be extended as part of the next federal stimulus package.
The loans were meant to help small businesses avoid layoffs during the COVID-19 crisis, but they have also garnered controversy over the application process and questions about whether the money has been distributed fairly.
The funds are used for payroll costs, interest on mortgages, rent and utilities.
The data do not reveal the exact amounts given to each entity, with specific loan amounts rather broken into categories based on range. The companies were asked to fill out how many jobs loans would allow them to retain; more than 150 Pima County companies either listed zero jobs retained or left the section blank.
Kalil Bottling Co. was one of six business in Pima County to earn a loan as part of the highest range — $5 million to $10 million.
Kalil would not provide the exact amount but said that the money was used to help retain 500 jobs.
He said the loans were necessary because of the unpredictability of business as a result of the pandemic.
"You can predict how your business is gonna go. … But most of our predictive models for what our business was going to look like tomorrow are not very predictable anymore," he said. "On any given day, we don't know what our company, our city, our employees are going to look like the next day, the next week."
While Kalil is grateful for the help, he cautioned that "there are probably more questions about what's going to happen next month than the PPP has solved last month."
"We anxiously await the day where we can put this behind us," he said.
'Band-aid on a critical wound'
HSL Properties Inc., which operates more than 100 limited partnerships and limited liabilities companies in the hotel, apartment and home industries, secured at least eight loans for its subsidiaries totaling $9.37 million, according to President Omar Mireles. The Tucson-based company's three highest loans — between $2 million and $5 million — went to the entities that oversee their rental business, their Ritz-Carlton hotel in Dove Mountain, and the Hilton Tucson El Conquistador, records show.
In an email, Mireles said all of HSL's businesses have been significantly impacted by the pandemic, with the hotels having been "especially hard-hit as occupancies and rates have collapsed." He said that the grand majority of the funds have been used for payroll costs.
"We are very grateful to have been able to successfully apply for the loans through our various lending relationships, and the PPP funds have been lifelines that have enabled all of our hotels to remain open and continue to employ our team members," he said.
He added that the balances were calculated based on approximately 1,000 employees throughout the different operations, but that each of these entities that received the loans have their own ownership and investor structure, and each received its individual loan based on its own payroll analysis.
"It was encouraging to see that over 11,000 PPP loans infused over $7 billion of capital into the state of Arizona's economy, but, given the severe impact of the pandemic on our economy, even this eye-popping amount sadly seems like only a band-aid on a critical wound," he said.
Program set up to be 'politicaly neutral'
Other Tucson companies to receive the loans included nonprofits, such as the University of Arizona Foundation, which received $1.57 million, and the Center for Biological Diversity, which received $2.9 million, officials told the Star.
At the UA Foundation, the money was necessary because of "an immediate decline in operating revenues as a result of the pandemic." Likewise the school's endowment, which was estimated at more than $1 billion, is earmarked 98% toward specific causes and can't be used for operating expenses.
The foundation's operations are funded through two fees, officials said. The first is a 6% fee on donations of $1,000 or more, with 4% going to fund foundation development, 1% to fund the university president's office, and 1% to fund the college receiving the gift. The other fee is a 1.25% per annum on the value of each endowment to offset costs involved in "managing and stewarding" the endowment.
The Paycheck Protection Program money helped the foundation "immediately retain 92 jobs and continue to support the University of Arizona and our donors," according to UA spokeswoman Pam Scott.
"The last significant economic decline — the Great Recession of 2008 — resulted in a 15% decline in giving and the Foundation is preparing for similar or greater financial challenges in the months ahead, reducing costs wherever possible while continuing to prioritize resources so that the team can continue to build relationships in support of critical fundraising efforts for scholarships and other university programs," she said in an email.
At the Center for Biological Diversity, executive director Kieran Suckling said the nonprofit considered furloughs for 175 employees. He added that there was no hesitation to apply for the money, despite the environmental group often butting heads with some of the politicians who approved it.
The center has filed a number of legal challenges against the Trump administration for waiving environmental protections to speed up construction of the border wall. The Arizona Republic found this week that a number of companies contracted to build the wall have also received a total of $9.35 million.
Suckling said there "was no irony there," adding that the center is "exactly the kind of business the program was designed to keep afloat."
"That money is to go to American businesses without any political filter," he said. "That program was set up to be politically neutral to help the economy. … To apply a politically ideology lens does nothing but exacerbate the culture wars. I think Americans have had enough of the culture wars."
Balloon firm founded by Kelly gets money
Another Tucson company, World View, which was co-founded by Democratic U.S. Senate candidate and astronaut Mark Kelly, received a loan totaling $1 million to $2 million, records show.
The money was used to return 17 employees for the balloon and space exploration company from furlough, and it was able to preserve 38 jobs, according to Ashley Smith, the company's director of people.
"In alignment with the PPP requirements, PPP funds are being used to preserve jobs. The employees recalled from furlough as a result of the PPP funds are contributing to our next round of flights which will enable World View to secure our next round of venture capital," she said.
In the past, the company has been criticized for receiving public funding for its projects. World View was targeted by the Goldwater Institute, the Phoenix-based conservative think tank, which has lost a number of legal challenges against Pima County's awarding of a no-bid contract to World View to design and lease its east-side facility.
The Goldwater Institute also received money from the PPP, a move Pima County Administrator Chuck Huckelberry labeled as hypocritical in a memo this week because of the institute's commitment to "free market ideals."
"They hate government subsidies. They have engaged in a frivolous, and thus far, failed lawsuit against Pima County that has lasted more than four years and caused Pima County to spend taxpayer dollars to defend their meritless lawsuit," Huckelberry wrote.
In a statement, Goldwater Institute CEO Victor Riches defended the loan, equating it "to a tax cut."
"The Goldwater Institute is strongly opposed to the government picking winners and losers. As free marketers, however, we will never be opposed to individuals and businesses getting their hard-earned money back from Washington. Therefore, like other businesses and nonprofits, the institute accepted a Paycheck Protection loan for the purpose of offsetting employee payroll costs during the global pandemic," Riches said. "The program was passed in lieu of a tax cut and, just like a tax cut, the PPP loan was made available to everyone to recover losses created, in large part, by government actions. As with a tax cut, the PPP loans return money to the private sector that should never have been taken from the American people in the first place."
Kelly, who left World View more than a year ago, has been critical of the PPP loan process, saying he's heard from small-business owners that the banks in charge of doling out the loans "put small businesses at the back of the line."
"Mark has not applied for any PPP loans. Mark left World View well over a year ago so he didn't know about this loan or have any role in seeking it," said Jacob Peters, a Kelly campaign spokesman.
Contact reporter Justin Sayers at jsayers1@tucson.com or 573-4192. Twitter: @_JustinSayers. Facebook: JustinSSayers.
Concerned about COVID-19?
Sign up now to get the most recent coronavirus headlines and other important local and national news sent to your email inbox daily.