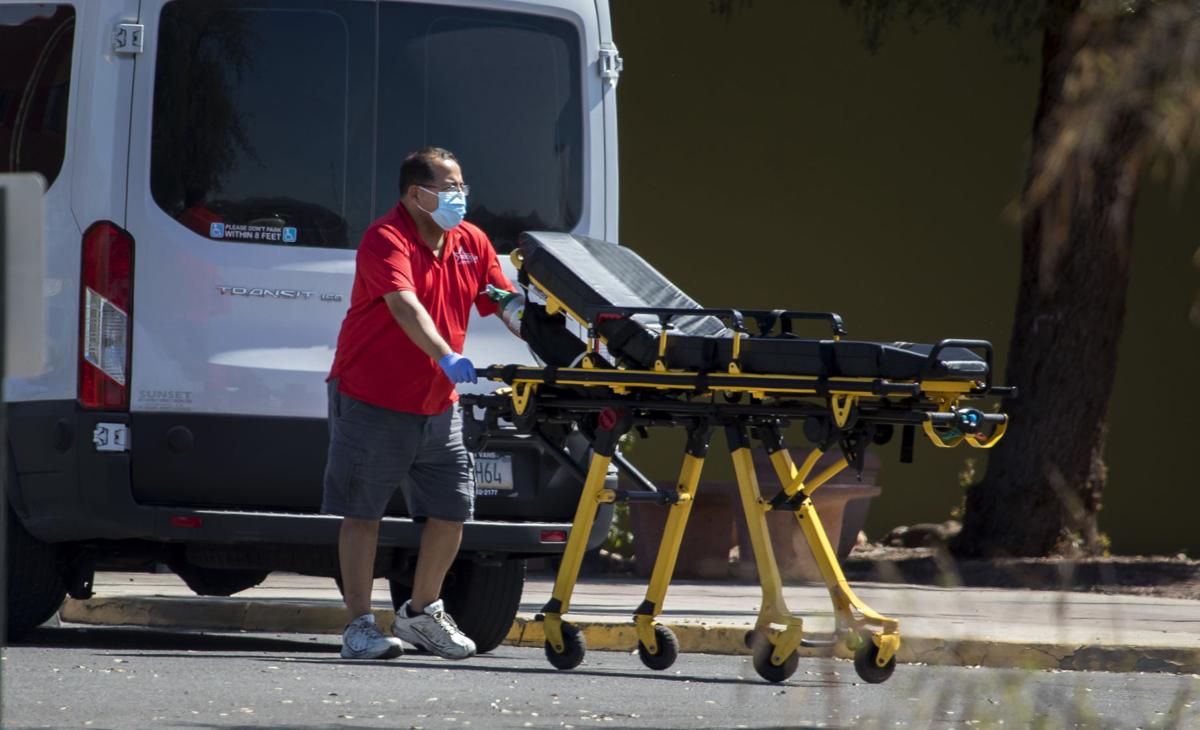 At least 1 in 4 federally licensed nursing homes in Pima County have reported deaths from the coronavirus, while more than half have had at least one case among residents and staff workers, according to data released this week by the Centers for Medicare and Medicaid Services.
In an effort to offer more transparency regarding the COVID-19 outbreak in nursing homes, facilities around the country are now required to report cases and deaths to CMS and the Centers for Disease Control and Prevention. They are also required to report on testing for both residents and staff workers, available beds, staffing levels and protective equipment to ensure nursing homes are prepared for COVID-19.
In Pima County, eight facilities reported a total of 38 deaths among residents, while 15 facilities reported at least 152 confirmed cases of the virus among both staff workers and residents, according to the data. That total includes 15 resident deaths at Handmaker, an assisted-living and skilled-nursing facility in midtown Tucson.
While the numbers offer the first glimpse of how the outbreak has played out at individual nursing homes, it underscores the actual death count at senior communities in Pima County, which is significantly higher.
The most recent report compiled by the Pima County Health Department shows that 115 deaths — or 60% of the county's total — were confirmed at both long-term-care and assisted-living facilities, as of June 2. A total of 589 positive cases — or 24% of the total — were also confirmed.
The federal data compiled by CMS requires nursing homes to report data dating only to May 8; any data before that is optional. It also includes data from only the 28 nursing homes in Pima County licensed by CMS, which does not apply to most assisted living facilities.
It also does not include data from two nursing homes, including Sapphire of Tucson Nursing and Rehab, where officials have previously confirmed a widespread outbreak of the coronavirus. That facility, along with Copper Health Oro Valley, did not report data as required by CMS before May 31.
Sapphire of Tucson missed the initial deadline to report data to CMS, but a spokesperson for the facility said it sent a report on May 31, which contains data dating to January. That information will be available in the CMS dataset once it is updated next week. To be compliant with the new requirement, facilities must submit COVID-19 data through a reporting system at least once every seven days. Those who do not comply will be subject to fines starting June 7.
The data also include information about suspected cases of coronavirus among staff workers and residents. One of those facilities, Devon Gables Rehabilitation Center on the east side, reported one death among residents, but more than 100 staff workers and residents with suspected COVID-19. Only two residents were confirmed to have the virus.
In a statement, Devon Gables said the numbers were a result of an "abundance of caution," as COVID-19 symptoms, including fever, sore throat and vomiting, mimic symptoms of other illnesses.
The staff completed 432 COVID-19 tests, including all residents and staff members; the first 60% of tests reviewed before Friday were negative. They also took the extra step of reporting data back to January because "we felt it important to provide as much information as possible."
"Devon Gables has successfully limited the impact of the coronavirus within its community. Since January, just two residents and one employee have had confirmed cases of COVID-19," the statement said. "We have been meeting and exceeding guidelines put forth by Pima County Health Department, AZDHS, CMS and CDC. It is important to note that Devon Gables is the largest Skilled Nursing Facility in Arizona."
Both state and local health officials have said that testing for long-term-care facilities will be a priority in the coming weeks.
There have been over 95,000 confirmed cases and nearly 32,000 deaths in nursing homes nationwide. As CMS continues its effort to support the surveillance of COVID-19 cases, the Arizona Department of Health Services has continued to deny requests for COVID-19 data relating to nursing homes, saying it violates state confidentiality laws.
Concerned about COVID-19?
Sign up now to get the most recent coronavirus headlines and other important local and national news sent to your email inbox daily.