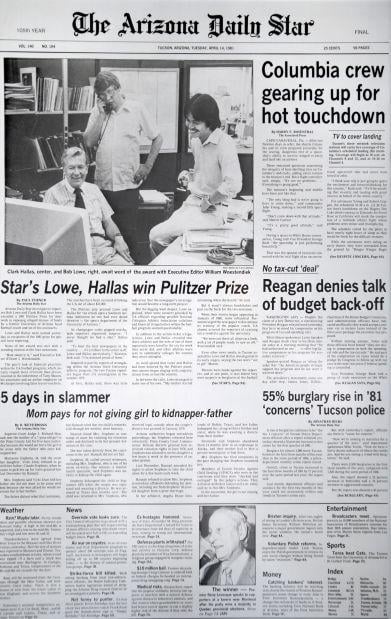 We're defining Tucson in 100 objects. The daily series began April 20. Follow along at tucson.com/100objects
The Arizona Daily Star, founded in 1877 as The Daily Bulletin, has published an edition every day since June 26, 1879. 
Initially it was a vehicle for the Democratic beliefs of its politician/owner, L.C. Hughes, who would later become governor of the Territory of Arizona.
Together with its competitor and sometime partner, the Tucson Citizen, it chronicled the life and growth of our desert city.
One of its more colorful owners, William R. Matthews, bought the paper in 1924 with partner Ralph Ellinwood. Matthews was editor and publisher from Ellinwood's death in 1930 until 1969.
With no journalism training, he not only set the political agenda in Tucson, but reported and wrote about world events, including a published prediction of the Japanese attack on Pearl Harbor.
In 1965, the Star was bought by William A. Small, who also owned the Tucson Citizen.
The two papers had begun sharing infrastructure in 1940.
Small sold the Star to Pulitzer Publishing Co. in 1971.
Gannett Co. bought the Citizen in 1976. It ceased publication in 2009. 
In 2005, Lee Enterprises bought the Star and the rest of the Pulitzer chain.
The edition shown at right was a particularly proud day for the Star. In 1981, reporters Clark Hallas and Bob Lowe won a Pulitzer Prize for their investigation of the University of Arizona athletic department and its football coach, Tony Mason.