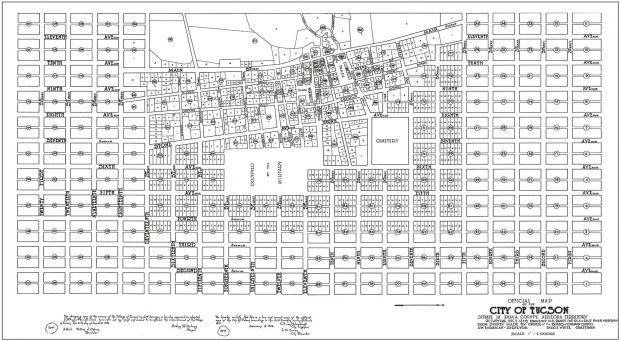 We're defining Tucson in 100 objects. The daily series began April 20. Follow along at tucson.com/100objects
The first officially surveyed map of Tucson was used to incorporate it as a village in 1871 and as a city — the first in the Arizona Territory — in 1877.
The city encompassed two square miles, much of it undeveloped.
According to C.L Sonnichsen's "Tucson: Life and Times of an American City," shortly after incorporation, "lots went on sale for five to ten dollars, title of landowners were confirmed and many parcels were distributed by lottery."
The city sold off a good chunk of its holdings to the Southern Pacific Railroad, which brought its tracks through town in 1880.
The area identified as "occupied by the military" was the site of the U.S. Army's Camp Lowell, which moved seven miles northeast to become Fort Lowell in 1873.
Part of that parcel is now Armory Park.
The city would later grow over the parcel labeled "cemetery" in fairly careless fashion.
Construction of the county's new courthouse, now nearly completed, was delayed for years by the need to relocate 1,500 bodies from the site at North Stone and Toole avenues.
Tucson now measures 226.71 square miles.
This map, from the city's electronic archives, is signed by Sidney R. DeLong, the first elected mayor of Tucson.