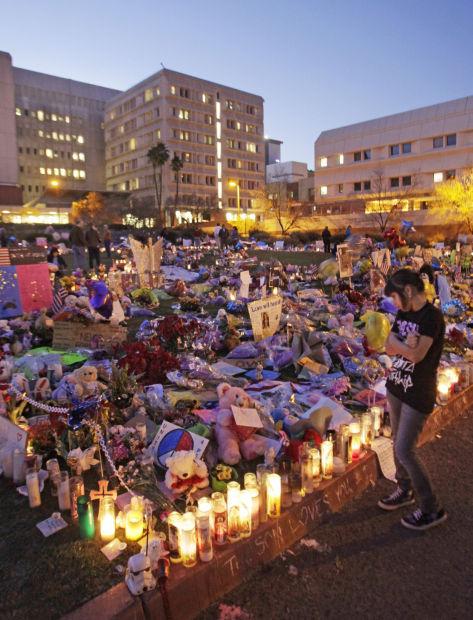 We're defining Tucson in 100 objects. The daily series began April 20. Follow along at tucson.com/100objects
At times we would rather forget Jan. 8, 2011 — the day a mentally ill young man shot and killed six people and wounded 13 others at a Congress on Your Corner event.
Cards and flowers, stuffed toys and other items began showing up spontaneously at three sites — the Safeway where the shooting occurred; University of Arizona Medical Center, where survivors fought for life; and the office of U.S. Rep. Gabrielle Giffords, the target of an assassination attempt that day.
Giffords had been wounded so seriously that we feared she would not live.
The objects left at the three sites have been collected, catalogued and archived. Some will return to public view in a permanent memorial at the Pima County Courthouse.
It will remember those who died: Dorothy "Dot" Morris, Dorwan Stoddard, Phyllis Schneck, John M. Roll, Christina-Taylor Green and Gabriel "Gabe" Zimmerman.
It will celebrate the resilience of the survivors, including Giffords, who resigned from Congress to pursue recovery and to join with husband Mark Kelly to lobby for measures to prevent gun violence.
It will remind the world of what happened, said U.S. Rep. Ron Barber, when the site was announced in January. Barber, who was wounded that day and later won election to Gifford's seat, said it will also remind the world of "what happened afterward: the kindness, the caring and love that came forward."