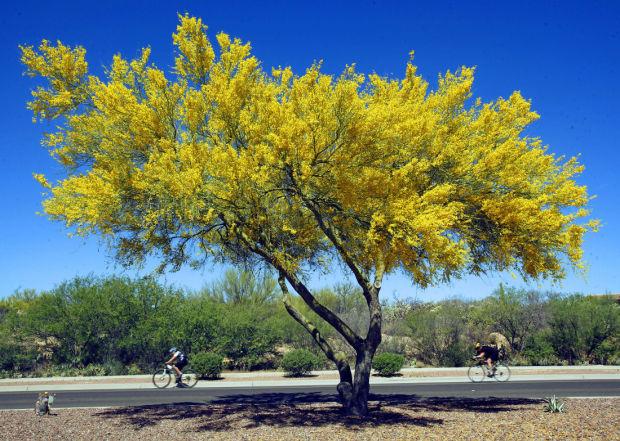 We're defining Tucson in 100 objects. The daily series began April 20. Follow along at tucson.com/100objects
The yellow blossoms of the palo verde tree are as much a signature of spring in Tucson as cherry blossoms are in Washington, D.C.
The palo verde is Arizona's state tree and grows throughout the Sonoran Desert.
You'll see several varieties in the arroyos and foothills around Tucson and the tree is a prized landscaping element along city streets.
It blossoms between March and May, depending on the weather each year.
Mark Dimmitt, former director of natural history at the Arizona-Sonora Desert Museum, notes that the palo verde is also important to our other regional icon, the saguaro.
Young saguaros need a "nurse plant" to protect the plant and to shade some, but not all, of the harsh desert sun during germination and early development.
The palo verde is uniquely suited for that task. Its slim leaves stipple the ground with shade.
A fully leafed palo verde has the same leaf mass as any other tree, said Dimmitt, but it absorbs less heat than broad-leafed trees.
It also has the capacity to shed leaves and even branches in reaction to drought. Its green, chlorophyl-filled bark can continue to photosynthesize.
The bark color gives the tree its name — Spanish for "green stick."