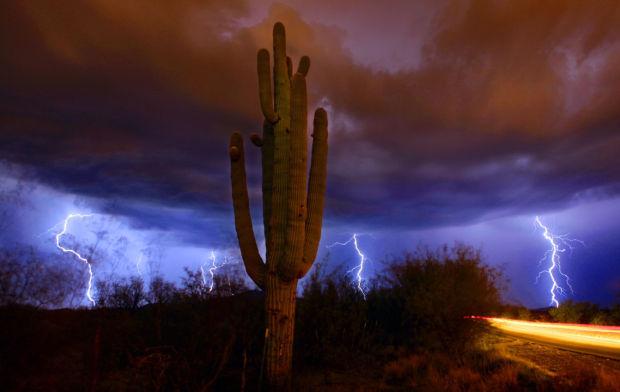 We're defining Tucson in 100 objects. The daily series began April 20. Follow along at tucson.com/100objects
The giant cacti that dot the slopes of our foothills in every direction make Tucson's setting unique.
The saguaro's white, waxy, spring blossom is the state flower. The harvest of its sweet, red fruit in first summer is essential to the O'odham ceremony that brings rain to make our second summer a wet one.
It is the largest cactus in the United States, growing to heights of 40 to 60 feet. A mature saguaro, fully plumped in rainy season, weighs two tons.
It is slow-growing and long-lived, up to 200 years.
The saguaro ranges throughout the Sonoran Desert but the Tucson region is home to the densest saguaro forests, said Mark Dimmitt, retired director of natural history at the Arizona-Sonora Desert Museum.
Those dense forests are conserved by Saguaro National Park and the county's Tucson Mountain Park.
Dimmitt says the saguaro is a "keystone" species. Its fruit is the only moisture available to many species, especially white-winged doves, in the region's hot, dry June.
Saguaros became a potent symbol of the Old West during the 1940s and '50s when they were backdrop to a series of motion picture Westerns shot at Old Tucson.
Today, no photograph of a Tucson sunset or lightning-streaked sky is complete without a saguaro silhouette.