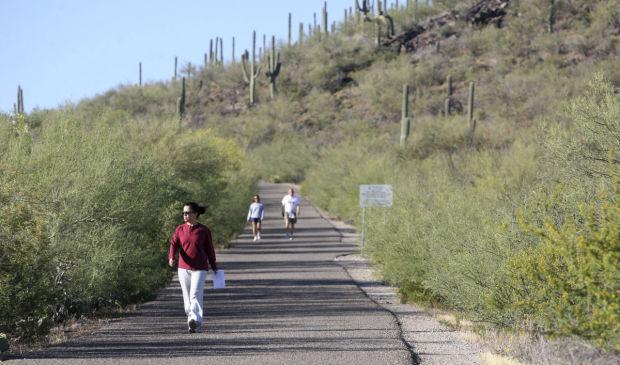 We're defining Tucson in 100 objects. The daily series began April 20. Follow along at tucson.com/100objects
"Tumamoc" is the O'odham word for "horned lizard," which is why you encounter a lizard design on the bike racks at the foot of Tumamoc Hill.
The hill, which offers a quick but arduous walk or run to hundreds of Tucsonans each morning and evening, sits beside Sentinel Peak on the west side of the city and it has an equally fascinating history.
It is the site of the world's oldest continuously surveyed vegetation plots and the birthplace of the science of ecology.
Tumamoc was chosen in 1903 as the site of the Carnegie Institution's Desert Botanical Laboratory. The Tucson Chamber of Commerce bought and donated 88 acres or the purpose.
In 1905, botanist Volney Spalding laid out 19 quadrants, each 10 meters by 10 meters, in differing habitats on the slopes of the hill. He mapped, measured and photographed each piece of vegetation.
Today, that work continues by University of Arizona researchers working nine plots that survived periods of neglect on the hill.
One of the first studies, done by Spalding's wife, Effie, measured the expansion of saguaros in the rainy season, providing the first botanical explanation for their accordion-pleated design.