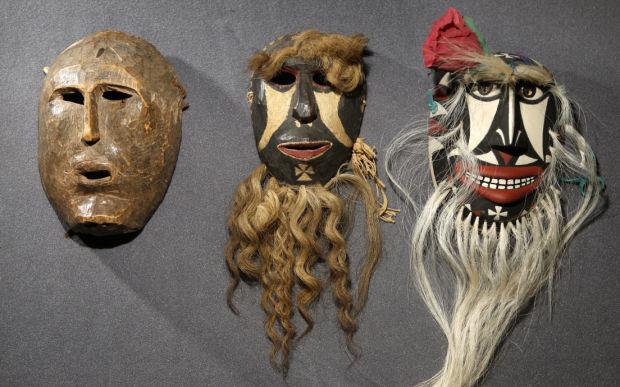 These pascola masks are familiar objects for Tucsonans who have attended a "deer dance" or other ceremonies in Old Pascua Village or other Yaqui settlements.
They are worn by the ceremonial hosts, called the pahkolam, or "old men of the ceremony."
The oldest, on the left, has lost its hair tufts and most of its markings. It was collected by the padres of San Xavier del Bac in the 1930s and donated to the Arizona State Museum in 1994.
The center mask was also collected in the 1930s by noted anthropologists Edward and Rosamond Spicer. The newer mask was made in 1996 by Yaqui carver Frank "Chico" Martinez.
The Yaqui, or Yoemem, inhabited the river valleys of what is now northern Mexico long before Europeans arrived.
When the Spaniards came, the Yoemem combined the Catholic religion brought to the New World by the Jesuit missionaries with their own beliefs and customs.
They did not, however, easily succumb to the land grabs of the Spanish and Mexican governments. As a result, they were targets of campaigns of occupation and eradication.
Many fled north to Arizona in the late 1800s and during the violence of the Mexican Revolution in the 1900s, settling along the Santa Cruz River downtown, then at Old Pascua, south of West Grant Road, close to where Interstate 10 now intersects it.