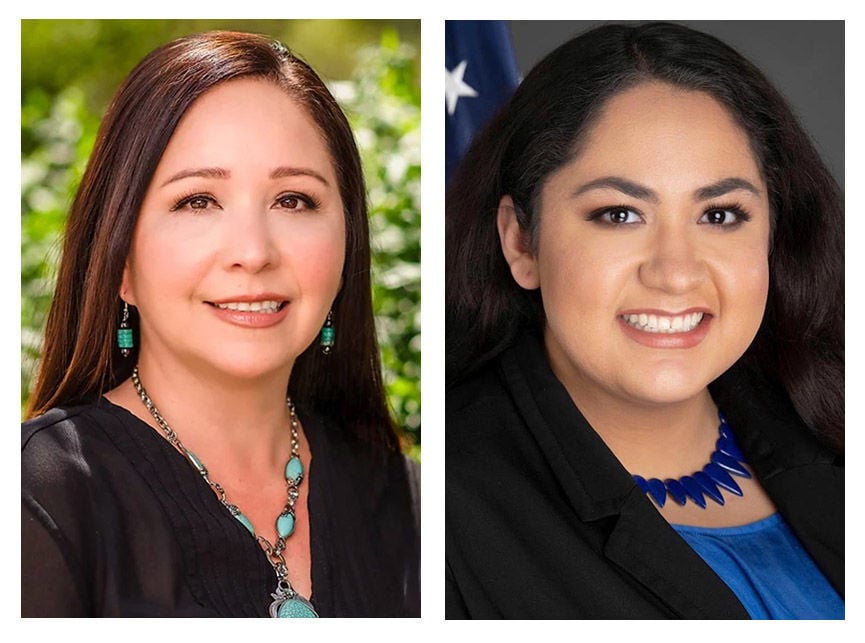 Two Pima County Democrats are running to represent District 5 on the Board of Supervisors, a seat that was held by the late Richard Elías for nearly two decades.
Voters will have the choice between Adelita Grijalva and Consuelo Hernandez in the Aug. 4 Democratic primary before facing Republican Fernando Gonzales in November's general election.
The death of Elías in March left the seat for a full term up for grabs. Elías, who represented the district since 2002, was planning to run for re-election. The remainder of his term is being carried out by Betty Villegas, who is not running for a full term.
District 5 incorporates much of Tucson's west and southwest sides, downtown, and south and east of downtown.
Consuelo Hernandez
Hernandez, 28, was born and raised in Pima County and has served on the Governing Board of the Sunnyside Unified School District for the past two years. She holds a bachelor's degree in global health science from Arizona State University and is the sister of state Reps. Alma and Daniel Hernandez.
With a passion for public health, Hernandez has also participated in several missions to Ghana, Panama and Guatemala to help deliver medical care to communities in need. In addition, she worked with refugees as an immigration caseworker for the International Rescue Committee, a global humanitarian aid organization.
"In the wake of the sad passing of Richard Elías, I saw an opportunity to do even more for the people and the community I am so very proud to call home," Hernandez said. "The Pima County Board of Supervisors has a $1.4 billion budget with priorities that clearly need to be reworked in the wake of the COVID-19 pandemic."
When asked about Pima County's most pressing issues, Hernandez said the economy, public health and transportation are at the top of the list.
"First and foremost helping to create jobs, help businesses grow, create affordable housing options and improve the lives of our working families," she said. "Whether that means making it easier for small businesses to grow and create jobs or closing our wage gap, it will be critical for us as a board to focus immediately on these issues to get Pima County moving forward again once we can safely reopen the county's economy."
When it comes to public health, Hernandez said supervisors must focus their energy on improving the local health-care system, and that the pandemic has illuminated that need.
"It is unacceptable that in Pima County we have one ZIP code where most of the deaths are happening and it is an assisted-living facility. It is unacceptable that people have died at this facility due to lack of stringent safety and sanitary practices," she said. "The decisions at the county Health Department don't just have minor consequences, but they can lead to life or death."
Lastly, Hernandez said one of the keys to leveling economic disparities in Pima County is rebuilding and improving the public transportation system and the community's access to it.
"We must invest heavily in clean energy technologies and improve the options so that people can utilize public transportation for their everyday commute. Too many times people who are low-income have limited options to use public transit, and the infrastructure is severely lacking in places like South Tucson and Pascua Yaqui."
As one of the youngest Pima County candidates, Hernandez said she is ready to continue to serve her community.
"We need leaders who are committed to working for all of us. I never felt local government worked for me. I am running to help change that," she said. "My generation is being asked to step up to the plate because far too often those before have not fully represented our community."
Adelita Grijalva
Grijalva, 48, has served as the director of Pima County Teen Court for the past 25 years, a program created to reduce the number of children of color in the juvenile justice system.
As a native Tucsonan and daughter of U.S. Rep. Raúl Grijalva, Adelita Grijalva grew up in the Tucson Unified School District and received a degree in political science from the University of Arizona. Grijalva also serves as a member of the TUSD school board and was recently elected to her fifth term.
Grijalva announced her decision to pursue the District 5 seat in March after the death of Elías, who had a close relationship with the Grijalva family.
"(Elías) was really the catalyst to get involved in this race," she said. "Historically, District 5 is the swing vote for a lot of really important environmental issues, a lot of issues relating to the budget and budget priorities. And especially considering what we're dealing with now and our recovery from the pandemic, it just seemed like a really critical time."
For Grijalva, the biggest issues facing the county include include public health, economic development and climate change.
"Our families will only be safe, healthy and ready to recover from this pandemic when we listen to our public-health experts. The Pima County Health Department is critical in that role. It has to be well-funded, and they have to work to protect our community by providing free and readily available rapid testing and establishing an immediate contact tracing system," she said.
According to Grijalva, the ability of the county's economy to recover from the pandemic is dependent on training and developing a skilled workforce that can meet the community's needs. In addition, she said compensating business owners, employees and families for lost wages will be vitally important.
"Many businesses are closed or are closing," she said. "It's going to be really problematic for us to be able to recover if we don't have places that people can go back to work."
Lastly, Grijalva pledged to move Pima County toward more solar power and less reliance on fossil fuels, emphasizing the importance of reducing the county's carbon footprint and protecting the health of Pima County's most vulnerable residents.
"Climate change is impacting the health of our community," she said. "We have to do more to protect Pima County and the place that we live and make sure we are protecting our water resources, our desert and our forests."
Grijalva said she is excited for the chance to continue serving her community and helping to develop a better future for Pima County.
"I have experience and I can get to work on Day 1. I know the needs of Pima County. I've been paying attention for decades as to how the county affects our day-to-day. I have lived here my whole life. I'm raising three children here with my husband and we attend our public schools and are really involved in our community. I'm really looking forward to being able to serve in this capacity."