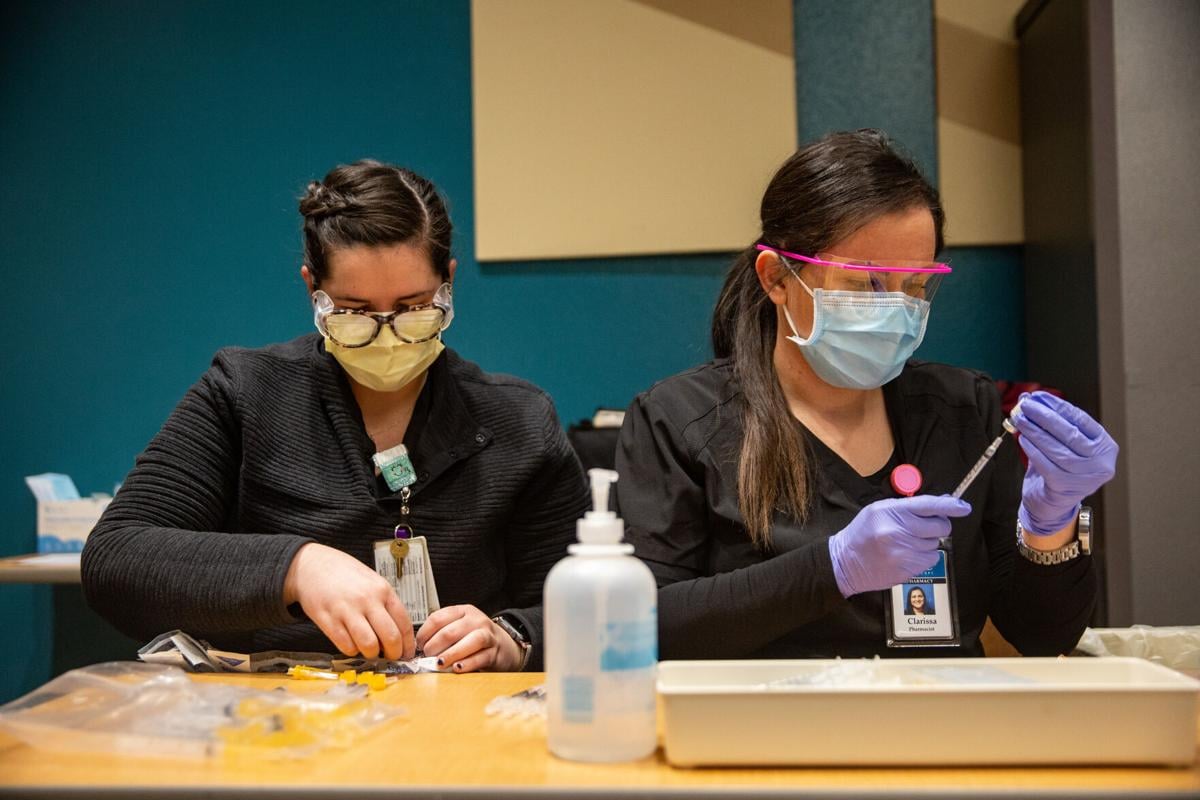 Two fully vaccinated people have died from COVID-19 in Pima County, according to the county's Health Department.
This is an extremely small number compared to the number of fully vaccinated people countywide. The percentage of fully vaccinated people who have died from COVID-19 is about 0.00037%.
Local health experts are not alarmed at these two deaths and reiterate that vaccinations still provide an extremely high level of protection against COVID-19 hospitalizations and deaths.
"At the individual level it's a tragedy because someone took the effort to protect themselves and it failed," said Dr. Joe Gerald, an associate professor with the University of Arizona's College of Public Health. "But at the population level it doesn't represent a threat because these numbers are so small."
The two vaccinated people who died from COVID-19 were considered high-risk, meaning they were 65 years or older, or had a chronic medical condition, such as diabetes, heart disease or chronic kidney disease.
The odds a fully vaccinated person has had of dying from COVID-19 in Pima County is similar to other small daily risks, like getting struck by lightning.
For comparison, there's about a 1-in-500,000 chance of getting struck by lightning in a year, according to the CDC.
In total, the county is aware of 401 fully vaccinated people who contracted COVID-19, which are often called breakthrough cases. This is about 0.075% of the fully vaccinated population in Pima County.
And 16 fully vaccinated people have been hospitalized with COVID-19 countywide. This is about 0.0029% of the fully vaccinated population.
County health officials currently don't know which variants infected the two vaccinated people who died from COVID-19.
Few breakthrough cases have been delta cases. It takes a while for officials to get genetic sequencing results that identify variants, so it may be a couple weeks before we know if the delta variant is common among breakthrough cases in Pima County.
County health officials only know which variants caused two of the hospitalized breakthrough cases. One of these was an alpha case, a variant that originated in the United Kingdom. The other variant was not on the CDC's list of variants of concern.
Officials have identified variants from 58 breakthrough cases. They know 26 were alpha cases. Only two were delta cases.
Breakthrough cases inevitable
Heath experts expect breakthrough cases to happen because COVID-19 vaccines are not 100% effective. As more people get vaccinated, more breakthrough cases will happen.
"It's simple statistics," said Dr. Joshua LaBaer, executive director of Arizona State University's Biodesign Institute. "The first thing we have to always remember is that no vaccine is perfect. That's one of these lessons that we learn when we go to medical school, because the truth is people aren't perfect."
The number of breakthrough cases will also likely increase as the delta variant spreads. Several studies have reported a reduction in vaccine efficacy against the delta variant.
"But breakthrough cases are still going to represent a minority of the cases," Gerald said. "In absolute numbers they're likely to increase, but still those larger numbers aren't meaningful in the big picture of all the people getting infected."
A recent study from Israel reported a dramatic drop in the efficacy rate of the Pfizer-BioNTech vaccine for fully vaccinated people, down to around 64%.
Health experts who talked to the Arizona Daily Star warned that data from the Israeli study should not be considered in isolation.
Both LaBaer and Gerald said that other studies are still showing good effectiveness against the delta variant, from 80% or more. "It's kind of a cup half full, cup half empty," LaBaer said.
Ultimately, experts like Gerald are not concerned about mild breakthrough cases. The number of breakthrough cases that result in hospitalizations and deaths are far more important.
All COVID-19 vaccines available in the U.S. have been highly effective for preventing COVID-19 hospitalizations and deaths, even against the Delta variant.
Concern, but not alarm
While health experts are not alarmed by the delta variant, they are concerned by it.
It's much more transmissible than any other variant, so it spreads quicker.
And it's more aggressive. It can make you sicker. A recent study from China found delta cases had much higher viral loads.
While concern over the delta variant has been heightened as details from more studies have come to light, LaBaer said it would be premature to call the Israeli or Chinese studies "red flags."
"They're additional data points that we have to pay attention to," LaBaer said. "But I would not go to the level of calling them red flags to say we need to be worried yet."
Pfizer and BioNTech announced they would request approval from U.S. and European regulators to issue a booster shot.
But the CDC and Food and Drug Administration said in a joint statement on Thursday that fully vaccinated Americans do not currently need booster shots.
Both parties are right, Gerald said. Currently, all we need is for everyone to get their first round of vaccine, but eventually as the virus mutates even more, the vaccines will lose enough efficacy that a booster will be necessary.
"You have to start work on (the booster shot) before there's a need, instead of after there's a need," he said.
Meanwhile, weekly COVID-19 cases have been slowly creeping up in Arizona and Pima County for several weeks, but these increases aren't anything like the explosive growth we saw this past winter and summer.
Across Arizona, the number of beds taken by COVID-19 patients in intensive care units has increased slightly since the end of June, but the number of regular inpatient beds has remained flat, according to the Arizona Department of Health Services' online hospital bed usage and availability chart.
"I'm not quite ready to drive the stake in COVID and say it's all gone, but I am ready to say I believe with a high degree of confidence that the worst of COVID is behind us and we need to just continue to work, to stay vigilant, to stay prepared," Gerald said. "It's OK to let some of our anxiety about COVID wash away."