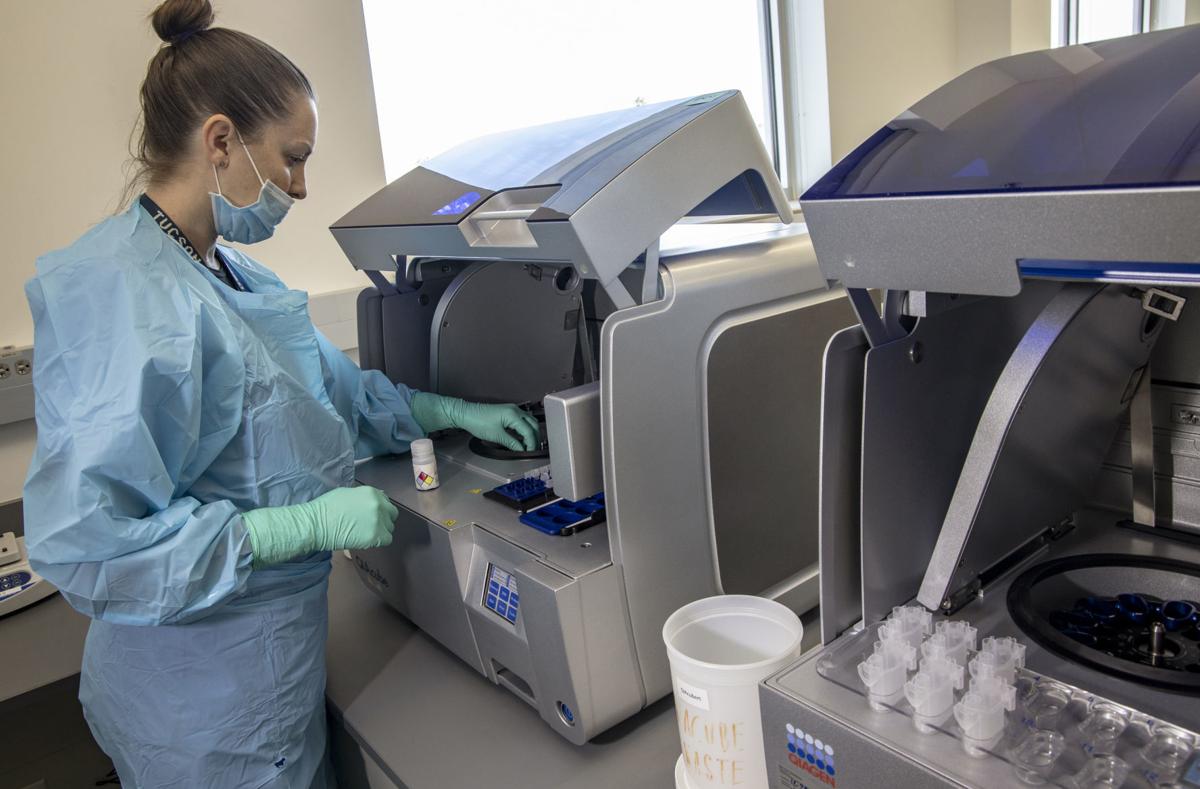 Two men are facing charges in serial rape cases and two others have cases pending in court after the Tucson Police Department cleared a decades-long backlog of nearly 2,000 sexual-assault kits.
Testing of the sexual-assault kits began three years ago with the backing of a $1 million grant, allowing the Tucson Police Department to send evidence to out-of-state laboratories for analysis as well as providing funding for a dedicated detective to investigate cases that result from hits on tested kits.
One such hit came in the case of a man arrested on 44 felony counts of sexual assault, kidnapping and stalking dating to 2002.
It wasn't until October 2017 that a Pima County judge signed an arrest warrant for Nathan Larry Joseph Loebe, who had been extradited to Tucson two months before from Kentucky, where he'd been arrested for sexual assault.
But Loebe's criminal history extended beyond Arizona and Kentucky. Authorities quickly learned that he was wanted for sexual assault in Colorado, Ohio and Massachusetts, according to the Kentucky Standard newspaper.
While Loebe had previously been identified as a suspect in several Tucson Police Department cases years earlier, he always claimed consent, making the cases difficult to prosecute and resulting in no charges filed.
It wasn't until police tested DNA from backlogged sexual-assault kits that they were able to build a case against Loebe, identifying a string of victims who all had similar descriptions of the alleged assaults, which, when combined, effectively contradicted Loebe's claims of consent.
Loebe was ultimately charged with 26 felonies in connection with incidents that took place between 2003 and 2015, with other charges being dropped because of the statute of limitations and other issues.
Loebe, whose trial started Tuesday and is expected to run through Feb. 15, is one of four defendants with cases pending in Pima County Superior Court as a result of the grant-funded testing of backlogged sexual-assault kits collected by the Tucson Police Department.
In another case, Charlie Conley Jr. is facing nine felony charges of kidnapping and sexual assault involving four separate victims — including a minor — spanning from 1992 to 2004.
Testing of backlogged kits also resulted in the arrests and indictments of Daniel Peniche Gomez and Ramon Pena on charges of sexual assault stemming from incidents in 2006 and 2002, respectively.
NATIONAL EFFORT HITS HOME
The funding to test these and nearly 2,000 other TPD sexual-assault kits came through settlements between the Manhattan District Attorney's Office and international banks found to have violated U.S. sanctions.
In 2015, the Bureau of Justice Affairs, a division of the U.S. Department of Justice, partnered with the New York County District Attorney's Office to address untested sexual-assault kits. As a result, $38 million in District Attorney of New York grants were awarded to 32 jurisdictions across 20 states.
It's estimated that the funding will help test an estimated 56,475 sexual-assault kits, according to a news release from the Manhattan District Attorney's Office.
The grant not only funds the testing of sexual-assault kits, but also provides training, technical assistance and resources to the jurisdictions selected.
As a result of the grants and additional state funding, TPD was able to send 1,990 outstanding sexual-assault kits for testing and expects that the backlog will be completely eliminated by the end of March, TPD crime lab superintendent Jelena Myers told the Star.
TPD is still waiting on results in 215 of the cases, which were sent out to labs last fall as part of the state funding, but for all intents and purposes there is no longer a backlog of untested kits, Myers told the Star.
So far, 839 DNA profiles have been entered into the Combined DNA Index System, commonly referred to as CODIS, and 364 of those profiles matched with DNA already in the system, according to TPD data.
Those 364 cases are pending investigation and review by TPD Detective Dallas Wilson, whose salary is also funded under the District Attorney of New York grant.
LESSONS LEARNED
How Tucson police generated such a backlog has various origins.
In some cases, testing was never requested by the detective, either because it wasn't needed to prosecute or for other reasons, and other kits weren't tested because of a shortage in staffing, Myers said.
Assistant Chief Carla Johnson, who worked in TPD's adult sexual assault unit years ago, said law enforcement's attitude toward testing sexual-assault kits has changed for the better since her time in the unit.
"I think law enforcement then felt that if a kit had no probative value in a case, it wasn't a good use of lab resources to process it," Johnson told the Star.
For example, if a victim alleges sexual assault and the suspect claims the sex was consensual, a sexual assault kit proves only that intercourse took place.
"This grant taught us that there are people that when you process all of these kits, a pattern emerges. Sometimes the same name comes up over and over again," Johnson said.
"Back then, the conventional wisdom was wrong. Law enforcement has really learned a lesson in this. All of these kits do have value."
Inspired by the testing initiative, the department has since made changes and improvements to the way it handles sexual-assault kits and now analyzes kits in real time. TPD has designated two crime lab analysts whose sole responsibility is to process sexual-assault kits as part of an in-house initiative referred to as "No kit left behind," Myers told the Star.
"We like to think we're on the forefront of some of these initiatives," Myers said. "Some agencies don't even know how many kits they have to be tested."
Arizona is also getting ready to roll out a software program called Track-Kit, which will track a kit from collection to completion and allow victims to have access to the information.
"They'll know where in the process their kits are going to be," Myers said. "It's very empowering. The more everyone knows and has access to information, the more comfortable everyone will be."
Lt. Colin King, who works in TPD's special victims section, said the grant has been a great opportunity for the department on several fronts.
"We've also been able to implement a program now where the crime lab has a 30-day turnaround time (on sexual-assault kit testing) and we're really not going to have a backlog situation in the future" King said.
"That was a big point for us to try to not only fix it and put everything back together, but to make sure it won't happen again in the future."
Backlogged sexual-assault kits are a problem facing most cities and towns. In 2009, the Wayne County Prosecutor's Office in Michigan discovered 11,341 untested rape kits in a Detroit Police Department storage facility, according to Wayne County's website.
In a recent meeting held in Tucson for district and county attorneys from across the country, Wayne County Prosecutor Kym Worthy noted that once test results starting coming back, a significant portion of the kits traced back to alleged serial rapists, said Chief Deputy Pima County Attorney Amelia Cramer, who attended the meeting.
As of December 2017, approximately 10,000 of the Wayne County kits had been tested and 817 suspected serial sex offenders had been identified through DNA results, according to the Detroit Free Press.
THE PATH FORWARD
Although the funding to test TPD's backlog didn't become available until 2015, the idea had been in the works for years, Cramer told the Star.
About a decade ago, Pima County Attorney Barbara LaWall began looking at local cold cases that law enforcement agencies believed could be resolved through DNA testing and were able to identify and prosecute several cases as a result.
LaWall then turned her attention to cold case sexual assaults and began working with TPD and the Pima County Sheriff's Department to find ways to begin testing backlogged kits.
The process hit full steam once TPD received its District Attorney of New York funding and test results started to roll in.
Dallas Wilson, the TPD detective, along with a victim advocate from the County Attorney's Office, were tasked with visiting victims — many of whom had long ago given up hope of their cases making it to court — and asked if they'd be willing to participate in the investigation.
"It's almost, in effect, piecing together or starting an investigation brand new from the outside," King said. "That would require talking to any parties involved, doing follow-up, finding what kind of evidence might still be around, depending on how long ago the incident might have happened."
The initial reaction from many victims has been shock, but "by and large, we've been getting a positive response," Cramer told the Star.
"One of the reasons that we bring any kind of case is not only to hold the perpetrator responsible, which is incredibly important, and to the extent that there are serial rapists out there to get them off the streets, but also victims feel a sense of closure and a sense of support just by virtue of someone being willing to pursue the case on their behalf," Cramer said.
There are some situations in which there isn't enough evidence to bring a case to trial or a statute of limitations was an impediment at the time of the report, but DNA testing has allowed for some of those victims to be called as witnesses in cases involving alleged serial rapists, Cramer said.
The Pima County Attorney's Office has enough resources to prosecute the existing cases that are in the court system as a result of DNA testing, but with hundreds of DNA hits pending investigation, the County Attorney's Office will likely have to consider applying for grants to cover the need for additional prosecutors and victim advocates.
"Really the ideal goal is to give the victim some closure and justice," King said. "That's what we've been working towards pretty diligently."