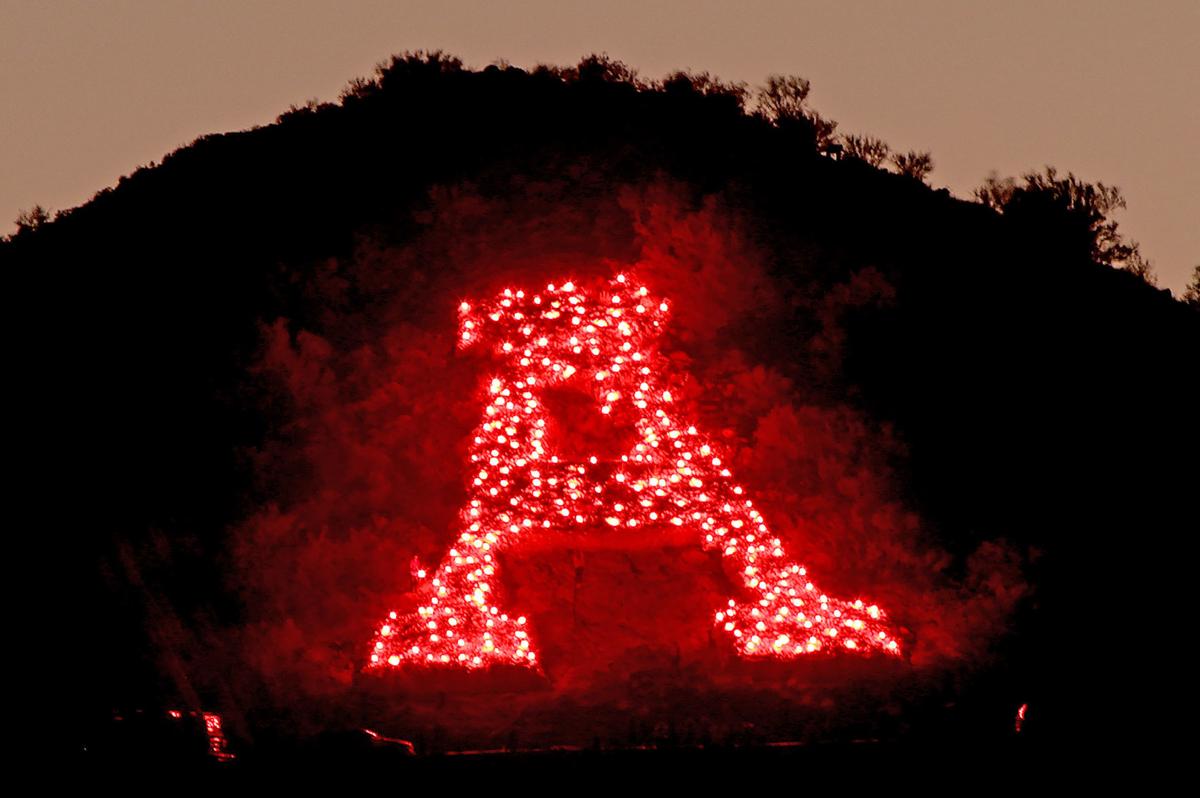 Tucson's "A" Mountain may soon don a new hue — blue — in honor of local health-care workers on the frontlines of the COVID-19 crisis.
The effort, led by city of Tucson Councilmember Lane Santa Cruz, to light up the "A" would coincide with National Nurses Week and National Hospital Week, celebrated in the month of May.
The proposal is under consideration by city officials, in collaboration with Tucson Medical Center and the county.
During a Pima County Board of Supervisors meeting Tuesday, May 5, Supervisor Sharon Bronson thanked Santa Cruz, Tucson Mayor Regina Romero and TMC for initiating the conversation and expressed support for collaborating on the project.
It is unclear when exactly the lighting would take place, but Bronson said they have to figure out the best plan of action while also being conscious of social-distancing protocols.
"It will help boost morale. Our nurses and other health-care workers are there on the front lines. They are on the battle lines and they're at risk," Bronson said.
"I think this sends a positive message from the community that we're in this together and will remain in it together."
This isn't the first time that officials have used "A" Mountain to bring the Tucson community together. The historic "A" was painted red, white and blue in September 2001 in response to the 9/11 terrorist attacks.
In March 2003, it was briefly painted black to protest the invasion of Iraq, but was quickly repainted red, white and blue in support of the troops fighting overseas.
More recently, the "A" received a coat of red paint by supporters of the Red for Ed movement, which advocated for higher pay for teachers in Arizona.
Every year during Homecoming, students from the University of Arizona also head to Sentinel Peak to carry on a 100-year tradition of painting the "A" white and lighting the letter with flares.
The mountain has historically been used as a tool in the rivalry between the UA and Arizona State University, where students from the Phoenix university have splashed maroon and gold paint on the "A" before the annual Territorial Cup football game.
For Bronson, "A" Mountain is a monument of great impact in the Tucson community and can help bring people together during an unprecedented time.
"Sentinel Peak stands above Tucson and watches over us, as do our health-care workers," she said.
"We need to honor them and I think this is a respectful way to do it. You've got our backs and we've got yours."
Concerned about COVID-19?
Sign up now to get the most recent coronavirus headlines and other important local and national news sent to your email inbox daily.