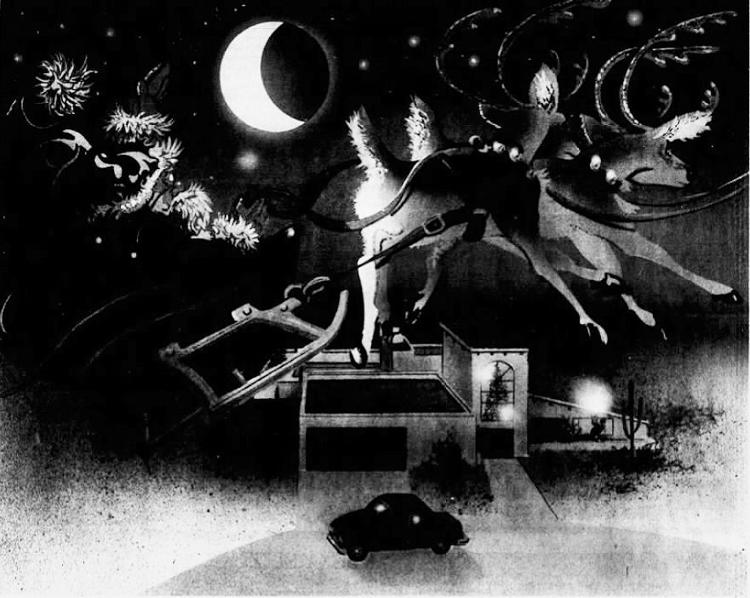 This ran in the Tucson Citizen Saturday, Dec. 24, 1988:
A VISIT FROM ST. NICHOLAS, 1988
Editor's note: It's Christmas Eve and John Jennings, that jolly old columnist with the rosy cheeks and the rotund girth, is busy delivering a Christmas present to the Citizen's readers. With profound apologies to Clement Clarke Moore's 1823 poem, "A Visit from St. Nicholas," Jennings offers us an updated version.
'Tis the night before Christmas
and the house is all quiet
as I read all the details
My wife, who has whirlpooled,
Is much more than skin deep.
As we stretch out in comfort
Down the hall are the suites
Of young Geoffrey and Wendy,
With things tasteful and trendy.
The townhouse is brightly
Are creative and pleasin'.
In the living room climbs
Comes in handy at times).
On the limbs are displayed
In the hopes that St. Nicholas
We left blue corn chips, salsa
Brightly wrapped presents
So there'll be no confusion.
For Wendy, 15, we've bought
And a hard-disk computer.
And just what she's wanted,
That'll have her friends swooning.
To record "thirtysomething,"
From my wife, graphite gold clubs
An L.L. Bean "world's best"
On things great and small,
Shows it's a quarter to 1,
Or it would have triggered
With a man far from skinny.
"And I can hardly believe,
"When I checked on my list,
"That there's nothing to leave.
"It seems every new gadget
"You've already bought up,
"And your name's on the list
"For things not even thought up.
"So I'll offer best wishes,
"It's for others, less well-off,
He speaks to his reindeer,
It seems the split-second
As he rides out of sight,
"Yuppie Christmas to all,
And to all, gouda night!"