Prehistoric times come to life along a path near a waterway on Tucson's southwest side.
The Julian Wash Cultural History Walk leads to sites where people known today as the Hohokam built a village, farmed and played a ballgame on specially built courts in the 1100s — about 900 years ago.
Information panels along the walk, which begins at 2820 S. 12th Ave., tell of an unexcavated portion of an archaeological site as well as more recent uses of the land. Displays include a ramada with depictions of ancient symbols and a re-creation of a prehistoric ballcourt along the connecting Julian Wash Greenway.
The Greenway is part of the extensive Loop trail system for non-motorized travelers.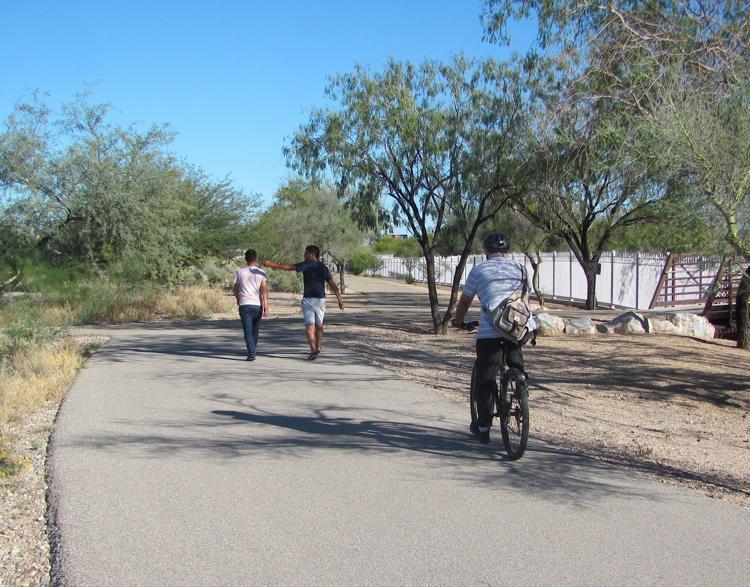 "The path before you is a timeline that introduces some of the area's past and present residents," says an information panel at the entrance to the walk.
"As you move along, you will see that stories of the distant past rely on recovered objects, scientific study and a bit of imagination. As you approach the 20th century, oral histories and photographs help to identify the people who once lived here."
The history walk makes it clear that the "distant past" was quite distant indeed.
"For thousands of years, the Santa Cruz River and Julian Wash have provided a reliable source of water, attracting both humans and animals to their banks," an information panel notes. "These waterways filled canals that irrigated the crops of Arizona's first farmers in the Early Agricultural Period (2100 B.C. to A.D. 50)."
The Hohokam farmers came in the 1100s. And, later still, "the gardens of the Chinese families whose grocery stores fed Yaqui settlers and Tucsonans in the late 19th and early 20th centuries."
Bottom line, those of us who stroll the Greenway or drive on Broadway today are relative latecomers in this area.