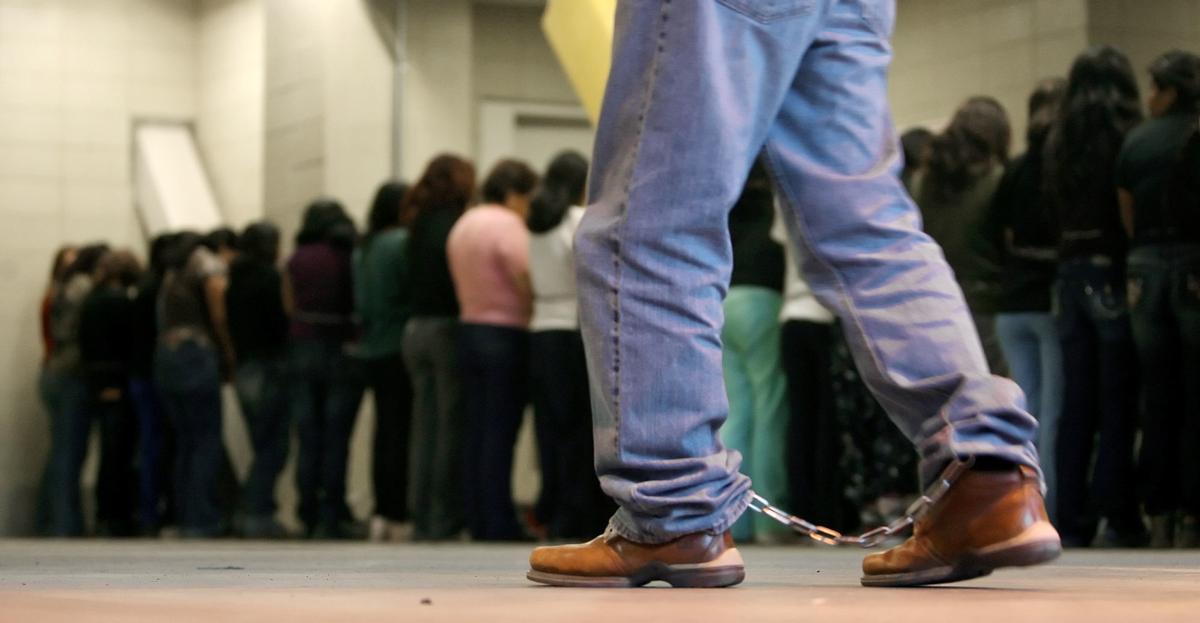 Parents separated from their children after illegal border crossings in Southern Arizona finally may have some answers about where their children are.
An hour after President Trump ordered an end to separating families at the border last week, a federal prosecutor in Tucson told parents being prosecuted in federal court that their children were being held in a Border Patrol facility on Tucson's east side and offered a way to quickly reunite them.
The information provided Wednesday during Operation Streamline, a fast-track program for border crossers, appears to be the first time in six weeks that federal prosecutors here have said in court where the children are.
The potential breakthrough for parents came amid a flurry of activity in Tucson's federal court as lawyers and a judge scrambled to adapt to Trump's executive order. Two parents saw their sentencing hearings postponed to give lawyers time to sort out the impacts of the order. And defense lawyers raised questions about how the order would affect clients who ask for asylum.
Trump directed federal agencies on June 20 to keep families together in detention after the parents are arrested for crossing the border illegally. The order came about six weeks after his administration's zero-tolerance policy for illegal border crossers led to more than 2,300 parents separated from their children. It is unclear whether Trump's order applies to families already separated.
In Tucson, at least 56 parents were separated from at least 60 children since mid-May through prosecutions in Operation Streamline, according to an ongoing review of court records by the Arizona Daily Star. The vast majority were sentenced to time served and released into civil immigration custody.
Question on reunifications
In the wake of Trump's order Wednesday, the question of how to reunite parents with their children consumed the start of the Streamline hearing.
"My client, whose 9-year-old son was taken from his arms today, is seeking reunification as soon as possible," defense attorney Guenevere Nelson-Melby told Magistrate Judge Bruce G. MacDonald, adding her client also is seeking asylum.
Another client of Nelson-Melby wanted to be reunited with his 16-year-old child, as did clients of three other defense attorneys.
"For those that are going to receive a time-served sentence, the juveniles that were separated are still under care at Border Patrol headquarters at Golf Links (Road)," federal prosecutor Christopher Lewis told MacDonald at Wednesday's hearing.
The Office of Refugee Resettlement, which is responsible for placing the children in foster care or with family members, was notified and will pick them up within 24 hours, Lewis said. "They do not expect those juveniles will be picked up prior to these defendants returning to headquarters," he said. "The intent is to reunite them as soon as they return."
At previous hearings, Lewis had responded to questions about children's whereabouts by saying he did not have any information and referring questions to the Office of Refugee Resettlement.
MacDonald reiterated his request to Lewis from several weeks ago to try to track down information on the whereabouts of those children, saying Wednesday he understood Lewis was "bearing the brunt of some of the issues and we appreciate your efforts."
"We know you're just the messenger," MacDonald said.
Hearings postponed
Parents prosecuted through Streamline in recent weeks have been sent to detention centers in Arizona, Georgia and California, according to U.S. Immigration and Customs Enforcement records. The locations of their children are unclear.
Since the beginning of the year, the Florence Immigration and Refugee Rights Project has documented 425 cases of family separation, the legal aid group for immigration detainees in Arizona said in a June 20 statement opposing lengthy incarceration of children and families.
"In light of the executive order," hearings for parents traveling with children could be postponed, MacDonald told defense lawyers Wednesday.
Two parents Wednesday had their hearings continued for several weeks and the parents were placed in the custody of the U.S. Marshal's Service, court records show.
Defense lawyer Diana Castillo Reina said one of her clients was seeking asylum for herself and her son. She did not know how the information provided by Lewis would affect her client's ability to have an interview regarding her fear of returning to Guatemala.
The U.S. Attorney's Office in Arizona and the Border Patrol's Tucson Sector did not respond to questions about changes to Streamline proceedings following the executive order.
In federal courts in Texas, The Associated Press reported prosecutors were asking to dismiss cases Thursday involving parents and children. The Department of Justice denied ending the zero-tolerance policy that led to family separations.
In Tucson, no parents mentioned being separated from their children during Thursday's Streamline hearing, which is not uncommon. The Arizona Daily Star did not find any cases of parents asking about their children from June 13-19.
The federal government is preparing to house up to 20,000 migrant children on four military bases in Texas and Arkansas, The New York Times reported June 21. It was unclear whether the children's parents also would be housed at the bases.
Housing children with their parents during immigration proceedings is likely to raise challenges in court because of a federal court settlement that limits the length of time a child can be detained, generally 20 days.
The Department of Justice is seeking a "limited exemption" from the settlement "so that ICE may detain alien minors who have arrived with their parent or legal guardian together in ICE family residential facilities," according to a June 21 filing in U.S. District Court for the Central District of California.