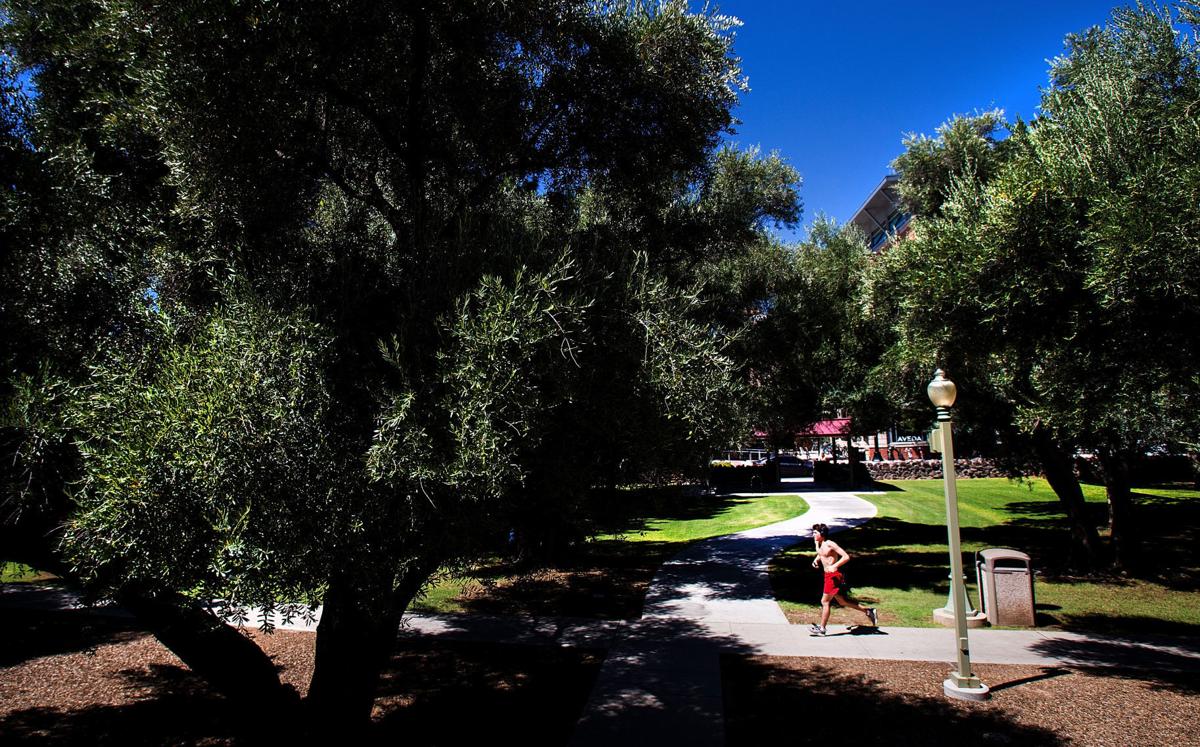 The University of Arizona campus is not exactly Tuscany — but spectacular olive trees along the university's designated Olive Walk might almost make you think you were strolling in Italian groves.
Planted just after the university was established in the late 1800s, the 35 trees along the Olive Walk, just inside the UA Main Gate, are some of the oldest trees in Tucson and are part of the UA Campus Arboretum.
Robert Forbes, the first head of the university's Agriculture Experiment Station, planted olives of assorted varieties. Among the types growing along the Olive Walk are Mission, Chemlali, Mavrelia and Manzanillo varieties.
A Campus Arboretum publication says that "More than a century after planting, the olive trees provide more than education and research opportunities thanks to Dr. Forbes foresight."
The university's Historic Preservation Plan notes: "The Olive Walk is an excellent example of the mix of influences that result in the unique qualities of historic landscapes on campus. It is a tree lined allée, a popular feature in European landscapes and emphasized anew in Victorian times."
Forbes is widely credited with a legacy of combining research and education with artistic expression and beauty.
STEP INTO THE GROVES
Just inside the UA Main Gate, where University Boulevard meets the campus, the Olive Walk is evident from the distinctive trees.
Extending for about a block, the walk includes benches where students and others often relax under the green canopy.
A close look at the gnarled trunks of the trees offers an indication of their advanced age.
Some of the trees are bearing olives at this time of year.
A sign under one of the trees reads: "College of Agriculture & Life Sciences Campus Arboretum. Although the Olive Walk is the product of research experiments by Dr. Robert Forbes, these trees have also provided beauty, shade and respite to the community and campus for more than a century."
Contact reporter Doug Kreutz at dkreutz@tucson.com or at 573-4192. On Twitter: @DouglasKreutz