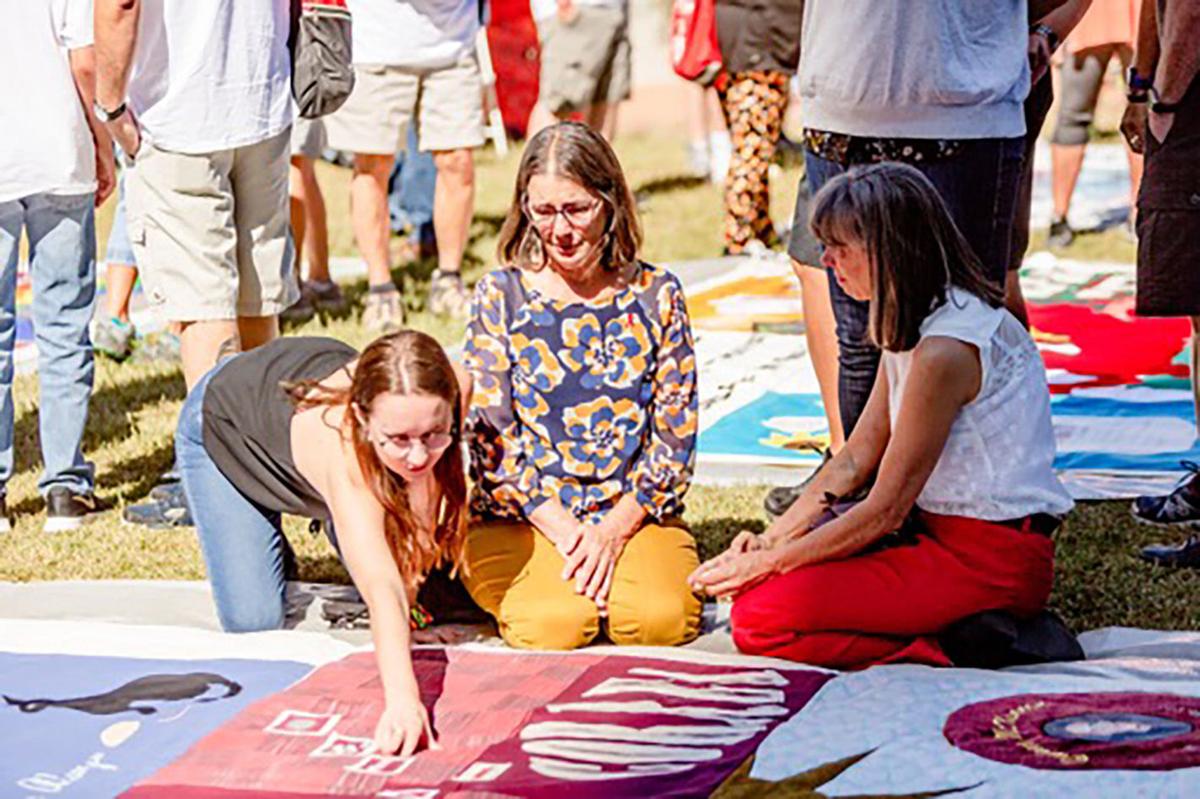 While the pandemic is preventing a traditional in-person AIDSWALK Tucson, supporters of the Southern Arizona AIDS Foundation believe the nonprofit will provide the community with a much-needed virtual hug — along with vital education and outreach — during the Virtual AIDSWALK Celebration Week from Monday, Oct. 12, through Sunday, Oct. 18.
The latest updates related to COVID-19 in Tucson and Southern Arizona. 
"SAAF is such a supportive environment that it almost makes you feel like you are being enveloped by love ... like when you wrap yourself in your grandmother's favorite quilt on a winter evening. That is what SAAF does for those in the community who have lost people to AIDS and for the people who are living with HIV/AIDS and their families," said Maria Villa, a nurse who first visited SAAF last year for the NAMES Quilts Memorial Ceremony during AIDSWALK Tucson.
Villa attended the ceremony with her friend, Leann Correa, whose brother, Rick, died from AIDS-related complications in 1994. Correa began volunteering for SAAF in 1998 and has participated in 20 quilt ceremonies, opening Rick's quilt with her daughters, Tess and Emma.
Correa described the ceremony, which will be live-streamed during the upcoming virtual event, as a poignant and powerful tribute during the fundraiser.
"It is a way to remember those we have lost and to honor them. It is a way not to forget what AIDS is all about. The quilt opening itself is extremely meaningful. It is something that people can actually grasp ahold of that reminds us about the importance of promoting awareness and education about HIV/AIDS," said Correa.
As of 2018, the last year for which data from the Arizona Department of Health Services is available, there were 2,899 people living with HIV/AIDS in Pima County. This accounted for 16% of cases statewide; and of the 115 new cases identified in 2018, 62% were ages 20 to 39 and 45% were Latinos.
The foundation is committed to providing wrap-around services for those living with HIV/AIDS, including housing for 344 HIV-positive clients and their families, as well as food, transportation, utilities and other basic needs.
"Doctors can prescribe the medications people need, but our job is to make sure they can lead healthy lives. We are discovering that because people are living so much longer with HIV, the treatment and care and resources they need are increasing. While there are lots of prevention efforts and education, rates are still increasing among youth, African American women and the Latinx community," said Travis Craddock, director of development.
Hand-in-hand with care comes prevention, Craddock said.
SAAF is aligned with the U.S. Centers for Disease Control and Prevention's "Ending the Epidemic Initiative" that utilizes four science-based strategies in an effort to end HIV/AIDS, including: early diagnosis; prevention of new HIV transmissions through proven interventions, including pre-exposure prophylaxis (PrEP) and syringe services programs; rapid and effective treatment to reach sustained-viral suppression; and quick response to potential HIV outbreaks.
Key to early diagnosis is testing, and the foundation provides a range of testing for HIV and other sexually transmitted infections and hepatitis C.
"Testing is a huge pillar of what we do. There is a suggested fee, but if you can't afford it, that is not a barrier," Craddock said.
Outreach and education are other vital components of prevention, Craddock said.
He said SAAF offers in-house educators who provide outreach through courses such as HIV 101; LGBTQ 101; and Harm Reduction 101.
"We have an enthusiastic team teaching sexual health education. We do everything from condom demonstrations to talks about different forms of sexually transmitted infections. We are working virtually due to COVID, and have panels and educational lessons and puppet shows pertaining to AIDSWALK," said Craddock.
The onset of COVID-19 has provided additional challenges for SAAF and for the populations it serves, according to Dr. Ravi Grivois-Shah, the new CEO for the organization.
Grivois-Shah said his first goal is to continue to serve the community in Southern Arizona in a safe and healthy way.
"We need to keep our clients, many of whom are some of our community's most vulnerable when it comes to the effects of COVID, safe while receiving much-needed housing, food, counseling, navigation, and other support that SAAF offers, as well as making sure our staff and volunteers are protected," he wrote in an email.
With so many people struggling in terms of health — including mental health — and financially during the COVID crisis, Grivois-Shah said that it is more important now than ever for those who are able to continue to support SAAF. He stressed that the upcoming virtual event will serve as the nonprofit's signature 2020 fundraiser with a goal of $100,000.
"SAAF is the lifeline and safety net for so many vulnerable members of our community, providing security in housing, food, counseling, testing and prevention, and other vital services. SAAF provides a safe place for so many youth who are marginalized and otherwise would have nowhere to go. Please continue to support SAAF so that we can continue to serve our community with pride and dignity," he said.
Craddock hopes the virtual celebration will offer Tucsonans a feel-good opportunity to extend a hand to neighbors in need.
"I want to remind people of the challenges of what it is like to live with HIV. So many of our clients don't have the resources that others have. Imagine trying to take care of your heath during a pandemic while also taking care of your health concerning HIV. Now, more than ever, we should be sending messages of kindness and support to each other through this tough time," he said.
Photos: Rainbow Crosswalk in Tucson
Tucson joins many other cities across the United States by adding a rainbow crosswalk to honor the LGBTQ community and celebrate the city's diversity. An official unveiling will be held on Aug. 8th at 10a.m. in the Creative Ventures parking lot at 522 N. 4th Avenue. The Rainbow Crosswalk Project is a collaboration between Ward 3 Council Member Karin Uhlich, the Southern Arizona AIDS Foundation and the Fourth Avenue Merchants Association.