When the owners of Tucson's Antigone Books announced plans to sell 18 months ago, they promised to hold out for a perfect match.
They say they've found it, right in their store.
Antigone employees Morgan Miller, Kate Stern and Melissa Negelspach recently obtained the loan they needed to get close to the purchase price, and this week they launched a crowd-funding campaign to ensure they can take over as the new owners in May. The sale is contingent on their raising enough funds in the upcoming weeks.
They need to raise $32,000 to make it official.
The trio, who met working in the store, started talking about buying Antigone almost immediately after hearing it was going to be sold.
Since then, they've met weekly to plan. As it got more serious, they consulted a business adviser.
They said it seemed impossible at times, but they didn't give up.
"It's taken a long time, but we've stuck it through because the current owners have been so supportive and understanding," said Miller, 29, who has been working at the bookstore for three years. "I think they really wanted this from the very beginning."
Kate Randall, one of the two owners, plans to continue working at Antigone while Trudy Mills, the other owner, will stay through the transition and then be on call to help as needed.
"I'm thrilled this has worked out. It's such a great opportunity for the bookstore," Randall said. "They understand the biz, they're really smart and they're really passionate about it."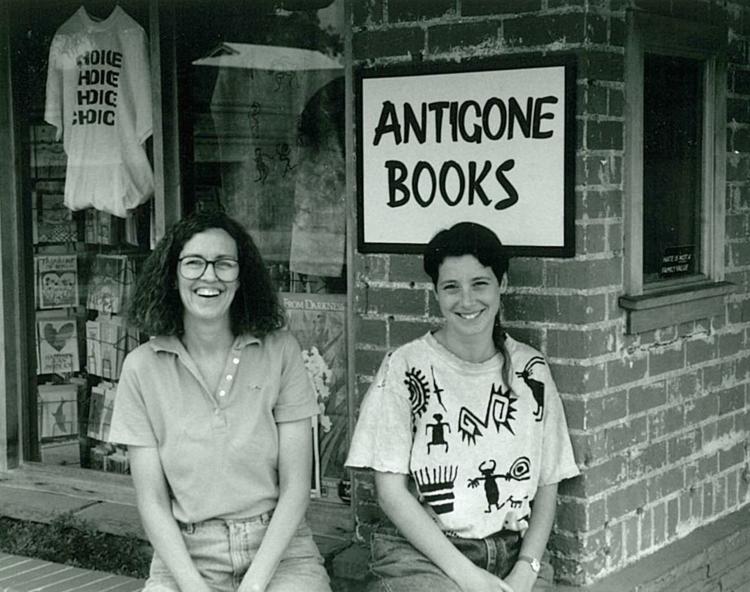 Randall and Mills will continue to own the building at 411 N. Fourth Ave., but hope to eventually sell it to the three women. The two women have been running the bookstore for 30 years.
They are keeping the sale price confidential for now, Randall said.
Antigone Books, named after the Greek mythological character who defied masculine authority, opened in 1973. The original owners were Barbara Atwood, Pat Kelly and Jonnie Cunningham, who pooled $1,500 to open what was then one of the country's first feminist bookstores.
At first, the store offered only feminist literature and research, but over time it expanded in both size and offerings.
Mills and Randall, who have been business partners almost 27 years, said their store is doing well and has consistently grown in patronage, something Randall attributes to Tucson's "very independent-minded residents."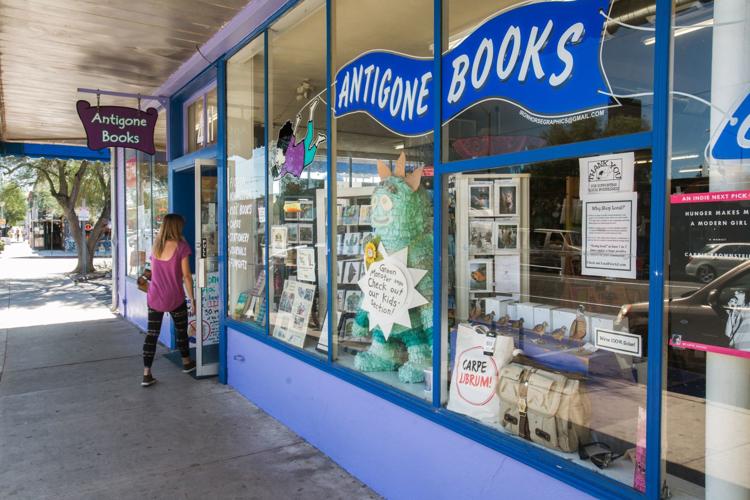 It was Mills, 64, who first purchased the store in 1987.
Mills, a former sociology professor, had been teaching women's studies at the University of Arizona and says she lost her job over the UA's refusal to give her maternity leave. Around that time, Antigone Books went up for sale.
Antigone is known for its zany gifts and cards as well as a collection of books that includes not only feminist literature, but also books about human rights, the environment and selections for teens and children.
Miller said not much will change at the store.
"We have some ideas but all within the spirit of Antigone Books," she said.
Stern, who has been there just over two years, will take on the role of events and community outreach coordinator.
She arrived here a couple of years ago from a Denver bookstore, and says she knew as soon as she saw Antigone's that she wanted to work there. They weren't hiring at the time, but she kept applying.
"I love being around book people and I love talking about books," said Stern, 27. "I'm excited about continuing such a strong legacy."
Negelspach, 28, has been with the store a decade and was upset when she learned it would go up for sale.
"I was devastated," she said. "It's such an amazing place to work and I didn't think anyone could live up to Kate and Trudy."
The next day, she came into work to find colleagues Stern and Miller "bouncing up and down" about the three, all in their 20s, somehow buying the store.
"It's been a crazy year and a half," she said. "I still can't quite believe it."