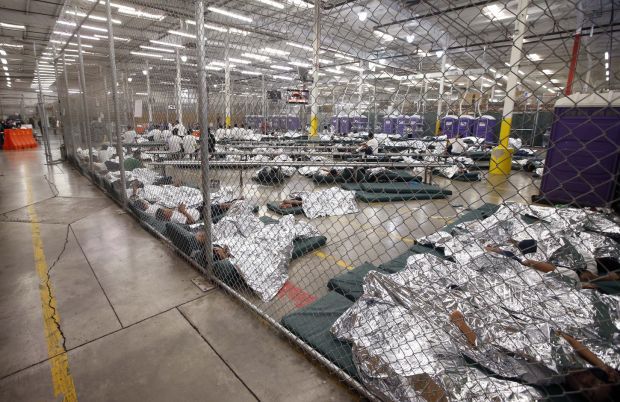 A federal appeals court on Friday rejected a Border Patrol bid to avoid having to provide mats and blankets to migrants detained in holding cells in Arizona for more than 12 hours.
The 9th Circuit Court of Appeals rejected arguments that having to provide the mats would be a hardship, and that having mats where people can lie down reduces the number of migrants who can be put into each holding cell.
That claim did not impress the court.
"It is not unreasonable to infer that a person who has been detained in a station for over 12 hours (after having been awake for some period of time before his detention) has a right to lie down and rest, even in the middle of the day," appellate Judge Consuelo Callahan wrote for the three-judge panel.
Callahan said this would not even be an issue during normal processing, which should take no more than 2ƒ hours.
But during a period of 3ƒ months in 2015, only 3,000 of the approximately 17,000 people detained were processed out of detention within 12 hours.
About 8,600 were held at a Border Patrol station up to 23 hours, 6,800 for up to 47 hours, 1,200 for up to 71 hours and 476 for 72 hours or more.
And then there was the finding by District Court Judge David Bury that, "The hard concrete floors and benches retain the cold caused by low thermostat temperatures and make it too hard and cold to sleep." Migrants have referred to the holding facilities as hieleras, Spanish for ice boxes.
But while saying detainees are entitled to mats and blankets, the appellate court rejected arguments by their attorneys that they are entitled to beds and mattresses. Callahan said that's asking too much for what is supposed to be a temporary holding facility.
The appellate judges were equally unpersuaded by the claim that the migrants should have access to showers and that their access to medical care was inadequate because there were not specially trained medical personnel like doctors or nurses.
There was no immediate response, either from the groups that filed suit on behalf of the migrants or from the Border Patrol.
Friday's ruling comes a year after Bury ordered the Border Patrol to make immediate changes to how it treats people being held after being picked up for being in the country illegally.
The judge said it is a violation of the rights of those being detained — often for days — to not provide them clean bedding, including a mat on which to sleep.
He also ordered the agency to deal with the personal hygiene needs of detainees being held for longer than 12 hours. Bury cited testimony of an expert who saw holding rooms with floors, walls, benches, drains, toilets, sinks, stalls and other fixtures, "all of which were badly soiled."
Bury said there was evidence the Border Patrol was not even complying with standards that require one toilet for every 12 male prisoners and one for every eight female detainees. One large holding room at the Nogales station had a capacity of up to 88 — but with just one working toilet and one that didn't flush at all.
In deciding to issue an injunction, Bury said some of the conditions cited by the American Civil Liberties Union and other groups representing detainees amounted to a deprivation of their constitutional rights and "constitutes irreparable injury."
What that means, Bury wrote, is he could order immediate intervention rather than simply allowing those affected to sue — after the fact — for financial compensation.
It was the part of the order to provide mats and blankets that caused the Border Patrol to seek appellate review.
Attorneys for the government argued that allowing detainees to lie down to sleep significantly reduced the holding cell capacity and interfered with the agency's ability to transfer individuals efficiently.
They also said the presence of the mats had increased processing time and made it difficult to comply with federal laws that require separating and monitoring "vulnerable" populations.
Callahan, however, said the evidence shows Bury was careful to balance the rights of the detained individuals with any "legitimate governmental objective."
In this case, she said, Bury acknowledged that the Border Patrol stations are not really designed for holding people but instead for short periods between being detained and moved somewhere else.
Callahan noted that Bury's order recognized that the agency need not provide the same level of services to those in the stations as might be required in actual detention facilities.
"It did so by requiring only mats and Mylar blankets instead of beds and mattresses, by allowing body wipes for cleaning rather than showers, and by allowing non-medical personnel to medically screen detainees," she wrote.
The judge also said there is "little to no evidence" that providing detainees with mats interferes with the ability of the Border Patrol to identify and process individuals.
On the other side of the equation, Callahan agreed with the Border Patrol that providing showers for thousands of detainees "raises substantial security and logistical concerns."
"Furthermore, although plaintiffs have a right to hygiene, the Constitution does not require access to a shower within 12 hours or even 24 hours," she said.
In fact, the only precedent Callahan cited was a 1986 ruling which held that prison inmates were entitled to showers three times a week.
"But case law does not compel the conclusion that they have a constitutional right to a shower when detained for fewer than two days," she said.
Get local news delivered to your inbox!
Subscribe to our Daily Headlines newsletter.