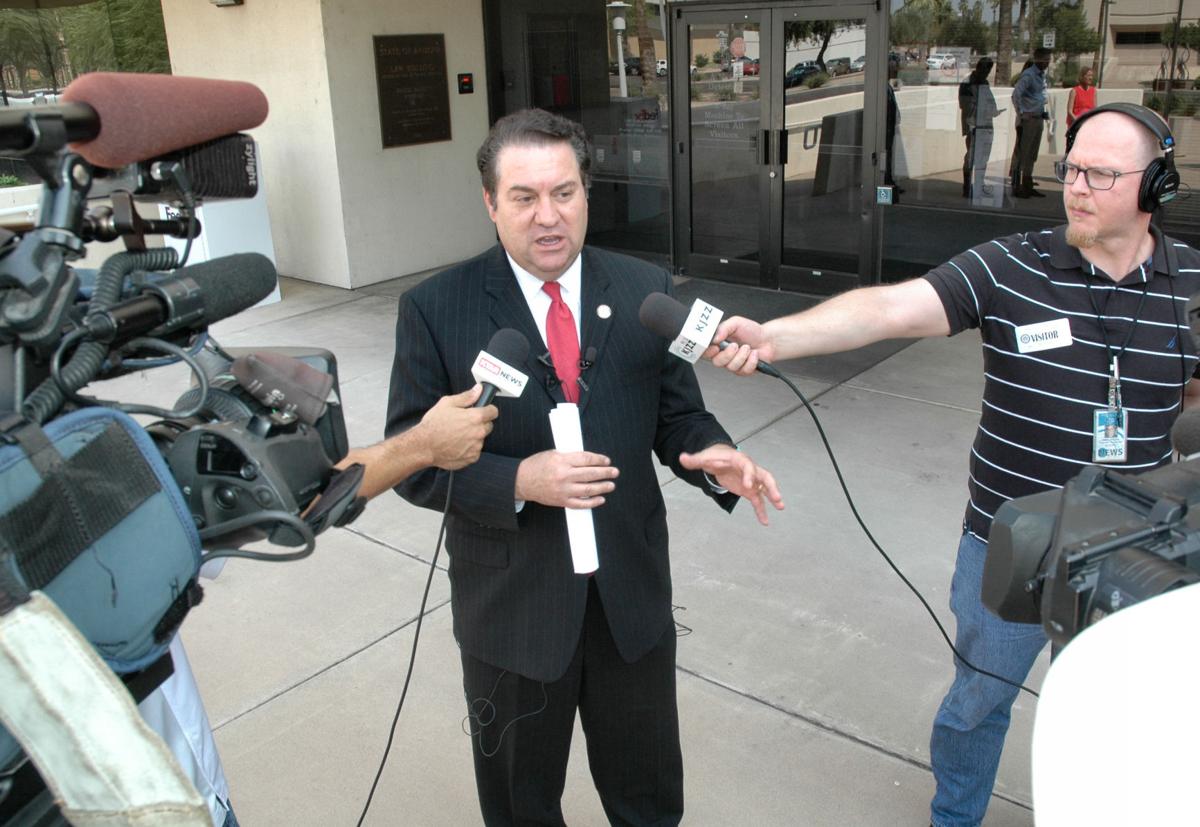 PHOENIX — The state's top prosecutor is charging that the Board of Regents is ignoring a constitutional requirement that tuition for Arizona residents be "as nearly free as possible."
In a 20-page complaint filed Friday in Maricopa County Superior Court, Attorney General Mark Brnovich said board members have "dramatically and unconstitutionally" increased the cost of going to one of the state's three universities by anywhere from 315 percent to 370 percent since the 2002 school year. On an annualized basis, he said, that computes out to 14.1 percent, "the third fastest rate of growth among all 50 states."
Brnovich acknowledged some of that is likely due to lawmakers sharply decreasing the dollars supplied for higher education. In fact, legislative budget analysts have found that since 2008 alone, state aid went from $9,648 per student to $4,098, even before the effects of inflation are considered.
But Brnovich said all that is legally irrelevant.
He reads the Arizona Constitution to require the regents base tuition for Arizona residents on what it actually costs to educate them above whatever aid comes from taxpayers.
Instead, Brnovich contends, the board has been using other improper factors, ranging from what other state universities charge to the availability of financial aid. He said the board is "essentially concluding that if students can borrow enough money, ABOR is cleared to charge it."
And Brnovich said the amount of money the universities has raised through higher tuition is greater than the reduction in state tax dollars.
The lawsuit finds other flaws in how much students are forced to pay.
For example, Brnovich said the charges imposed on students who attend on a part-time basis or take classes online are "significantly more than actual cost." On top of that, he said, the regents require students to pay for unrelated things like fees for athletics, recreation, technology and health, just to get the education they want.
Separately, Brnovich is challenging the board's decision to allow those in the Deferred Action for Childhood Arrivals program to pay in-state tuition, even in the face of a Court of Appeals ruling earlier this year finding a similar policy at Maricopa County's community colleges violates a 2006 voter-approved law that says state dollars cannot be used for tuition waivers or assistance for anyone who is "without lawful immigration status."
Brnovich said the issues are related. He told Capitol Media Services he would not have taken a look at the entire tuition-setting policy had the regents not sought to defend the DACA policy by arguing they want to make education affordable and available to those known as "dreamers."
"Well, wait a minute: If tuition is increasing so much, is that really leading to affordability or even more accessibility, I realized there was a broader and bigger question here," he said.
"When we start talking about making education accessible to the DACA recipients, the question then becomes why aren't we making it more accessible to everyone?" Brnovich continued. "And are we doing something that's consistent with the constitution?"
Brnovich had asked the regents to justify the DACA tuition following that Court of Appeals ruling and a separate threat to sue by former state Senate President Russell Pearce. The regents' response was that they had no intention of scrapping the policy, at least not until the Maricopa case goes to the Supreme Court.
That left Brnovich unsatisfied — and telling his staffers to take a closer look at the entire tuition policy.
Regents' spokeswoman Sarah Harper said Friday that the board had not yet been served with the lawsuit. But she said a meeting has been set for Monday afternoon to consult with attorneys.
This isn't the first time someone has gone to court over university tuition.
Former state legislator John Kromko sued the board after the regents enacted a 39 percent tuition hike in 2003. But the Supreme Court tossed the case, saying judges are in no position to decide what "as nearly free as possible" means.
Brnovich, however, said his lawsuit is different because it does not ask a court to determine exactly what tuition is constitutionally appropriate. Instead, he wants a ruling that the factors used by the regents to set tuition — things like what other colleges are charging and who gets financial help — are improper considerations.
"We want to know what the costs are," he said. "We want to make sure that the Board of Regents is using a formula that is consistent with our constitution and they're not focused on what the University of Michigan is charging."
And he was particularly agitated that the board considers the availability of outside funds — particularly loans — in determining whether tuition is affordable.
"So some kid that's jacked up with student loans, that's OK?" Brnovich asked.
"That's part of the problem of higher education: They know that they can get these kids, they get them on the hook for a bunch of loans, they're in debt when they come out of college," he said. "I don't think that's 'as nearly as free' if I've got $60,000 worth of debt when I get out of ASU. That's not fair."
There appears to be some financial basis for Brnovich arguing that tuition has increased far faster than the loss of state aid.
That net change in state tax dollars between 2008 and now is $5,850 per student. But during the same period, tuition revenues per student nearly doubled, from $7,338 to $14,119, though both those figures likely include revenues from out-of-state students.
Brnovich denied the lawsuit — and its timing — are related to the letter he got July 11 from Judicial Watch on behalf of Pearce demanding that he sue over the DACA tuition policy.
That letter cited a state law that says if the attorney general does not act within 60 days to stop the illegal use of state funds, any citizens may sue. That 60 days is up Saturday, Sept. 9.
But Pearce told Capitol Media Services he believes the threat was the only reason Brnovich acted.
"I am sorry I had to force him to do his job and go after rogue agencies that violate the laws and cost taxpayers millions of dollars," he said.
"The costs continue and the violation of law continues until we force ABOR and the community colleges to follow the law," Pearce said.