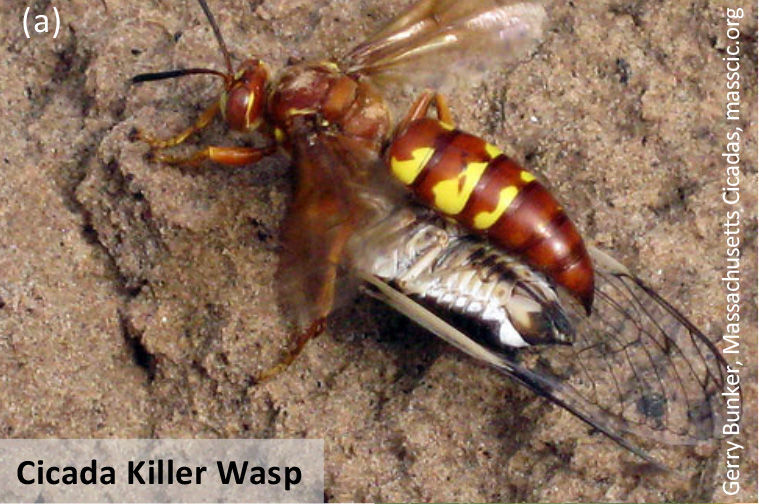 The cicada killer versus the murder hornet.
It sounds like the title of a new Marvel superhero movie. It's actually a public service announcement, brought to you by bug experts at the University of Arizona.
After some recent confusion from local residents, entomologist Gene Hall, who manages the university's insect collection, has teamed up with colleagues Peter Ellsworth and Naomi Pier on a new informational pamphlet.
It spells out the differences between the Asian giant hornet — that's the "murder" one — and two species of native cicada killer wasps.
Based on the pamphlet's startling diagram, the hornet and the wasps do have one obvious thing in common: They're all scary big, ranging from 1½ to 2 inches in length, easily twice the size of a western yellowjacket.
Hall said there have been no Asian giant hornet sightings in Arizona — and there aren't likely to be — but cicada killers are often mistaken for them lately. He said he has received numerous inquiries from concerned residents since the beginning of June, in part, perhaps, because of a "bumper crop" of the native wasps this year.
Hornet poses murderous threat to bee hives
Well-known Tucson insect researcher Justin O. Schmidt said he's received about half a dozen calls in the past two weeks alone from Arizonans, most of them in the Phoenix area, who are convinced they've seen a murder hornet.
"I don't know how they find me, but they do," he said.
All of the cellphone pictures sent to him so far have been of cicada killers, which Schmidt said are sleeker and "a little more pointy" than the "stocky, sausage-like" giants from Asia.
The murder hornet gets its nickname from its brutal raids on bee hives. The much-larger insects can destroy whole colonies in a matter of hours, crushing or decapitating their victims as part of something entomologists call a "slaughter phase."
In China and Japan, the hornets are also known for aggressive group attacks on people that can be fatal in rare cases, even among those who aren't allergic to their venom.
The insects made their North American debut last year with a handful of sightings in northwestern Washington state and across the border in British Columbia. Agriculture authorities in both countries are now trying to hunt them down and destroy them before they can get a foothold in the region and do real damage to the beekeeping businesses.
Research puts pain on whole new scale
Like Hall, Schmidt thinks there's almost no chance that the Asian giant hornet will show up in Southern Arizona.
He said the species requires a lot of water and prefers wet forest environments, neither of which it will easily find around here — or in the places it would have to cross to get here from the Pacific Northwest.
Schmidt is famous for getting himself bitten and stung by a wide variety of insects and then ranking the experience, often with colorful descriptions. His Schmidt Sting Pain Index ranges from a 1 (no big deal) to 4 (absolute misery).
The common honeybee is a 2, right in the middle of the scale.
Only three insects have qualified for a 4, and only one of those is found in Arizona: the familiar, blue-black wasps with the bright orange wings known as tarantula hawks. Schmidt said the pain from one of their stings only lasts a few minutes, but it is blinding and electric. "It's like someone dropping a hair dryer in your bubble bath," he said.
Schmidt has never experienced the sting of an Asian giant hornet, though he's seen a few of the insects in Japan and elsewhere.
"I think it's a gorgeous animal," he said. "I really don't like the phrase 'murder wasp.' The reason we make up these terms is because we're afraid of them."
Still getting stung, though not on purpose
Schmidt estimates he has been bitten or stung at least 1,500 times by about 150 different species of insects over the past 50 years.
"I lost count a long time ago," he said.
He chronicled his painful pastime in the 2016 book "The Sting of the Wild."
A lot of his bites and stings have been the result of "simple sloppiness" while handling insects for his research, he said. Others were intentional, either out his own curiosity or because the public wanted him to rate something.
Schmidt said he generally tries to avoid getting stung on purpose these days, though he did get nailed about a dozen times on Monday while clearing out a hive of feral honeybees from an old chest of drawers in someone's yard.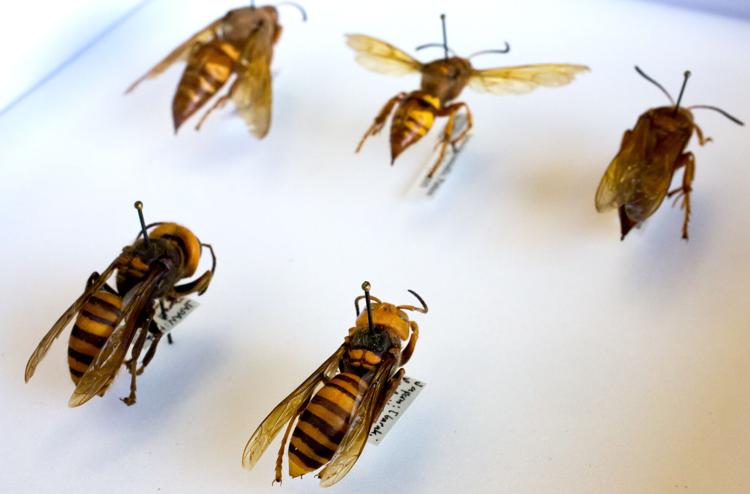 Grabbing opportunity by the stinger
The first time Schmidt was stung by a cicada killer was about 20 years ago, when he saw one on a flower outside of his lab and instinctively scooped it up with his left hand.
"When the opportunity comes, you grab it sometimes, literally," Schmidt said. "It did hurt a little bit more than I expected," but it didn't hurt that much.
He has since been stung by both types of local cicada killers. He gives the Pacific variety a 1, and the Western variety a slightly worse 1.5, though he said each is less painful than a honeybee.
Cicada killers are solitary wasps typically seen in summer and early fall, when the buzz of their namesake prey fills the air.
Their hunting behavior is similar to the gruesome way tarantula hawks feed on tarantulas: The wasp will sting a cicada with paralyzing venom, and then carry it back to its hole to serve as a still-living food source for its newly hatched grubs.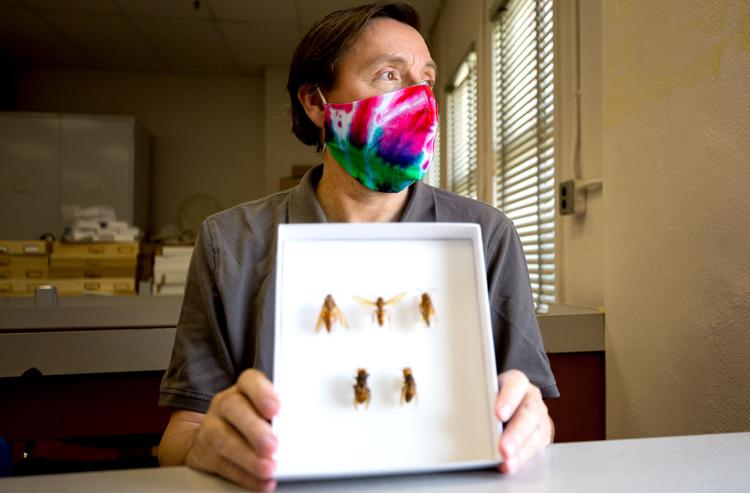 This "gentle giant" only murders cicadas
Schmidt said they are not too common in Tucson, but a good place to look for cicada killers is in the bunkers at golf courses or other sandy spots where they can easily dig dens for their young. The most he has ever seen in one place is on a large pile of fine-grain mine tailings in the ghost town of Ruby, between Nogales and Arivaca, he said.
Here's the good news if you should happen upon one, even if you'd really rather not: Unlike their murderous cousins, cicada killers aren't aggressive, at least not to people.
Hall and company described the species as "the gentle giant of the wasps," something Schmidt can attest to firsthand.
"It's hard to get stung by them. It only stings if you grab it," Schmidt said. "They just don't sting you. They have no reason to. You're not a cicada."
Contact reporter Henry Brean at hbrean@tucson.com or 520-573 4283. On Twitter: @RefriedBrean